Serves: 8
Prep 30mins
530 kcals / serving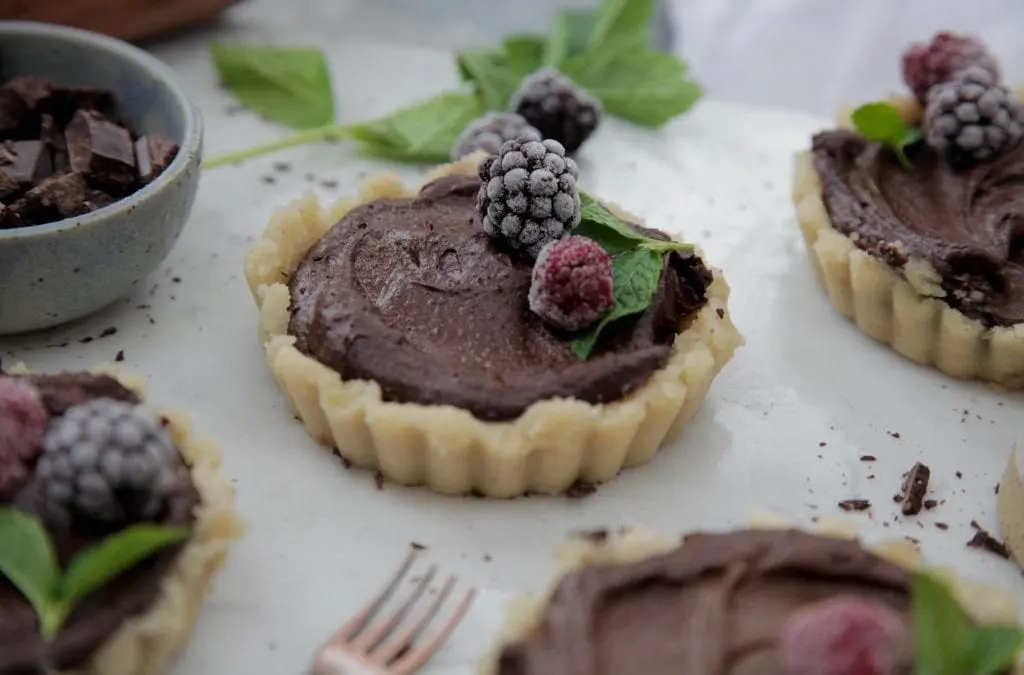 Recipe Info

These Chocolate Hazelnut almond tarts are totally indulgent but made with healthy ingredients so they are the perfect treat for any time of the day. Enjoy as they are or serve with berries or coconut yogurt.

Instructions
Step 1 -
Start by making your base by blending together the almonds and oats until they form a fine flour. Tip into a bowl, then stir in the remaining ingredients, kneading with your hands, until it sticks together into a sort of dough. Press into the base of a spring-form tart tin (I used a 20cm tin). If it's too dry, add a touch more coconut oil. Too sticky and some more oats will do! Place the tin in the fridge to firm up.
Step 2 -
Next, make your filling by melting together the chocolate and coconut oil in a bain marie, stirring until smooth.

Step 3 -
Place the avocados into a blender along with the milk, cacao, hazelnut butter, maple syrup, salt, vanilla and melted chocolate and blend until completely smooth, adding a splash more milk if needed and scraping down the sides as you go. Stop to taste and adjust the sweetness and add Chocolate Protein Smoothie (adding more cacao, if needed, or slightly more yogurt if it's too rich for your taste) as necessary.
Step 4 -
Spoon the smooth avocado filling over your base, then place back in the fridge to firm up, ideally overnight.
Step 5 -
Serve topped with fresh berries or coconut yogurt and enjoy!
Ingredients
1/2 small Banana
1 1/2 cup Ground almonds
1 cup Oats
2 1/2 tbsp Syrup
1 pinch Salt
170 g Dark chocolate 80%
4 tbsp Chocolate hazelnut spread
3 tbsp Dairy free milk
1 tsp Vanilla paste
2 tbsp Coconut oil
2 medium Avocado
1 scoop Chocolate Protein Smoothie