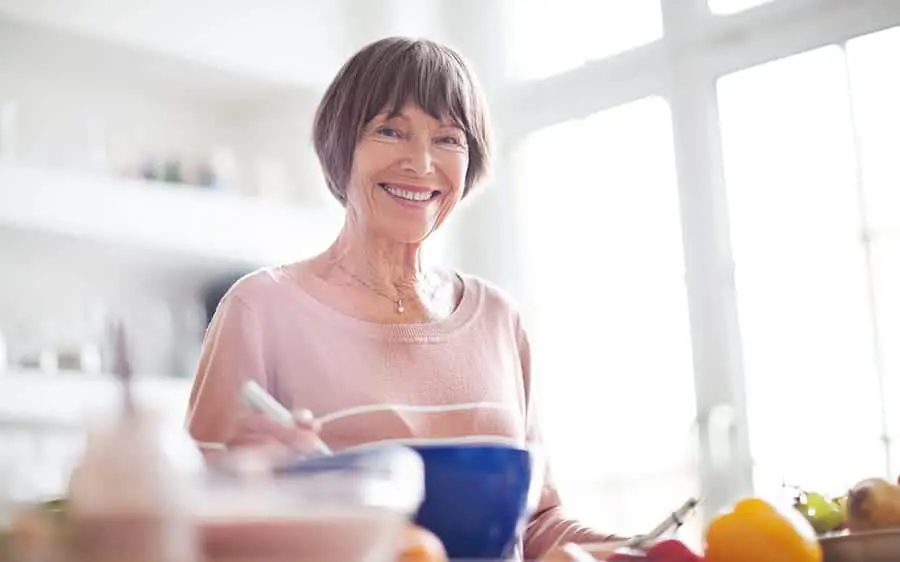 Good skincare always has the same fundamental building blocks but certain elements need to change and adapt according to the decade you are in. Being post menopausal presents its own challenges but it also gives us a great many freedoms, the secret is to have energy and feel healthy which in turn shows in our skin. It's not too late to engage in good skin care if you're over 60 years old.
During our 60s and 70s, skin can feel dry and irritated. Cellular turnover has slowed down dramatically by the time we reach this age and skin becomes thinner and loses water more easily. Medications and medical conditions can also play a role.
Skin will now have become more dehydrated partly due to the reduction in the amount of Hyaluronic acid that we produce. Hyaluronic acid is important as it can hold up to 1000 times its own weight in water but it's also necessary to help cells divided and gives volume to the skin.
Remedies for skin in your 60's
Do your research when looking for skincare. Many high street brands are marketed well but potentially don't have the most potent ingredients. Use skincare high in peptides and antioxidants. A thick 'rich' moisturiser often isn't the best solution as it can sit on the skin and block the pores. Opt for serums and antioxidant rich skin oils.
Introduce AHA's to your skincare, adding a cleanser with them in will help to dissolve dead skin cells to give your skin more radiance.
Add serums and look for ones that include the following ingredients.
Hyaluronic acid to plump and firm and give the skin a glow.
Vitamin C in the morning will brighten the skin and stimulate collagen.
Vitamin A increases cellular turn over to reveal fresher more youthful skin. It also helps to maximise product penetration.
Antioxidants and DNA repair serums help to repair damage caused over the years..
Finish with sun protection of at least 50 SPF to prevent further UVA/UVB damage. Choose a sun screen with antioxidants and protection from infra- red and blue light damage.
Include facial yoga exercises into your daily routine to lift and tone muscles. Many beauty and aesthetic clinics offer firming treatments, micro current and nano current systems work by gently toning the muscles to give the facial contours more definition. Radio frequency and other treatments are available to firm and tone.
Foods to eat for a youthful skin
Nourish your body and skin with high quality nutritious foods by stepping up your intake of fruit and vegetables. Our digestive system starts to become sluggish and many of us don't consume enough fibre. Eat whole-grains and add pulses where possible to your meals. Healthy fats are important to plump and moisturise the skin. Eat foods rich in omega 3, include oily fish, avocados, nuts and seeds.
Good quality protein will support muscles and repair, add a protein drink to your day. We provide a delicious plant based protein drink, Protein Smoothie that can be taken on its own or added to porridge or smoothie. Avoid refined foods such as white bread and sugar as these can destabilise the delicate balance within the microbiome.
Log into your personal account to find our free eBooks with lots of advice and tips on healthy eating.
Supplements for your 60's
Collagen Shots provides much more than glowing skin. Collagen is the most abundant protein in your body and it will support muscles, joints, bones, ligaments, the digestive system, hair, nails, even the heart and brain. Your one drink a day brings with it incredible benefits.
H3O Hydration contains ionic minerals, to help create a healthy cellular fluid balance. It also includes hyaluronic acid which can hold up to 1000 times its own weight in water and trans-resveratrol a plant molecule from red grapes to support healthy DNA and helps to protect from rogue cells.
H3O Night Repair is a wonder capsule containing potent plant molecules that contribute to repairing damaged cells while we sleep. This capsule includes ionic electrolytes to hydrate and minerals to support a more restful sleep and allow you to wake looking refreshed and ready for the day. Check out our ultimate skin programme with our Radiant Skin collection.
Regenerate contains 8 youth boosting plant molecules. These wonder ingredients are combined to support healthy cellular ageing to protect your skin and body.
Immune Complex contains pre and probiotics to support a healthy gut and helps to defend the body from infections and virus'.