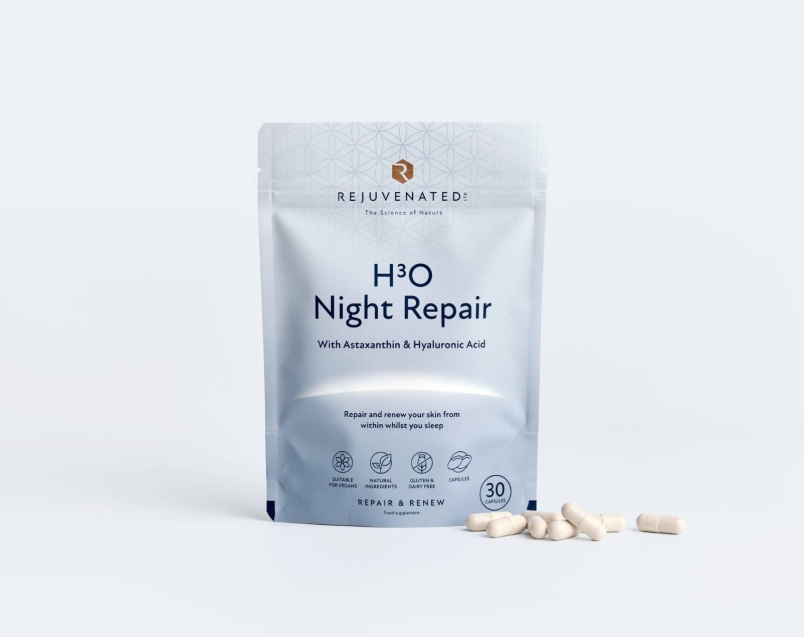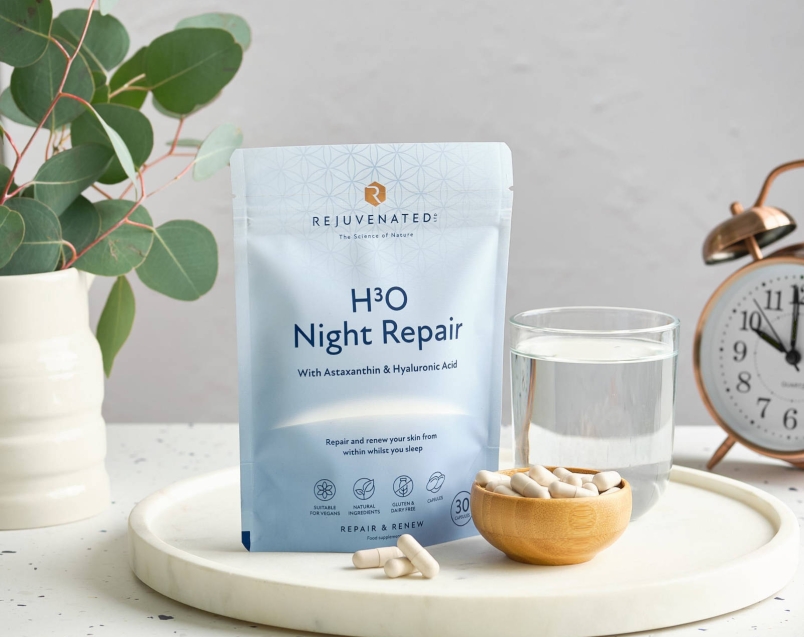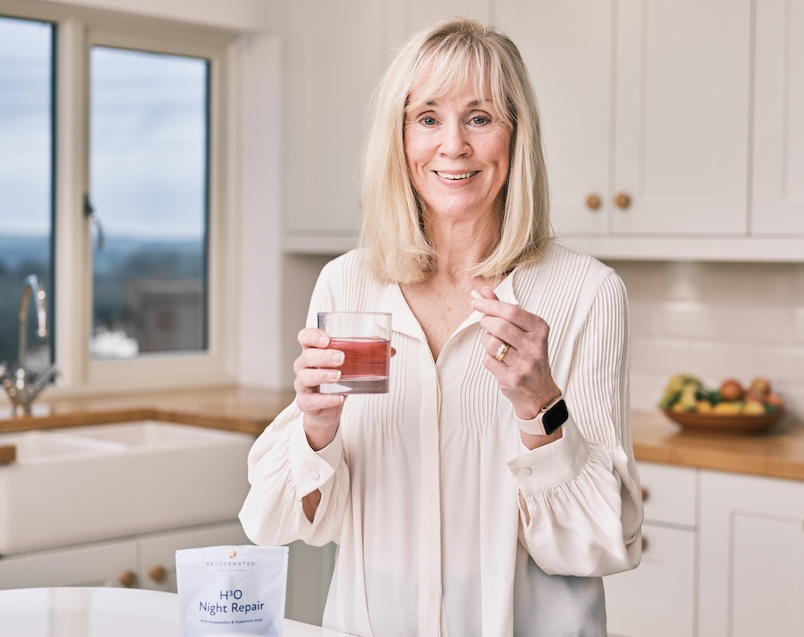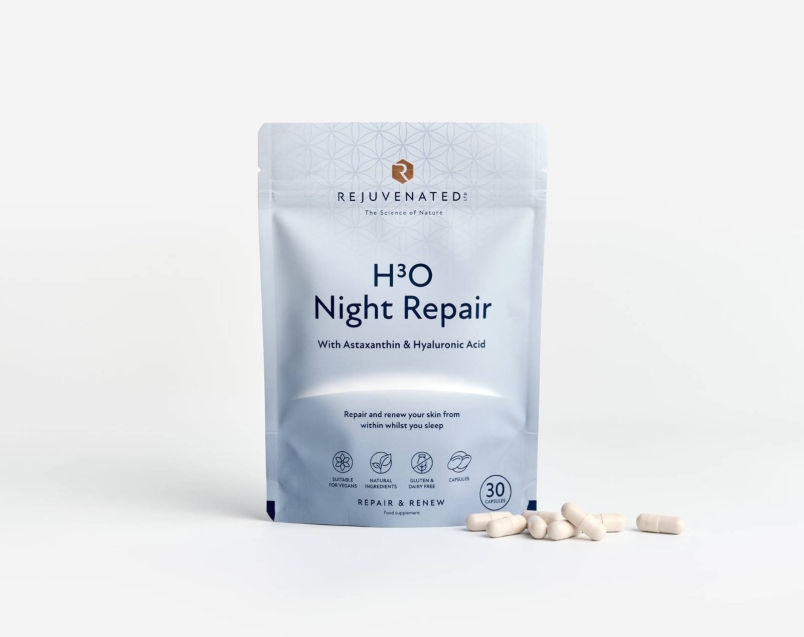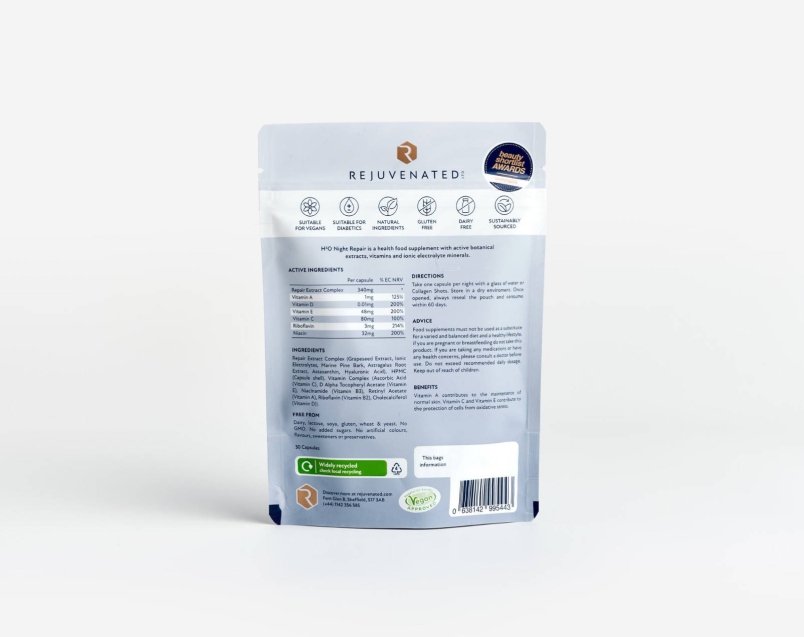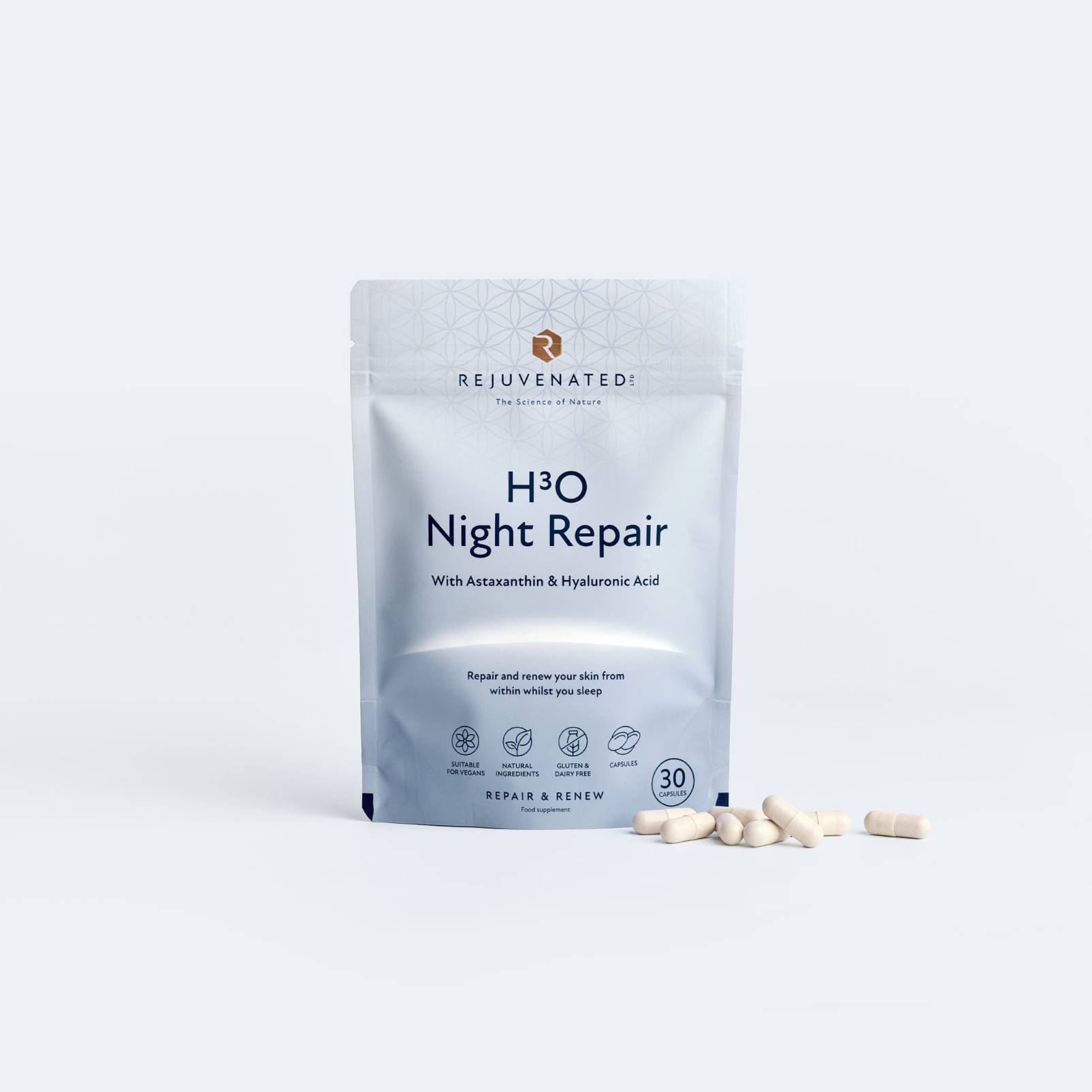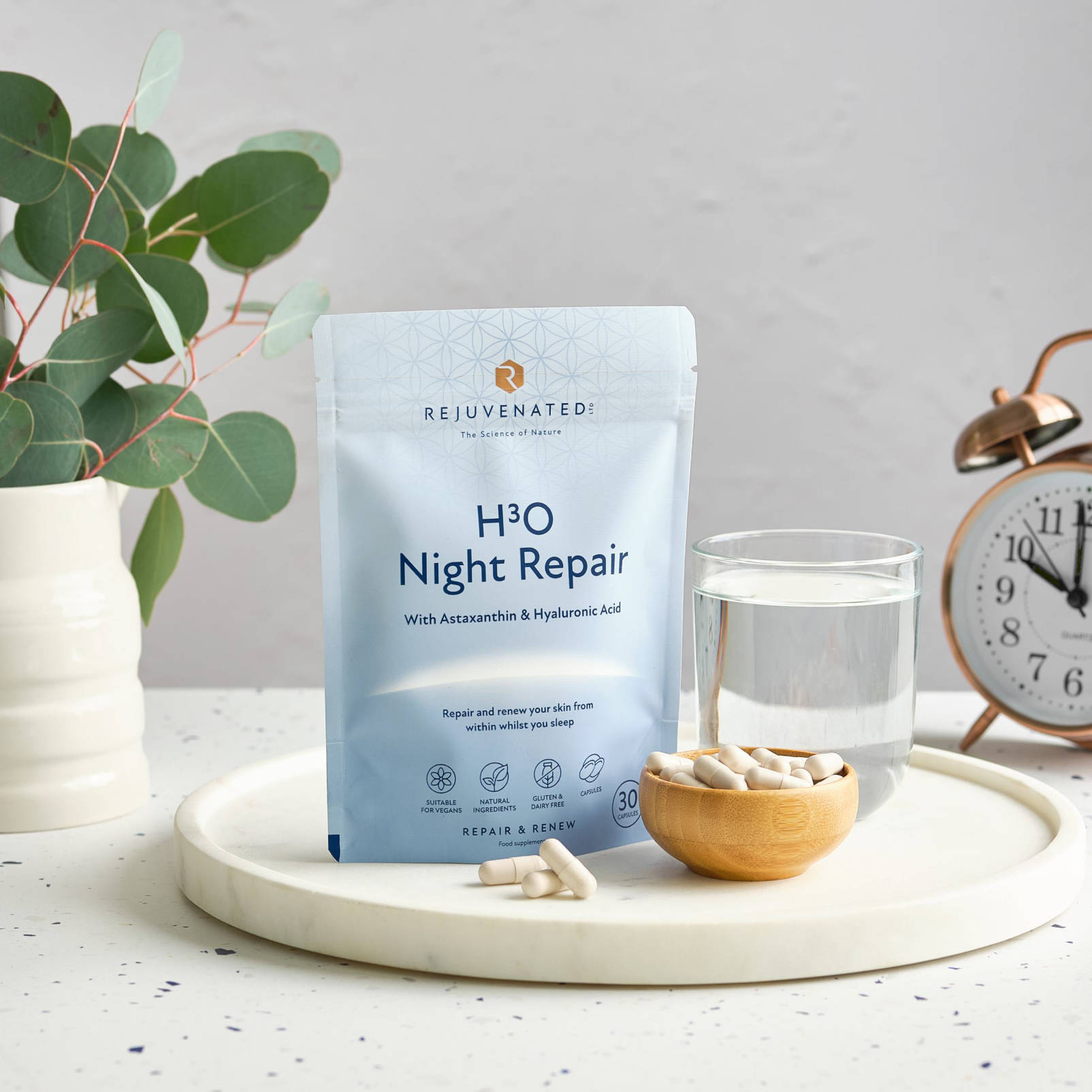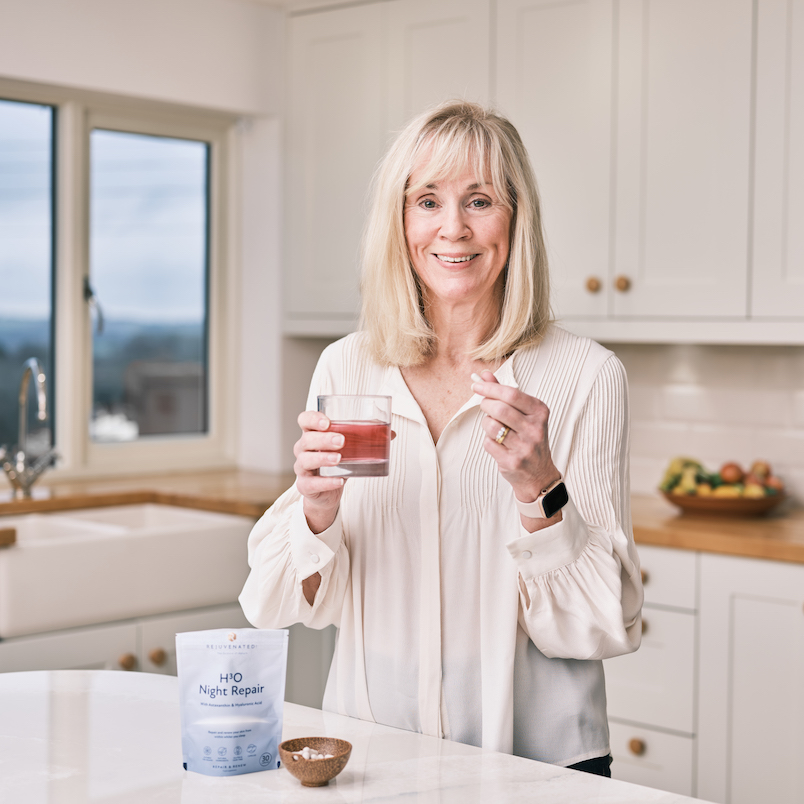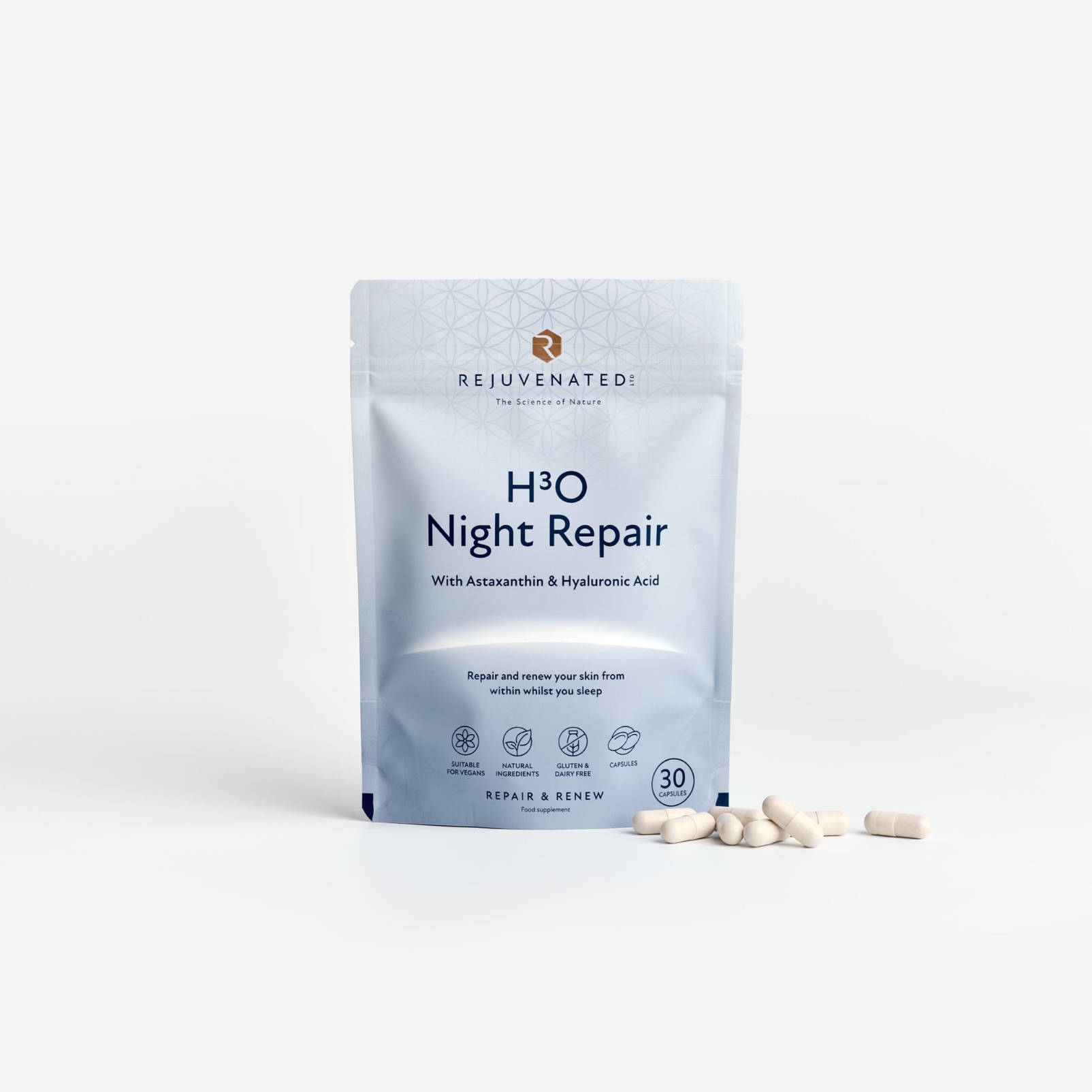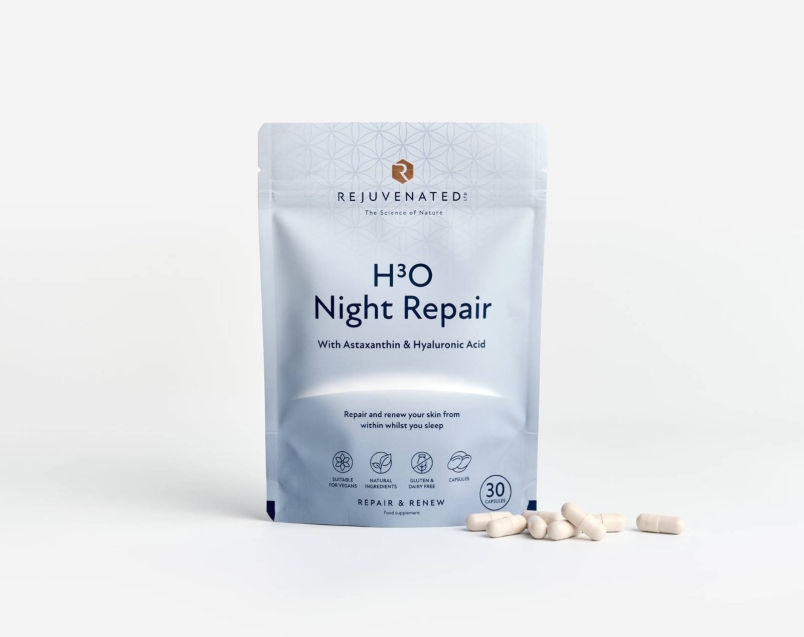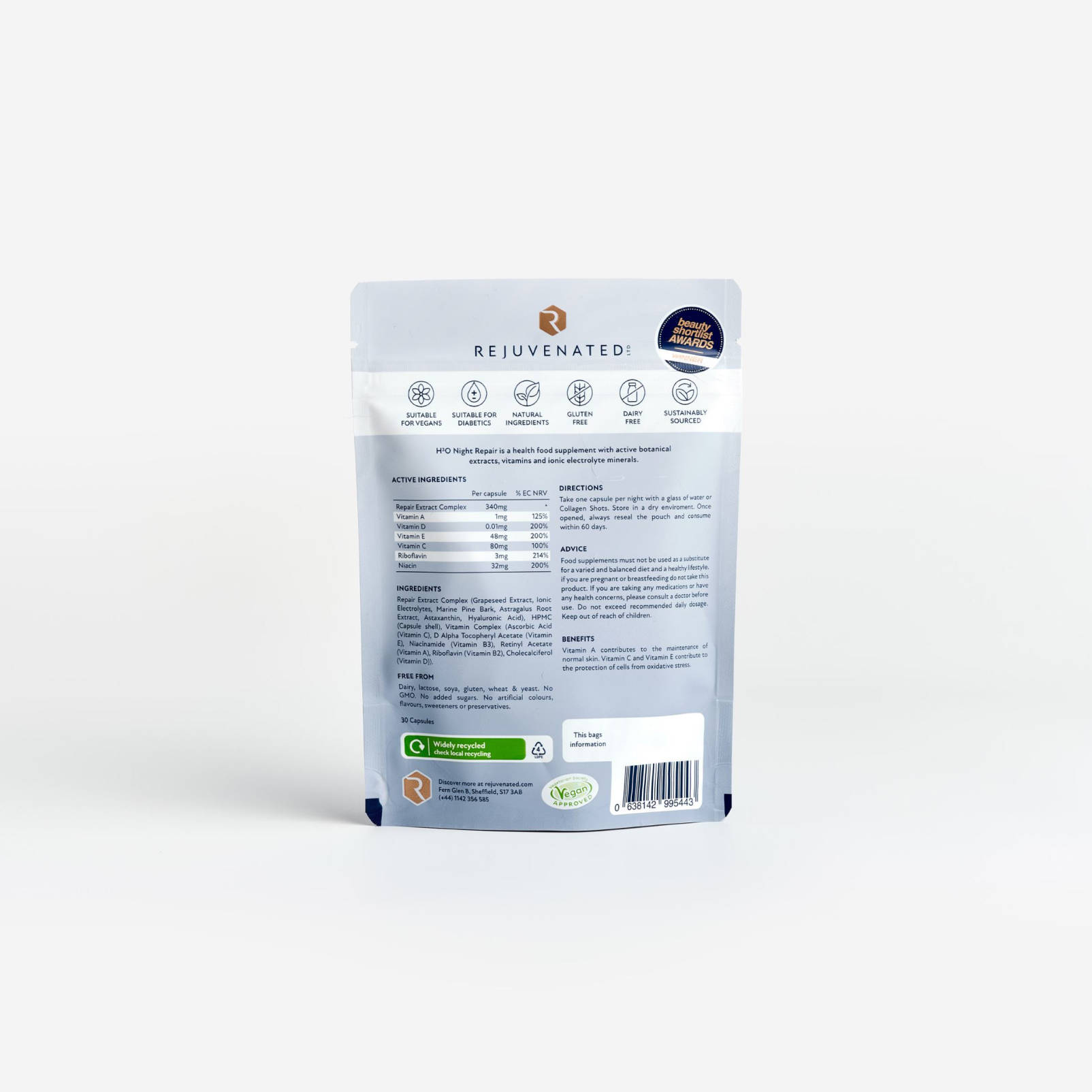 H3O Night Repair (30 Capsules)
H3O Night Repair (30 Capsules)
H3O Night Repair contains a potent blend of ingredients to strengthen and hydrate your skin whilst you slumber.
H3O Night Repair helps to:
Hydrate from within
Feeds and support skin cells
Reduce dark circles around the eyes
Promote sleep
Encourage relaxation
Alleviate menopausal symptoms
Contains
Astaxanthin

Grape seed extract

Astragalus

Pine bark
Natural ingredients
Vegan
Dairy and gluten-free
How to take
Take one capsule at night with water or Collagen Shots.
Who shouldn't take this?
We recommend avoiding H30 Night Repair, if you are pregnant or breastfeeding.
Ingredients
Grape seed extract
Grape seed extract is a naturally occurring antioxidant, many times more powerful than Vitamin E and C. A great anti-inflammatory.
Ionic minerals
Ionic minerals bond with water to improve cellular hydration and help the transfer of nutrients. They play a critical role in almost every metabolic reaction in the body.
Pine bark
Pine bark contains over 40 antioxidants with powerful anti-inflammatory properties. It binds with collagen and helps to protect the skin from free radical damage.
Hyaluronic acid
Hyaluronic acid has often been called the fountain of youth, it can hold up to 1000 times its own weight in water and provides a cushion filler between the cells.
Astaxanthin
Astaxanthin is a natural superpower from sea algae with many, many times more power than Vitamin C, beta carotene, green tea, CoQ10, lutein. It helps to smooth wrinkles, retain moisture and protect the skin from pigmentation.
Astragalus
Astragalus is a powerful herb and adaptogen, it improves healing, reduces inflammation and increases skin elasticity.
Vitamin A
Vitamin A is a key anti-ageing vitamin antioxidant which helps to protect the body's cells from the damaging effects of free radicals.
Vitamin B3
Vitamin B3 is essential for the metabolism of carbohydrates, fats and lipids in the body. It's required to produce energy.

Vitamin C
Vitamin C is an essential vitamin that protects the body against oxidative stress and contributes to the formation of collagen in skin, hair and nails.
Vitamin D
Vitamin D contributes to the normal function of the immune system and plays a role in the process of cell division.

Vitamin E
Vitamin E acts as an antioxidant in the body, by helping to protect from free radicals in skin tissues.
Vitamin A, C, D and E are all potent vitamins that work to protect against free radicals and inflammation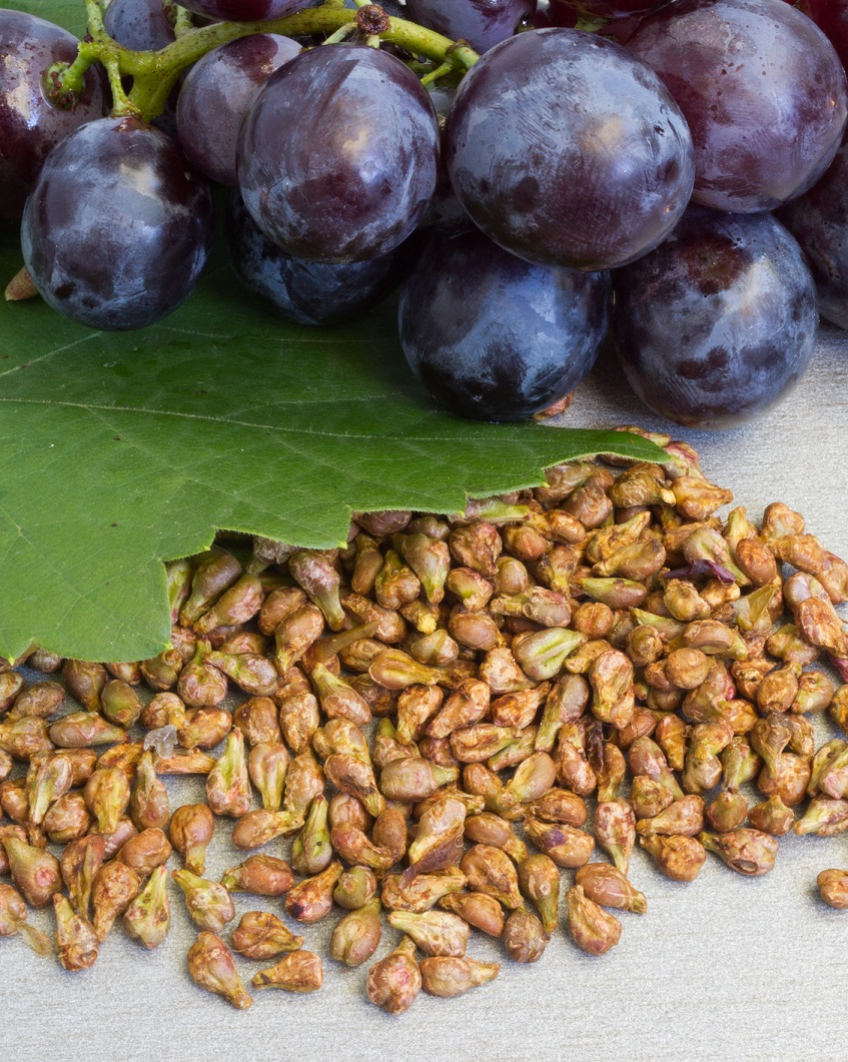 H3O Night Repair (30 Capsules) FAQs
Q: What is H3O Night Repair?
A: H30 Night Repair contains a potent blend of plant-based antioxidants, hyaluronic acid, vitamins, and ionic electrolyte minerals to strengthen the skin whilst you sleep.
Q: How does H3O Night Repair help you to sleep more peacefully?
A: H3O Night Repair works in synergy with your circadian rhythm. Magnesium and calcium encourage relaxation and promote a more restful sleep. It works to regulate melatonin, the hormone responsible for controlling the sleep-wake cycle.
Q: What antioxidants are in H3O Night Repair?
A: H3O Night Repair contains a a powerful blend of antioxidants including, astaxanthin, pine bark, grape seed extract and vitamins A, B, C, D and E.
Q: Can I take when I'm pregnant or breast feeding?
A: As H3O Night Repair contains vitamin A, we don't advise that you take it when pregnant or breast feeding.
Q: Can I take H3O Night Repair with my other vitamins and supplements?
A: H3O Night Repair can be taken with any other Rejuvenated product. However, it contains many potent antioxidants and vitamins, so we recommend that you check with your healthcare advisor if you want to add other multi-vitamins to your supplement regime.
Q: Can I take H3O Night Repair with my medication?
A: H3O Night Repair is made with natural ingredients but if you have any medical or dietary concerns, we always recommend that you check with a healthcare practitioner.
Reviews for H3O Night Repair (30 Capsules)