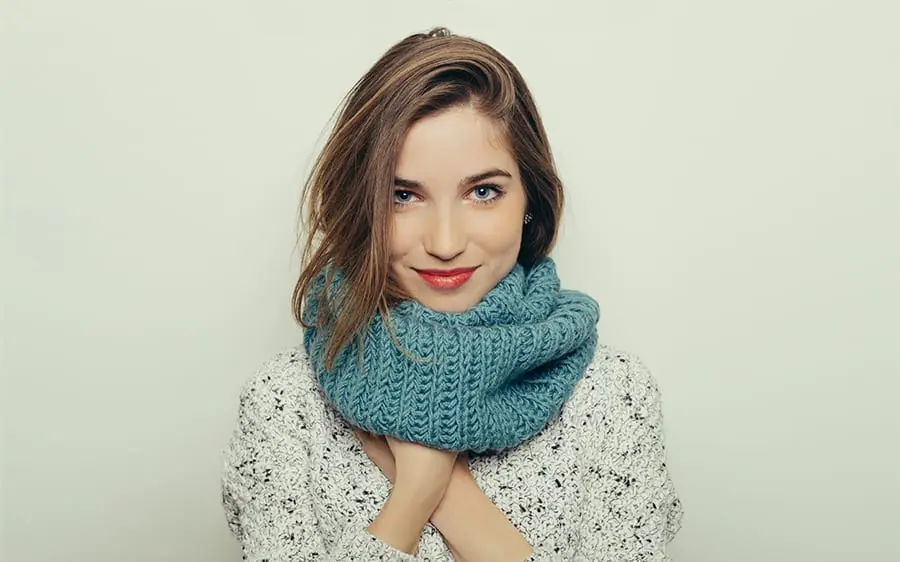 Solutions for dry flaky skin and sore chapped lips come top in our e-mails once winter arrives. In winter both skin and hair lose their natural moisture more easily. It's time to add to your beauty routine to protect from the elements with these winter skin solutions.
We've spoken to some of the top beauty experts on how to take care of dry skin in winter. We hope this helps answer any winter skincare problems you may have so you can stay gorgeous during the cold months and be ready for party season.
Winter skin problems and solutions
Dry dull skin
In winter, the turn over of skin cells slows down, causing dull lack lustre skin. Dry flaky patches and itchiness can take over, it's time to nourish your skin both inside and out.
Eat plenty of omega 3's – the essential fatty acid found in salmon, flax seed and walnuts. You can take fish oil tablets and evening primrose but the best way to digest omega 3's is from the food you eat. These fatty acids work to nourish every cell in the body, reduce inflammation and even support the balance of natural skin oils.
Try a richer cleanser for dry skin in winter. During the cooler months, it's a good idea to invest in a richer, creamier cleanser to nourish your skin and give it some extra TLC. We love to use cleansing balms, which help to remove make-up without irritation. They also work to hydrate, soften and leave skin glowing.
For added hydration, look for formulas or moisturisers containing Hyaluronic acid, AKA the fountain of youth – hyaluronic acid attracts more moisture to the skin.
Drink Collagen Shots. The amino acid peptides are a super boost for dry and dehydrated skin not just on the face but the whole of your body.
Sore cracked lips
If your lips are starting to feel dry, take a toothbrush to them. It might sound slightly mad but it's the perfect way to give them a gentle exfoliation.
Use a clean soft toothbrush and gently polish the lips until they start to tingle to remove dead skin. Then apply a lip balm. Use one that doesn't contain petroleum. Rescue+ by Cosmedix is incredibly hydrating and can be applied to both face and lips. Try to apply a natural product containing beeswax or cocoa butter.
Drink H3O Hydration to keep your puckers plumped up. It's just one of the gems used by the celebrity makeup artist, Daniel Sandler. He swears by H3O Hydration for more energy but better lip definition within 20 minutes.
Dry scaly skin on legs
Legs and arms have fewer oil glands and the combination of reduced blood flow to the limbs in cold weather leave them looking dry and scaly. Body brush to improve circulation and after bathing, pat your skin dry.
Itchy, streaming eyes
Cold winds combined with dry centrally heated air play havoc. Wear protective eye-wear when walking in the wind or cold and use artificial tear substitutes 3 – 4 times per day.
A dehumidifier can help to combat the dryness caused by open fires and central heating and add omega fatty acids to your diet.
Brittle fly away hair
I've always had fine hair but as I've gotten older have found that it is more susceptible to breaking in winter. Earlier this year I re-discovered Joico products and even though my hair is still fine it's so much thicker and less brittle. I use K-PAK Colour Therapy Shampoo, K-PAK Deep penetrating Constructor and something that I have found incredible for untangling dry ends is Unique 10 Argan plus+. They're not cheap but the shampoo and Argan plus last for ages. Admittedly, I do get through the conditioner quite quickly!
Dry cracked hands
The cold winter months can sap moisture out of the skin and leave hands rough and dry. What helps dry cracked hands is to rub your hands in a mixture of coarse salt and olive oil to exfoliate, then apply a nourishing serum or cream.
One of our top tips is to apply a moisturiser under rubber gloves while you do housework. The heat from warm water will help the cream to do it work.
Dry flaky skin on face
If your face is a little on the dry side, treat your skin to an indulgent facial oil or serum. Because serums often lack the thickening agents and lubricants found in face creams, they can penetrate the skin faster, giving an instant boost. To reap the rewards, add a few drops to your moisturiser or even your foundation.
Exfoliate! Now that we are at less risk of damaging the skin through the sun's harmful rays, it's the perfect time to embrace exfoliating and even try dabbling with retinols. By using a gentle exfoliator (harsher formulas can ultimately leave skin feeling even drier) one or two times a week, the skin will look fresher, brighter and more youthful. Plus, any dry or dead skin will be sloughed right off!
Wear SPF. Even during the winter – and even on a grey, rainy day – we need to protect our skin with a facial SPF. UV light can still cause damage in the winter months, causing premature ageing on the skin. You should invest in a good quality SPF of 30 or above to wear on your skin daily.
Get some night treatment for the dry skin on your face. When your head hits the pillow, let your beauty regime take over, leaving you with brighter, softer skin when you wake. When skin is really suffering, it may be worth treating your face to a night repair mask once or twice a week.
Meanwhile, our H30 Night Repair capsules can help you to wake refreshed and renewed. They contain a unique blend of potent herbs and antioxidants which offer super hydration as you sleep. Each capsule will leave you radiant come morning, and boosts skin, hair and nails. The Night Repair formula also protects from oxidative damage, increases hydration and even reduces puffiness and dark circles. What's not to love…? You can supercharge your results by combining it with collagen shots and H3O hydration in the popular bundle, radiant skin pack.