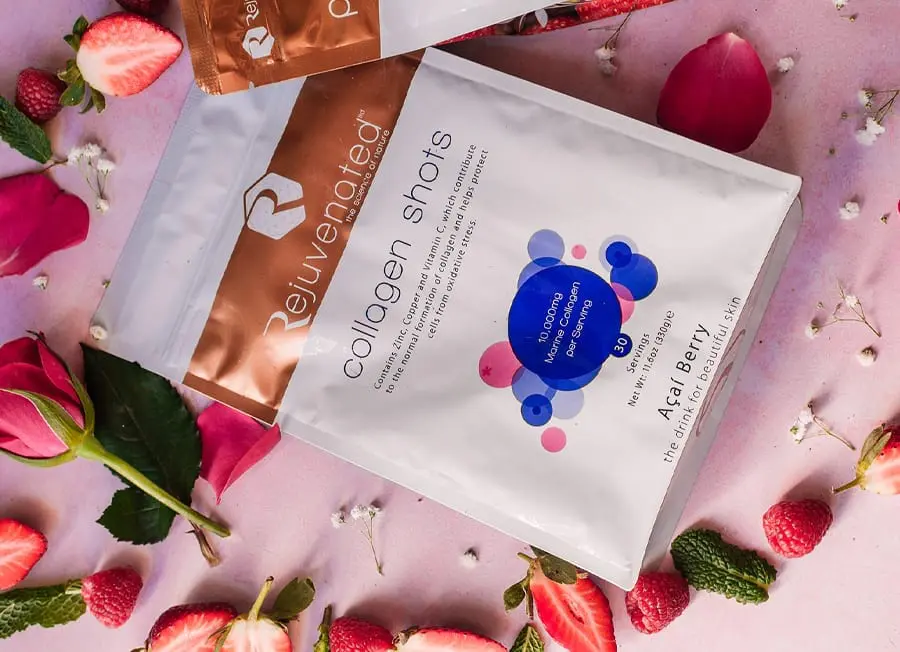 This nourishing duo are a true dream team, working together to strengthen and repair all skin tissues, hair and nails. If you already take and love our award-winning Collagen Shots, then we are positive that you know about collagen skin benefits and will love the power of our Protein Smoothie too.
Why Collagen Shots?
Right now, collagen is something of a buzz word in the beauty industry – it's on everyone's lips, and in every make-up artist's beauty arsenal. As an elixir of youth, it can work wonders on healing and rejuvenating every part of the body, from skin, nails and hair to joints, bones and even digestion.
But why is this? Well, collagen is the most abundant protein in the body – we all have it, and it essentially works to hold our bodies together. It also gives our skin strength and elasticity. Unfortunately, our body's natural collagen production diminishes with age (after the age of 25, collagen levels fall by as much as 1.5% each year), resulting in fine lines, wrinkles and dull skin.
For this reason, our Collagen Shots are always the first product we reach for when our skin needs some love and TLC. This award-winning product plumps, nourishes and smoothes the skin by providing our bodies with key amino acid proteins to stimulate fibroblasts. This, in turn, stimulates collagen production and elastin renewal, giving us a brighter, fresher and more youthful appearance.
Learn more about what you need to know about collagen
Is There A Vegan-Friendly Alternative?
Whilst collagen skin benefits are wonderful, Collagen Shots is formulated with marine collagen. But are there any vegan-friendly collagen for those who choose not to eat animal products?
The good news is yes – you don't have to eat animal products to get youth-boosting benefits, and there is now a vegan collagen substitute available.
Our brand-new Skin Perfecting Complex is a unique and exciting vegan-friendly product that is designed to support collagen and promote flawless skin. Our team of scientists have developed a world first – a vegan fusion of the exact amino acids required to promote collagen synthesis.
Each supplement also contains skin calming botanicals as well as Botani-col, which supports natural beauty from within.
Why Protein Smoothie?
Our delicious Protein Smoothies work in perfect harmony with our collagen-based products to give your skin an added boost. While Protein Smoothies are ideal for boosting fitness levels and helping the body to build lean muscle, they are also designed to firm connective tissue and our skin's elastin.
This is partly because of the high levels of pea protein (21g) found within each serving. Pea protein is ideal because it is vegan-friendly and easily digestible. Yet, it isn't just key for fueling that healthy body – it is also packed with amino acids, which are essential for building connective tissues in skin, cartilage and bones.
• Each serving of Protein Smoothie also contains a healthy dose of inulin, a starchy substance found in plants. Inulin is fantastic at supporting digestive health and can create a healthy gut flora, which also helps the body to absorb nutrients effectively.
• Another key ingredient in our Protein Smoothies is green tea, one of the healthiest foods on the planet. Green tea contains a super antioxidant called EGCG, which helps to fight DNA damage from UV rays. It also has powerful anti-inflammatory properties to give your skin a healthy, fresh glow.
Another skin-loving ingredient found in our Protein Smoothies is Glucomannan, which is found in the conj. plant. Although it is a very dull looking root, it helps to keep you feeling fuller for longer, balances blood sugars and is packed with ceramides. While it may sound technical, half of the superficial layer of skin (the top most layer of skin) is made up of ceramides.