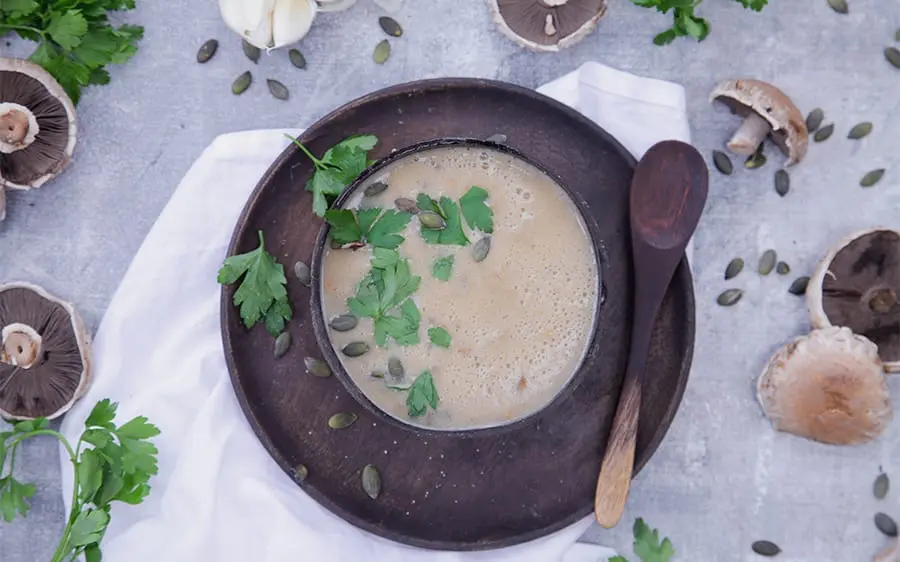 Now that we're well into the New Year, it's time to take those fresh, healthy new habits and embrace them in everyday life.
A healthy lifestyle isn't just about pounding the treadmill, or burning calories – it's about how we fuel our body, and the foods we put into it. Whatever your reason for making those changes and embracing a healthier lifestyle, it's important to keep bodies energised and healthy for the day ahead.
Most of us know that breakfasting like a King (or Queen!) and setting up the day with a nourishing meal is crucial, yet lunch can be the downfall for many – especially if you're tempted by vending machines, or struggle to pack healthy options to take with you to work.
This is where protein packed lunches to beat sugar cravings come in handy, whether you are a gym bunny or avoid exercise like the plague! Enjoying a protein-rich lunch will help you to power through afternoons – no coffee needed – as well as keeping you fuller for longer, and balancing blood sugars. Protein-rich meals can also help to build those long, lean muscles we all crave and can even aid weight loss.
What's not to love?
If you're looking for some inspiration, or even some ideas for protein-boosting snacks for the times when the biscuit tin starts to call your name, then read on.
Our favourite protein-packed lunch ideas…
The Ultimate Sandwich
Many gym bunnies avoid sandwiches like the plague. And, when made with refined carbs and filled with processed ingredients which will see your body crashing and your waistline expanding, it's best to give them a miss.
However, if you're a sandwich lover, then you don't need to overlook them to stay healthy! Simply pack in the protein and add whole grains for a nourishing, satisfying meal. We love to make rainbow sandwiches, filled with layers of fresh veggies – think spiralised carrots, grated beetroot and spinach, sandwiched between fresh sourdough or whole grain bread and a slathering of homemade, protein-rich hummus. Every bit as pretty as they are filling and nourishing!
If you're a fan of tuna mayo, then why not give it a healthy spin by mixing your fish with our favourite hummus (chickpeas are high in plant-based protein) instead of store-bought mayo? You could even mash up an avocado instead for a dose of healthy fats!
Protein Pots
For a portable, easy-to-store (in other words, easy to stash in your handbag!) lunch, why not try a Protein Pot? You can fill these with whatever takes your fancy – just embrace those protein-rich ingredients and enjoy! It could be spinach with boiled eggs and your favourite dressing (one egg packs in a hefty 13grams of protein), tuna nicoise, or even leftover chicken from the night before with spiced pulses (you could try this amazing Channa Dahl with Kale) and a natural or Greek yogurt dressing – 1 cup of fat-free Greek yogurt has a whopping 25 grams of protein.
A Hug in a Mug
For a warming, comforting lunch that's easy to carry around with you, why not try our delicious Protein Soups? Coming in handy sachets, these instant soups are packed with 12 grams of 100% natural, organic protein and contain freeze dried vegetables (for one of your five-a-day!), fibre and omega-3. Add in a spinach salad for the perfect, warming souper food (sorry, we couldn't resist!) to keep your nourished.
Frittata
Eggs are a fantastic way of upping your protein and those healthy fats all in one delicious burst! Frittatas are easily prepared on a Sunday afternoon, and can be stored in lunchboxes for the week ahead. Simply beat six eggs with some herbs and seasoning and pour into a pan over your favourite cooked veggies or meats. Then, simply sprinkle over some spring onions and some feta and grill until cooked. Cut into slices, and there you have it – an easy, cheap protein-rich lunch to get you through the week! You could also try our Scrambled Tofu Omelette for a super protein boost.
Squash & Quinoa Salad
For a protein-rich option that's vegetarian and vegan-friendly, try pre-cooking a lentil or quinoa salad to eat the next day. Quinoa is a fantastic seed (yes, it's not a grain!) to add to meals because it is a complete protein, packing in each of the nine essential amino acids your body needs and craves. We love to toss quinoa with chickpeas, cucumber, pepper and parsley with a simple lemon dressing.
Mason Jar Salad
If you're looking to up your veggie intake, then Mason Jar Salads are a great way of eating the rainbow on-the-go. Simply grab a Mason jar and pour your favourite dressing into the bottom (tip: we love protein-rich peanut or almond butter sauces). Next, layer up your favourite veggies (ideally ones that won't go soggy in a dressing) and protein-rich pulses and beans. Top off with whole grain brown rice or some cooked chicken and boiled eggs, or even some protein-boosting nuts and leafy greens, then seal and pack into your bag!
Snack Attack…
If snacks are your downfall, then you're not alone! The mid-afternoon energy slump can be the time we're most vulnerable to the snack attack – in other words, the time where that Mars bar is looking ever more tempting! Fend off those sugar cravings with protein-rich snacks, which you can have to hand when the munchies strike.
Some of our favourites include nut butter with Banana Protein Pancakes or apple wedges (2 tbsp of nut butter with an apple packs in around 8.3 grams of protein), handfuls of mixed nuts, roasted pumpkin seeds or spicy roasted chickpeas, hummus with veggies, or "cheesy" kale crisps roasted in Nutritional yeast (2 cups roasted in Nutritional Yeast and olive oil pack in around 9 grams of protein).
Shake it Up
If food prep is your downfall, then never fear! Our Protein Smoothies are a great option to reach for to ensure that you have a simple, filling and protein-rich snack. Our vegan-friendly drinks contain an impressive 21grams of organic pea protein and are the perfect drink to keep you fuller for longer, reduce appetite, keep blood sugar levels constant and help to reduce cholesterol levels. They're also the perfect choice for before and after your work out, or the ideal top up for when you want to add more vegan protein to your diet.