Serves: 12
Prep 30mins
359 kcals / serving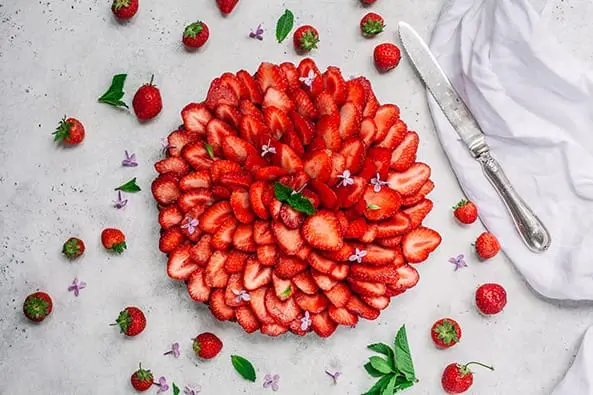 Recipe Info

Strawberry season is here and although we can buy strawberries all year round, there is nothing like homegrown freshly picked berries. This strawberry tart is just so deliciously gorgeous and the perfect way to serve a treat.

Instructions
Step 1 -
To make the base, stir together almonds, oat flour, cacao butter, 3 tbsp maple syrup, 1 tsp vanilla paste and pinch salt in a bowl.
Step 2 -
Press into a loose-bottomed 23 cm tart tin, pressing along the sides and smoothing down with the back of a spoon. If the mixture feels a little sticky, add some more almonds. If it's slightly too dry, add a splash more cocoa butter. Place in the fridge to firm up.
Step 3 -
Next, make your cashew cream by blending together the cashews, coconut cream, coconut milk, 3 tbsp maple syrup, dates, 2 tsp vanilla paste, 2 tbsp lemon juice and 2 scoops Collagen Shots until smooth and creamy, adding a splash more milk if needed. You want it to have a thicker texture (if it's too runny, you'll end up with a soggy bottom on your tart!) but to be completely smooth - you will need a good blender for this!
Step 4 -
Spread the cashew cream over your tart base, then place in the fridge overnight to firm up.
Step 5 -
Decorate and top with fresh strawberries before serving.
Ingredients
1 1/2 cup Ground almonds
1 cup Oat flour
4 tbsp Cacao butter
6 tbsp Maple Syrup
3 tsp Vanilla paste
1 pinch Salt
2 1/2 cup Cashew nuts soaked
6 tbsp Coconut cream
7 Medjool dates. pitted
2 tbsp Lemon juice
2 scoops Rejuvenated Collagen Shots