Serves: 2
Prep 15mins, Cook 15mins
527 kcals / serving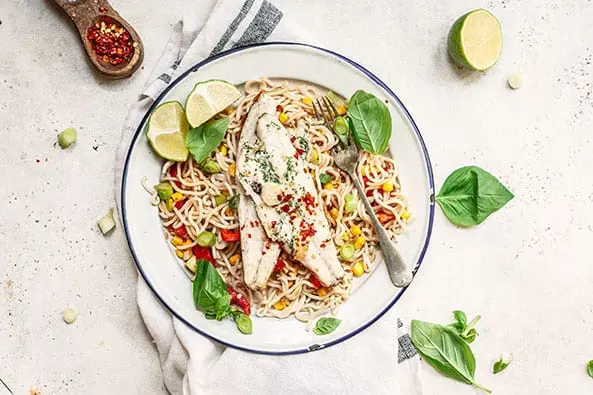 Recipe Info

A speedy mid week dinner or leisurely weekend lunch, these sea bass fillets with rice noodles are a perfect treat. Sea bass is packed with protein and will keep you full for hours. Spring onions and peppers add minerals and vitamins to give a fresh Thai taste. Ready in just 30 minutes from start to finish.

Instructions
Step 1 -
Start by heating your sesame oil in a pan. Sprinkle the ginger, chilli, salt, pepper, garlic and chilli over the sea bass, then squeeze over the lime juice. Place the fillets into the pan - skin down - and cook covered on a medium heat, until the skin is crisp and the fish is white and cooked through.
Step 2 -
In the meantime, heat more sesame oil in a pan and toss in the noodles with the remaining ingredients. Season to taste, adding a drizzle of lime juice if needed.
Step 3 -
Serve the cooked fish on a bed of warmed noodles.
Ingredients
2 handfuls Bamboo shoots raw
1 Lemon, juiced
1 pack Noodles to wok
1 Red pepper deseeded & chopped
2 Sea bass fillets
1 tbsp Sesame seed oil
1 Spring onion chopped
100 g Sweetcorn
1 tbsp Tamari