Serves: 2
Prep 15mins, Cook 15mins
502 kcals / serving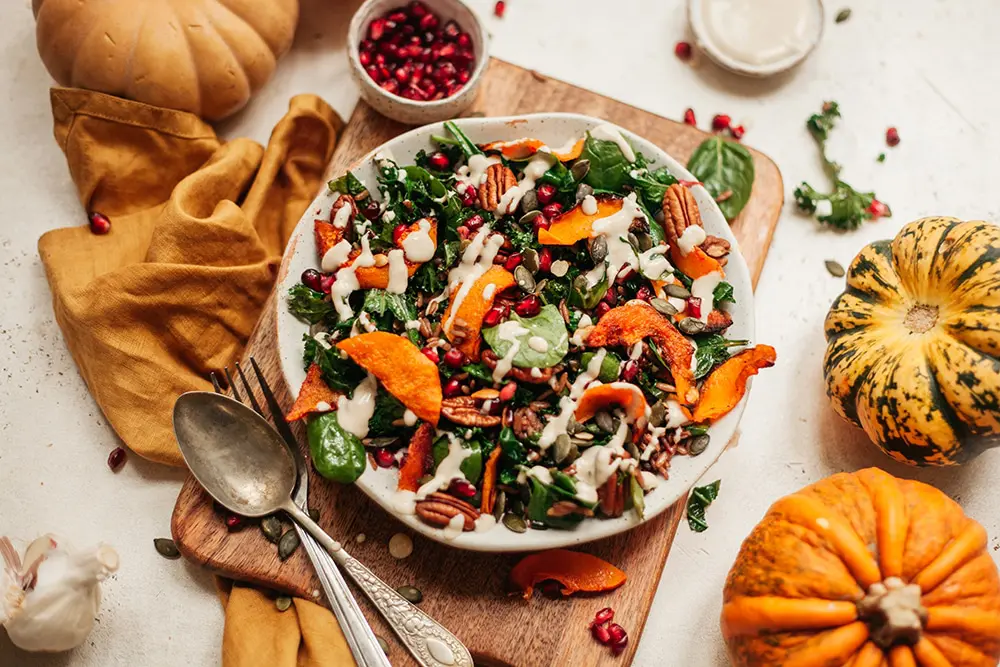 Recipe Info

If you thought salads were just for summer then we might change your mind with this tasty winter warming roast pumpkin salad. It's nourishing and so filling to make the perfect lunch or dinner. It's been created by the amazing foodie blogger Samantha Hadadi and we'd love to hear your thoughts if you give it a try.

Instructions
Step 1 -
Start by preheating your oven to 200C and lining a baking tray. Drizzle your pumpkin or squash pieces in 1-2 tbsp of olive oil, then season. Add a touch of spice, if desired (we used 1 tsp paprika). Place in the oven to roast until golden and slightly caramelised (around 20 minutes) - check after 15 minutes of cooking.
Step 2 -
As the pumpkin cooks, prepare your dressing by whisking all ingredients together, adding water until you get the consistency you desire (we added about 5 tbsp). Remove the cooked pumpkin from the oven and set aside.
Step 3 -
Serve warm topped with pomegranate seeds and drizzled with the tahini dressing.
Step 4 -
Heat some oil in a pan, then toss in the kale, pecans, pumpkin seeds and cooked rice. Cook, stirring often, until the kale starts to wilt and begins to crisp. Toss in the spinach and cooked pumpkin and heat for a further 30 seconds or so. Season to taste.
Ingredients
150 g Brown or wild cooked rice
1 Clove garlic minced
1 clove Garlic
1 small handful Pecans
1 large handful Pomegranate seeds
1 small handful Pumpkin seeds
2 cup Kale
1/2 Lemon juice
1 1/2 tsp Maple syrup optional
1 Small pumpkin or medium squash
Salt and pepper to taste
2 cup Spinach
3 tbsp Tahini