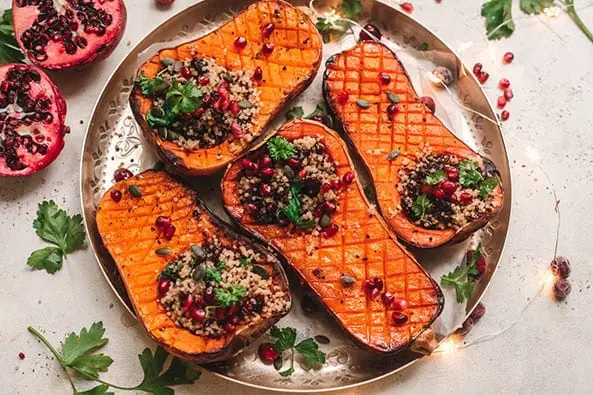 Recipe Info

This is a great option for vegetarians who want a tasty Thanksgiving lunch but it's also a perfect accompaniment to your turkey feast.

Instructions
Step 1 -
Preheat your oven to 180C, then line two baking trays.
Step 2 -
Cut butternut squash in half and deseed. Score with a sharp knife, creating a criss-cross pattern in the flesh. Drizzle each squash half with olive oil, then season with salt and pepper (you can add a herb or spice too, if desired). Place in the oven to roast for 30-45 minutes, or until tender and the skin is beginning to caramelise.
Step 3 -
In the meantime, cook your quinoa in vegetable stock according to packet instructions. Drain, then set aside until the squash has cooked.
Step 4 -
Once the squash is cooked, place the cooked quinoa in a frying pan with the cranberries, pecans and pumpkin seeds and cook quickly, until the cranberries have softened. Remove from the heat and toss through the fresh parsley. Spoon into the cooked, warm squash and scatter over pomegranate seeds and drizzle with pomegranate molasses.
Ingredients
2 Butternut squash
1 cup Cranberries
Large sprig Fresh parsley chopped
4 tbsp Pecans chopped
Pomegranate seeds & molasses to serve
2 tbsp Pumpkin seeds
250 g Quinoa
500 ml approx Vegetable stock