Serves: 6
Prep 20mins, Cook 15mins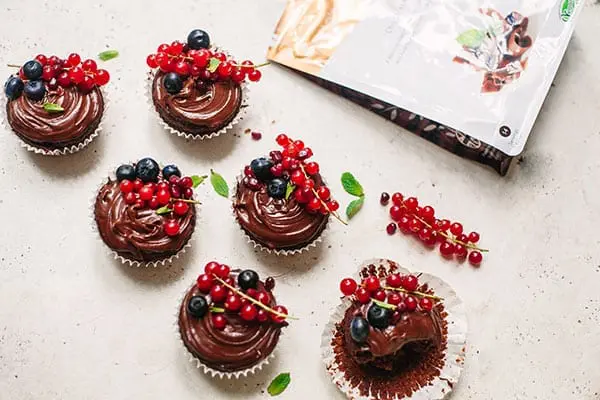 Instructions
Step 1 -
Preheat your oven to 180C (or 170C if using gluten-free flours), then line a muffin tin with cupcake cases.
Step 2 -
Stir together your dry ingredients in a large mixing bowl until well-combined.
Step 3 -
Place your wet ingredients (including the coconut sugar) into a blender and blitz smooth.
Step 4 -
Fold the wet ingredients into the flour mixture until well combined, then stir through the chocolate chips. Check you have the right consistency - you want your mixture to just fall off the mixing spoon (a soft dropping consistency) after mixing. Add a touch more flour if it's slightly too wet, or a splash more milk if it's too dry.
Step 5 -
Spoon the mixture into the cupcake liners, filling to around 3/4 of the way up, then place in the oven to bake for 12-15 minutes, or until cooked through. Leave to cool completely.
Step 6 -
To make your frosting, scoop out the solidified part of the chilled coconut milk - the 'cream'. You can save the water to make protein smoothies! Using an electric whisk, beat with remaining ingredients, sweetening to taste, until light and fluffy. Pipe the frosting onto cooled cupcakes and decorate with fresh berries. Alternatively, frost using our avocado mousse, yogurt or your favourite nut butter!
Ingredients
Dry Ingredient
3/4 cup Spelt flour or buckwheat flour for gluten-free
1 scoop Rejuvenated Chocolate Smoothie
2 tbsp Cacao powder
1 1/2 tsp Baking powder
1/4 tsp Bicarbonate soda
1 pinch Salt
Wet Ingredients
1 small Overly ripe banana
1/2 cup Cashew or hazelnut milk
3 tbsp Coconut oil, melted (could substitute for half a ripe avocado)
1 1/2 tbsp Maple syrup
1/2 cup Coconut sugar
1 tsp Apple cider vinegar
1 tsp Spelt flour
Sweetener (Stevia works better) to taste
1 tsp Vanilla extract
80 g Dark chocolate chunks
For the frosting (Optional)
1 tin Full-fat coconut milk, chilled in the fridge overnight
1 scoop Rejuvenated chocolate protein
1 tbsp Cacao powder (to taste)
Sweetener to taste (granulated, such as Stevia, works better)
1 tsp Vanilla extract