Serves: 16
Prep 20mins, Cook 30mins
247 kcals / serving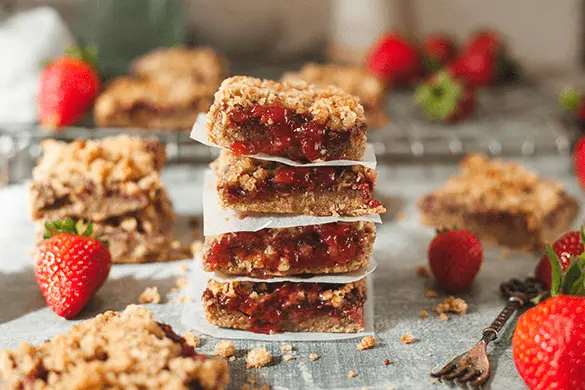 Recipe Info

Rhubarb Crumble is a firm favourite in our house. These hearty squares are scrumptious just as they are or you can add your favourite topping:- custard, ice cream or yogurt. Which would you choose?

Instructions
Step 1 -
Start by making your filling. Gently heat together the rhubarb, strawberries, water, 3 tbsp maple syrup and arrowroot, stirring often, until the mixture becomes syrupy and thicker -the fruit should be juicy and cooked through.
Step 2 -
Stir through 1 tsp vanilla paste and chia seeds, and adjust sweetness as desired. Set aside to thicken for an hour or so.In the meantime, preheat the oven to 170C.
Step 3 -
Prepare your base by stirring together 2 cups ground almonds and coconut flour.
Step 4 -
Melt together the butter and maple syrup, then stir in the vanilla. Mix together the butter with ground almonds and coconut flour and form into a dough. If the dough is a little dry, add more melted butter. If it's too sticky, add a touch more ground almonds.
Step 5 -
Press the dough down into a lined baking tin (I used a brownie tin), smoothing down with the back of a spoon. Bake for 12 minutes, until just golden. Set aside.
Step 6 -
Make your crumble topping by stirring together dry ingredients, then add in the maple syrup. Using your fingers, 'rub' the butter into the remaining dry ingredients (ground almonds, chopped almonds, oats) until they form a crumble topping.
Step 7 -
Once your rhubarb and strawberry jam has thickened, spread over your cooked base.
Step 8 -
Sprinkle over the crumble topping, then place back in the oven to bake for 18-20 minutes, or until the jam is bubbling and the crumble topping is golden.
Step 9 -
Serve in slices warm or cold, with coconut whipped cream.
Ingredients
2 cup Chopped & hulled strawberries
2 cup Finely chopped rhubarb
1 tbsp Water
10 tbsp Maple syrup to taste
1 1/2 tbsp Arrowroot
2 tbsp Chia seeds
2 tsp Vanilla paste
3 1/2 cup Ground almonds
5 tbsp Coconut flour
8 tbsp Butter (or coconut oil for vegans)
8 tbsp Oats
handful Finely chopped almonds
1/4 tsp Optional ginger powder to taste