Serves: 2
Prep 15mins, Cook 45mins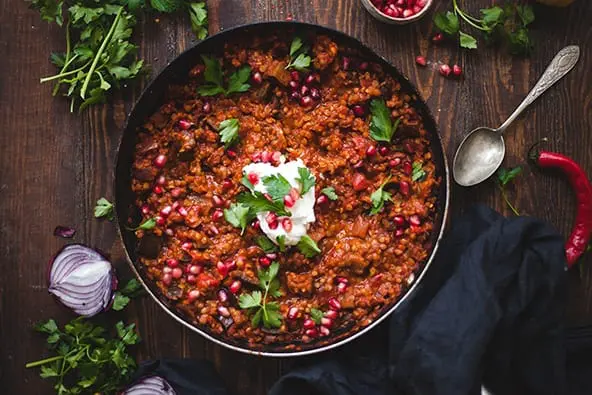 Recipe Info

We are really feeling how cold it has turned this week. The temperatures have dropped so quickly that we are beginning to believe that we are going to have the long cold winter that the weather forecasters have spoken about. This heart warming Red lentil stew created by Samantha Hadadi is just perfect to keep us warm. It's a great staple and can be made up in large batches to heat up during the week. We'd love to see your photos if you give it a try.

Instructions
Step 1 -
Heat some oil in a pan. Fry the onion for a few minutes, then add the garlic. Fry on a low to medium heat until just golden. Stir in the spices, vegetables, lentils and tomato puree and continue to heat, stirring often, for around five minutes - add more oil if needed!
Step 2 -
Add in the chopped tomatoes and vegetable stock and stir well to combine. Bring to the boil, then place the lid on an reduce to a simmer. Cook, stirring often to prevent the lentils from catching, until the lentils and aubergine are softened (20-30 minutes. Add more water as needed.
Step 3 -
Once cooked through, serve with coconut yogurt, chopped parsley and pomegranate seeds.
Ingredients
1 Red onion
3 Cloves garlic minced
2 tbsp Tomato puree
1 Chilli optional (omit for milder taste- deseed and sliced)
1 Red pepper
1 Aubergine cut into cubes
1 tbsp Paprika
1/2 tsp Cumin
1 tsp Chilli powder optional
1/2 tsp Cinnamon
200 g Red lentils
600 g Chopped tomatoes
400 ml Vegetable stock
As needed Water
1 tsp Coconut sugar
Fresh parsley, coconut yogurt, and pomegranate seeds to serve.