Serves: 2
Prep 60mins
305 kcals / serving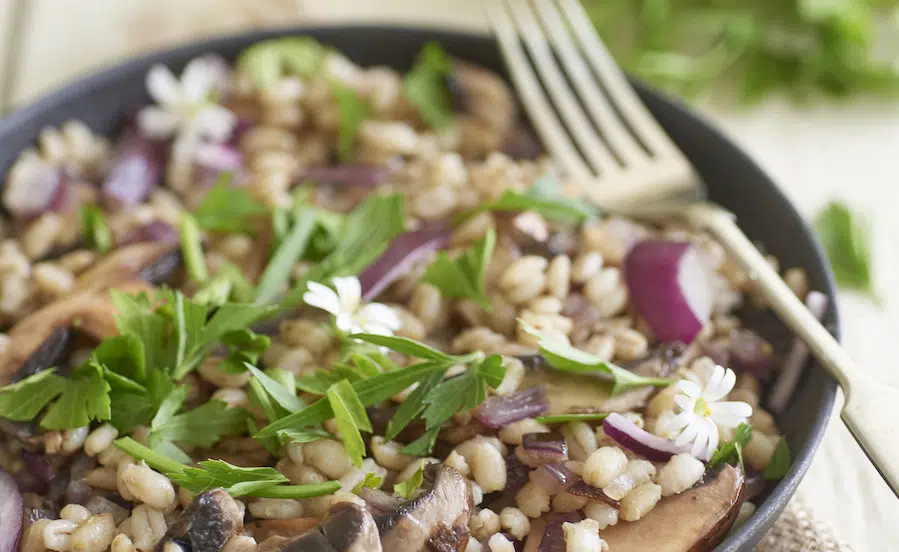 Recipe Info

Pearl barley is a lovely healthy alternative for traditional risotto rice, it provides minerals, fibre, selenium, copper, chromium and magnesium. It's a wonderfully versatile grain with a rich nutty flavour and can be used in most dishes where you would normally have rice.

Instructions
Step 1 -
Add pearl barley and bouillon to the water and bring to a boil, turning down and simmer for 30-40 minutes, or until softened and all liquid is absorbed.
Step 2 -
Next, gently fry the onions in olive oil until softened.
Step 3 -
In a separate pan, fry the mushrooms and garlic, until softened.
Step 4 -
To serve, toss together the cooked pearl barley with the onion and mushroom mixtures. Stir in parsely and season with salt and pepper to taste.
Ingredients
120 g Pearl barley
500 ml Water
0.5 tbsp Bouillon
1 Onion Peeled and finely chopped
500 g Mushrooms Chestnut
1 bunch Parsley
1 tbsp Olive oil