Serves: 1
Prep 10mins, Cook 15mins
661 kcals / serving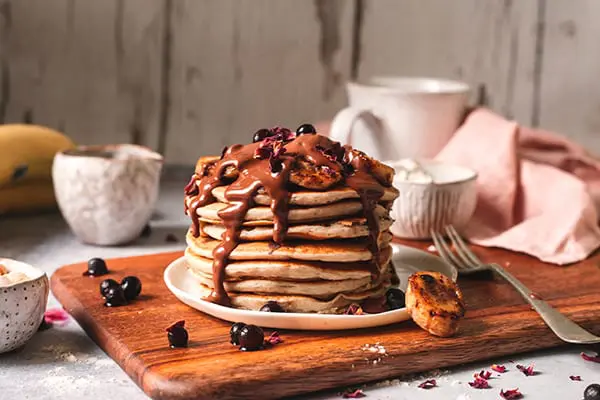 Recipe Info

These pancakes make such a heavenly treat for an indulgent breakfast or brunch. Power packed with Protein Smoothie for health and fullness. They are perfect on their own or topped with berries if you are looking to keep it lean. For a more indulgent topping, layer on honey, maple syrup or dreamy chocolate.

Instructions
Step 1 -
Place the banana, milk, vanilla and maple syrup in a blender and blitz smooth. Add in the remaining ingredients and blend once more.
Step 2 -
Pour into a jug and allow to stand for a few minutes.
Step 3 -
In the meantime, heat some coconut oil in a pan and allow the pan to become very hot. Spoon the batter into the pan, creating pancake shapes (we used 2 tbsp of batter at a time), then heat until the pancakes are bubbling on top and flippable.
Step 4 -
Flip and cook for a further minute on the other side, or until golden.
Step 5 -
Repeat with the remaining batter and serve with toppings of choice.