Serves: 2
Prep 30mins, Cook 35mins
606 kcals / serving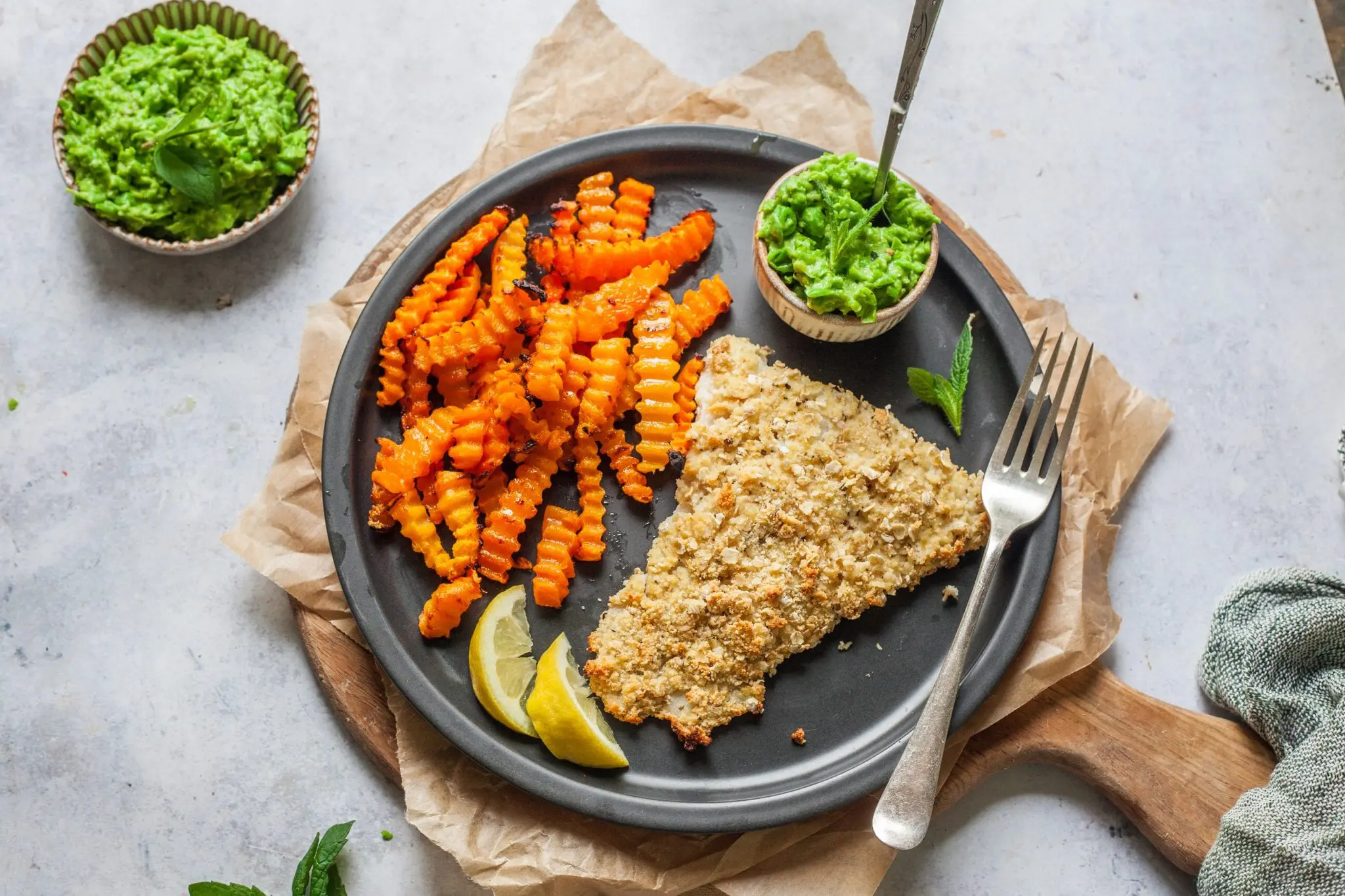 Recipe Info

Who doesn't love fish and chips and this healthy option is the perfect treat as it gives all the flavour while being packed with nourishing nutrients at the same time. Enjoy this delicious treat without feeling any guilt.

Instructions
Step 1 -
Preheat your oven to 200C. In a mixing bowl, toss together your sweet potato chips with the oil and seasonings. Arrange on a lined baking tray and place in the oven to bake for 35 minutes, or until crisp.
Step 2 -
In the meantime, make your fish. Stir together all dry ingredients in a bowl, along with salt and pepper. In a separate bowl, whisk the egg. Dunk each fillet of fish into the egg, then roll into the ground almond mixture, ensuring all sides are coated. Place into a pan and gently fry for a few minutes on each side, or until lightly golden. Remove from the heat and set aside.
Step 3 -
Once your chips have been cooking for 20 minutes, turn them, then place the fish on a separate tray into the oven beside them. Bake until the fish is cooked through (around 15 minutes).
Step 4 -
In the meantime, make your peas. Gently heat the oil in a pan, then add the peas. Cook until defrosted, then place into a blender with the remaining ingredients and pulse until you reach desired consistency.
Step 5 -
Serve the cooked fish alongside crispy sweet potato chips and mushy peas.
Ingredients
For the fish-
2 Skinless fillets white fish boned
3 tbsp Ground almonds
2 tbsp Oats
1/2 tsp arrowroot
1/4 tsp garlic powder
1 pinch Chilli flakes
1 pinch Oregano
1 Egg
Salt & Pepper to taste
For the mushy peas-
200 g Frozen peas
1 tsp olive oil
1 Mint sprig
2 tbsp Coconut yoghurt
Lemon juice to taste
Salt & pepper to taste
For the chips-
2 Sweet potatoes, scrubbed and cut into chunks (you can peel or leave the skin on)
1 tsp Olive oil
Seasoning of choice (we used paprika)
Salt & pepper to taste