Serves: 12
Prep 10mins, Cook 10mins
349 kcals / serving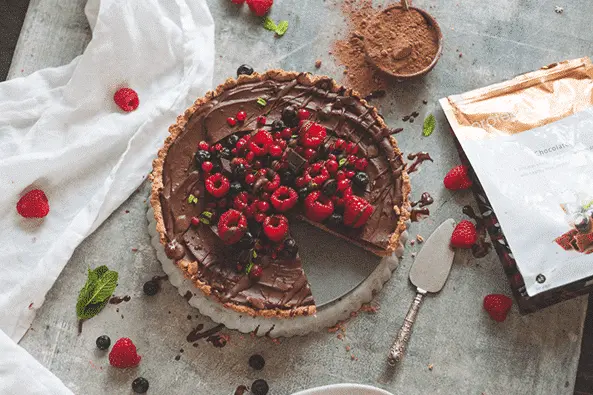 Recipe Info

There's no better time than Easter to indulge in chocolate. There are 2 times of year when it's totally acceptable before breakfast, one is Christmas and the other is Easter. Here's an amazingly divine chocolate avocado tart created by Samantha Hadadi. The incredible thing with this tart is that it is full of delicious goodness as every ingredient is packed with nourishment. The recipe creates on 20 cm tart and is for 12 servings but it is Easter and we're not counting. Indulge away and enjoy every mouthful.

Instructions
Step 1 -
Preheat your oven to 170C. Make your base by blending together the almonds and oats until they form a fine flour. Add to a large bowl, then stir in 3 tbsp maple syrup, butter, 1/2 tsp vanilla paste and pinch of salt, stirring and mixing with your hands, if needed, until it sticks together into a dough. Press into the base of a spring-form tart tin (I used a 20 cm tin) – if it's too dry, add a touch more butter or coconut oil. Too sticky and some more oats will do!
Step 2 -
Place in the oven to bake for 8-10 minutes, or until the base is golden and browned. Set aside to cool completely.
Step 3 -
Next, make your chocolate avocado tart filling. Start by melting the chocolate and coconut oil in a bain-marie, stirring until smooth.
Step 4 -
Now, toss your avocados into a blender along with the milk, yogurt, cacao or protein, maple syrup, salt, vanilla and melted chocolate and blend until completely smooth. Taste and adjust the sweetness or chocolate flavourings as needed.
Step 5 -
Spoon the chocolate avocado mousse over your cooked base, then leave to firm up for an hour or two. Alternatively, place in the fridge to firm up overnight.
Step 6 -
To serve, scatter over fresh berries and chocolate chunks, if desired, then cut into slices and eat. Store in the fridge.
Ingredients
3 tbsp Butter (or coconut oil)
1 tbsp Cacao
2 tbsp Coconut oil
3 tbsp Coconut yogurt
3 tbsp Dairy free milk (almond, coconut)
170 g Dark chocolate
100 g Fresh berries to decorate
2 cup Ground almonds
6 tbsp Maple syrup
1 cup Oats
2 scoops Rejuvenated Chocolate Protein Smoothie
2 medium Ripe avocado pitted
1 pinch Salt
2 tsp Vanilla paste