Serves: 4
Prep 20mins, Cook 60mins
314 kcals / serving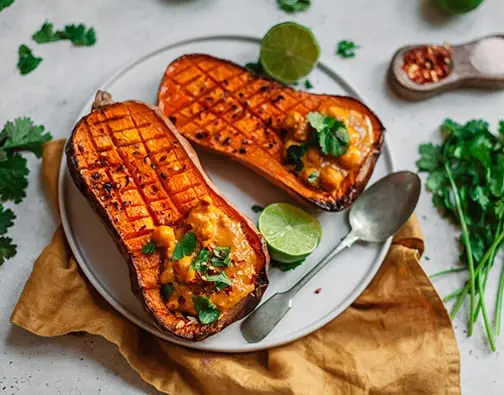 Recipe Info

This tasty dish is perfect for lunch or a light dinner. Add a salad, quinoa or wholemeal rice.

Instructions
Step 1 -
Melt the coconut oil in a pan, then add the onion and soften. Add the garlic, chilli, ginger and spices, along with some salt and pepper, then stir and fry for a further few minutes.
Step 2 -
Tip in the chopped tomatoes, coconut milk, butternut squash and chickpeas, then stir and adjust the heat to a simmer.
Step 3 -
Finely chop a small handful of coriander stems, then stir in. Cover with a lid and cook for around an hour, stirring and adding more.
Step 4 -
Once ready to serve, Just before stir through fresh lime juice and natural yogurt. Serve sprinkled with coriander leaves.
Ingredients
1 Butternut squash, peeled, deseeded and chopped
1 can Chick peas
1 tsp Chilli flakes
1 tsp Chilli powder
1 can Chopped tomatoes
1/2 tsp Cinnamon
1 can Coconut milk
1 tbsp Coconut oil
1/2 tsp Cumin
1 bunch Fresh Corriander
1/2 tsp Ground coriander
1 Lime
1/2 tbsp Minced ginger
1 Red chilli, deseeded and chopped
1 Red onion
1 tsp Turmeric
1 cup Yogurt