Serves: 8
Prep 15mins, Cook 25mins
242 kcals / serving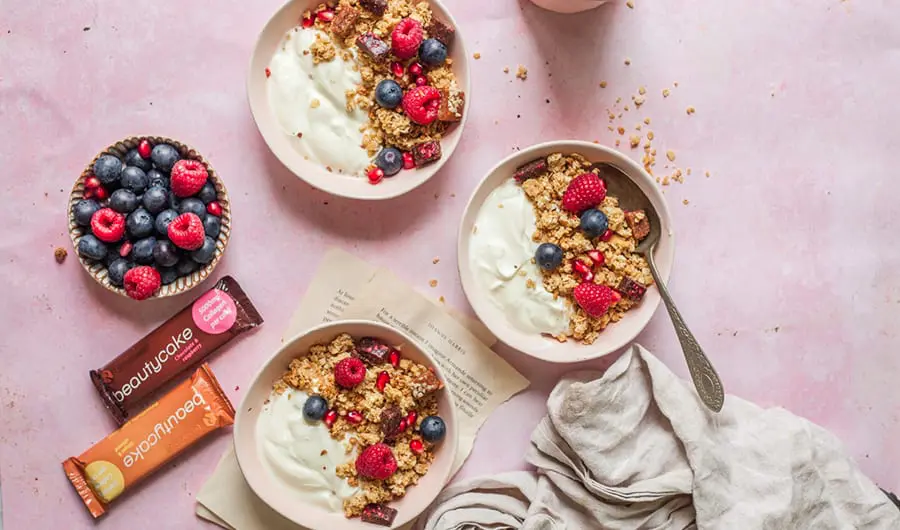 Recipe Info

Hands up if you like a tasty breakfast! We thought so and who can resist this gorgeous granola made with our delicious Beautycake®. Be warned it's so yummy that you might have to lock it in your cupboards or you may arrive home to find it's been devoured by your housemate.

Instructions
Step 1 -
Preheat oven to 150C and line a baking tray.
Step 2 -
Spoon the oil / butter into a pan, alongside the maple syrup. On a low/medium heat, cook until the oil has melted, stirring smooth. Remove from the hob, then stir in your vanilla. Set to one side.
Step 3 -
Take a large mixing bowl and stir together oats, coconut, nuts and cinnamon. Stir in the melted oil, ensuring the oats are completely coated.
Step 4 -
Spoon the granola mix onto your baking tray, then bake for 20-25 minutes (or until golden), stirring mid-way through cooking. Once cooked, turn the oven off completely, then open the oven door. Allow the granola to cool while still inside the oven - this helps it to crisp more.
Step 5 -
Once cool, stir through dark chocolate chunks and Beautycake bars and store in an airtight container until ready to eat.
Ingredients
3 tbsp Butter or coconut oil
2 tbsp Cashew butter
5 tbsp Maple syrup to taste
1 tsp Vanilla extract
2 cup Oats
3/4 cup Desiccated coconut
1/2 tsp Cinnamon to taste
1 dash Salt to taste
100 g Dark chocolate
2 Beautcake bars of choice, chopped