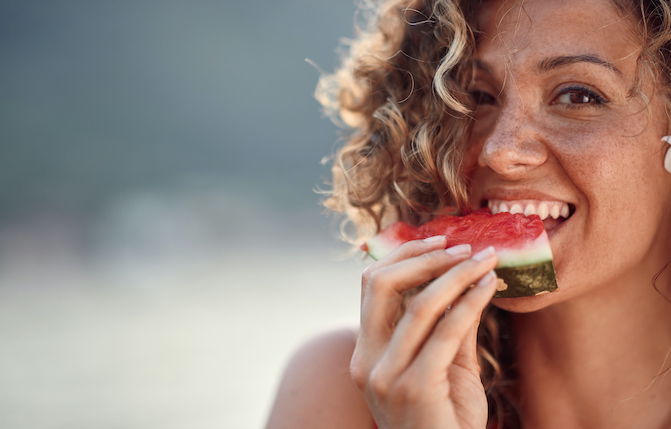 Here comes the sun. We're ready with topical sunscreen, hats, and sunglasses, but did you know that your diet can be an extra weapon to protect your skin and delay ageing. Increasing certain nutrients in your diet can improve your skin's resilience to the sun.
Antioxidants are nature's own edible sunscreens. These precious molecules can be found in healthy fats, vegetables, fruits, and fish. Experts refer to it as the SPF diet and it's no surprise that many of the foods herald from tropics and Mediterranean.
Carotenoids
Carotenoids are a specific antioxidant, giving plants their orange colour. One very potent carotenoid is astaxanthin. H3O Night Repair is packed with astaxanthin, an algae that coral feed on and clinical studies show that just one of its many benefits is protection from the sun.
Foods to add to your diet
Carrots
Oranges
Spinach
Mangoes
H3O Night Repair also contains vitamin E which has the ability to absorb energy from ultraviolet light and reduce inflammation. This is supplement goes to work while you sleep to reduce damage and help to protect you the next day.
Foods to add to your diet
Sunflower oil and seeds
Almonds
Red bell pepper
Avocados
Polyphenols for sun protection
Polyphenols are another food group that offers properties to help mitigate and prevent skin damage from sun exposure. They particularly reduce skin stress caused by UV light.
Regenerate by Rejuvenated contains the potent polyphenols resveratrol and pterostilbene. These molecules stimulate the activity of enzymes that have a key role in ageing metabolism and stress response to protect DNA. The supplement also activates the production of NAD+ the energy provider for our cells.
Foods to eat
Vitamin C to fight off free radicals
Vitamin C is the all-round wonder vitamin, it binds with free radicals caused by exposure to ultraviolet light. It's particularly good at protecting against the ageing UVA rays. Collagen Shots contains 160mg of vitamin C per serving and H3O Night Repair 80mg and combines it with vitamin E for added protection.
Foods to eat
Oranges
Strawberries
Tomatoes
Broccoli