Serves: 8
Prep 20mins, Cook 25mins
138 kcals / serving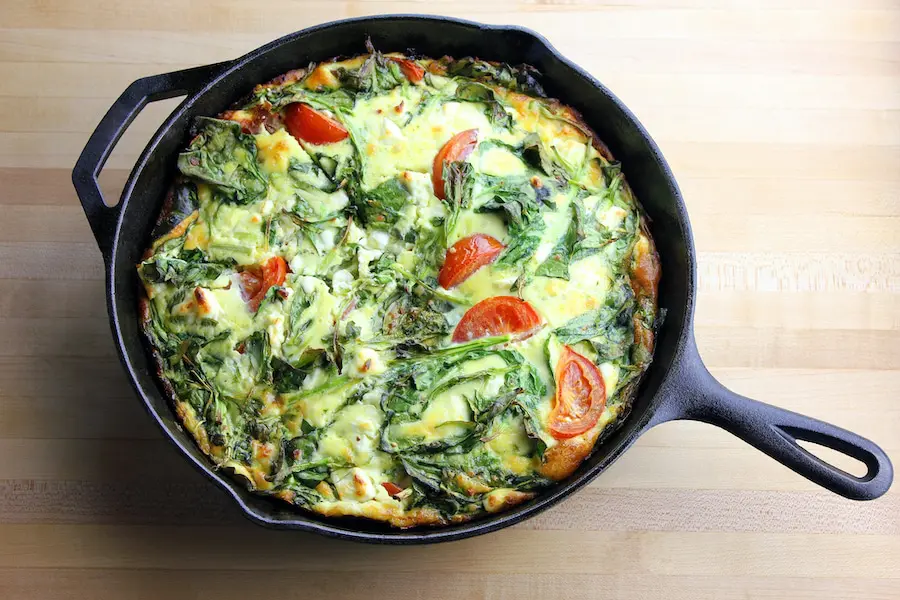 Recipe Info

This Veggie frittata is delicious as a lunch or dinner with friends. You can slice it up and pop into the fridge to eat later. It makes 8 small slices or 4 chunky ones depending upon your portion size.

Instructions
Step 1 -
Preheat the oven to 400°F. Heat 1 tablespoon of the oil in a nonstick ovenproof skillet over medium-high. Gently fry the onions until soft, add the tomatoes; cover and cook, stirring occasionally, until the tomatoes burst.
Step 2 -
Whisk together the eggs, 1 teaspoon of the salt, and ½ teaspoon of the pepper. Pour over the vegetables in the pan and cook, stirring gently, until the eggs just begin to set, about 1 minute. Stir in the spinach and sprinkle with the goat cheese and transfer the pan to the oven. Bake until the centre is set, 10 to 12 minutes.
Step 3 -
Serve with salad of choice.
Ingredients
1.5 tbsp Extra virgin olive oil
2 cup Spinach
4 Tomatoes - large
8 Eggs large
100 g Goats cheese
1 tsp Sea salt/ Himalayan salt
1/2 tsp Black pepper