Serves: 5
Prep 10mins, Cook 15mins
157 kcals / serving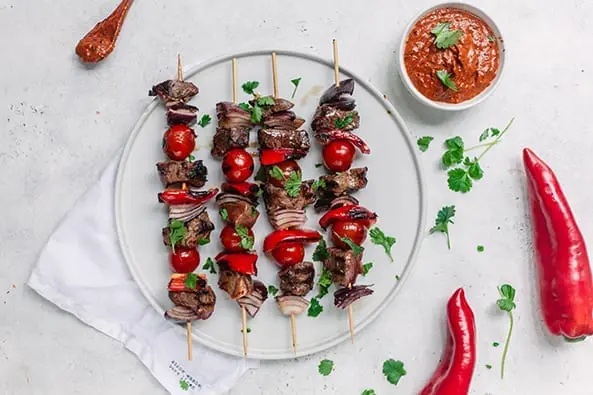 Recipe Info

These steak skewers are perfect for sunny BBQ days, those on high protein diets or on intermittent fasting. They are a tasty starter or main course depending upon your meal plan. What's your skewer of choice? We'd love to hear.

Instructions
Step 1 -
Toss the steak, 1 chopped red pepper, 1 chopped red onion and 1 tbsp olive oil together in a large bowl, then cover with foil. Place in the fridge to marinade for at least half an hour.
Step 2 -
Preheat your oven to 220C and line a baking tray. Toss the remaining red pepper ingredients together, then spread out on the tray evenly. Place in the oven to bake for 20-25 minutes, or until skins are charred, turning half-way through cooking.
Step 3 -
Place in a blender, along with the juices and oils, and blitz completely smooth, adding a splash of water if needed to thin. Season to taste, then spoon into a dish and place in the fridge.
Step 4 -
To make your kebabs, thread the refrigerated ingredients onto the wooden skewers. Brush the vegetables lightly with oil, then place on a grill or BBQ and cook until the steak is cooked according to your preference, turning the skewers as needed.
Ingredients
2 Rump steaks (or steak of choice) cut into strips
1 1/2 Red onions peeled and cut into chunks
1 packet Cherry tomatoes
2 tbsp Olive oil
5 Red pepper - deseeded & chopped
1/4 tsp Chilli flakes
1 pinch Salt and pepper to taste
2 cloves Garlic