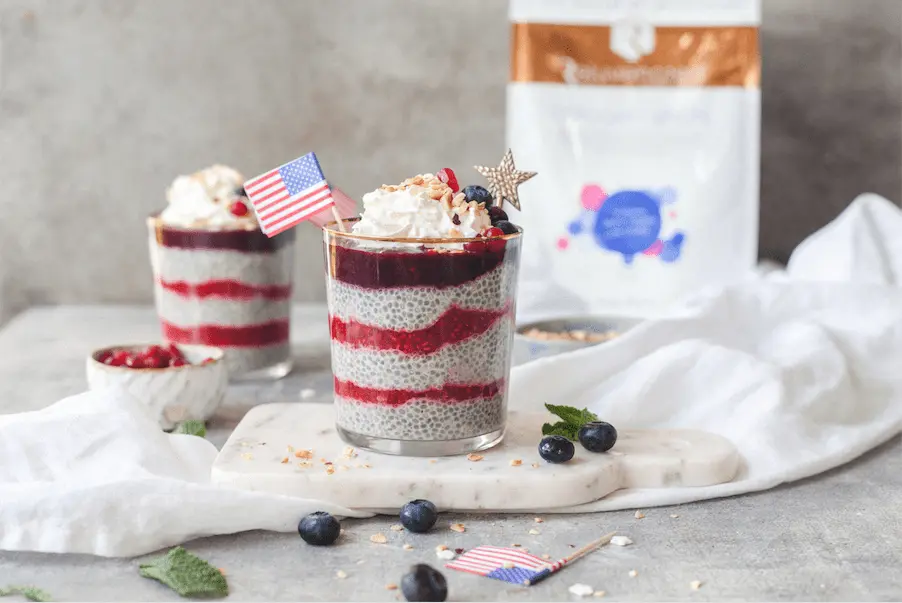 Recipe Info

To celebrate our launch in Barneys New York, Samantha Hadadi created this youth boosting Stars and Stripe Chia Pudding. Chia seeds are packed with fibre and omega 3 and a couple scoops of Collagen Shots make this recipe perfect skin food at any time of year.

Instructions
Step 1 -
Retain 2 tbsp chia seeds and 1 tbsp maple syrup on one side.
Step 2 -
Start by making your chia pudding the night before. Blend the remaining chia seeds with the milk, syrup and vanilla paste until creamy. Pour into a bowl or individual dishes, and stir after fifteen minutes or so. Place in the fridge to thicken overnight.
Step 3 -
Blitz together raspberries, lemon juice, remaining maple syrup and chia seeds and set on one side.
Step 4 -
Blitz blueberries and set on one side.
Step 5 -
When chia pudding is set add a scoop to each bowl, then a layer of raspberry mix. Follow by more chia and raspberry then a layer of chia and blueberries.
Step 6 -
Top with whipped cream, nuts and berries. Enjoy!
Ingredients
2 cup Blueberries
3/4 cup Chia seeds
2 tbsp Coconut cream, whipped
2 scoops Collagen Shots
2 cup Frozen raspberries
1/2 Juice from lemon
1 1/4 tbsp Maple syrup
sprinkle Nuts & berries for topping
2 cup Oat milk
1 tsp Vanilla paste