Serves: 2
Prep 20mins, Cook 30mins
26 kcals / serving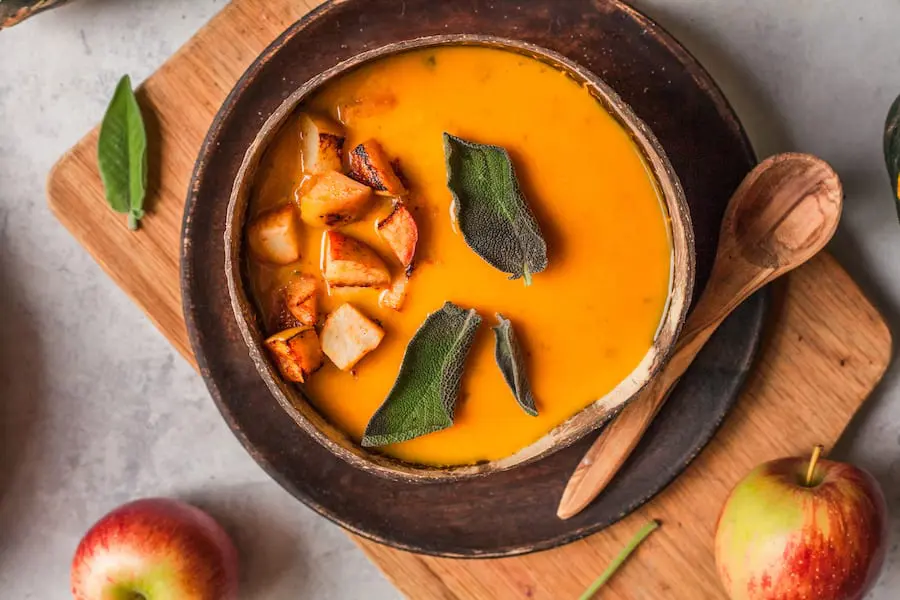 Instructions
Step 1 -
Heat some oil in a pan, then add the onion and fry until fragrant. Add in the garlic and continue to cook, stirring often, for a few minutes.
Step 2 -
Add in one apple and the squash and continue to cook, stirring frequently, for five minutes.
Step 3 -
Add in the veg stock, then bring to a simmer and cook until the squash has softened. Blend smooth, seasoning to taste, adding more liquid if desired.
Step 4 -
Now, gently fry the remaining apples until caramelised. Sprinkle with a touch of sugar, if desired. Heat the sage until crisp. Serve scattered on top of the soup.
Ingredients
1 Onion
2 Garlic cloves
1 Large squash, peeled and chopped
3 Apples chopped
1 l Vegetable stock
Few Fresh sage leaves
Salt & pepper to taste
Dietary info
Gluten Free | Vegan