Serves: 2
Prep 15mins, Cook 15mins
392 kcals / serving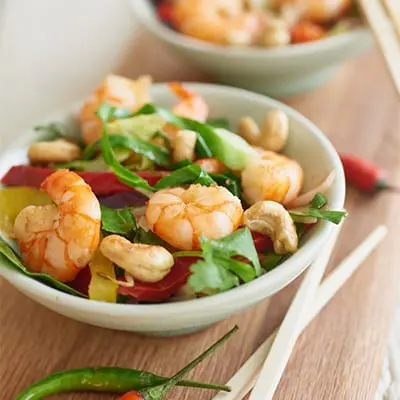 Recipe Info

Happy Chinese New Year to you. Are you wondering what to eat for dinner? If you don't have much time then this is the perfect Chinese New Year treat to rustle up in no time. With delicious fresh vegetables, just add prawns, ginger and garlic. If you're in a rush then you can just use a bag of stir fry to have it ready in minutes.

Instructions
Step 1 -
Wash, slice and chop all vegetables.
Step 2 -
Fry the onions gently in grape seed oil until beginning to soften, then add the peppers, chilli and carrots until softened.

Step 3 -
Remove the onion mixture from the pan, then fry the prawns quickly, stirring through the garlic, cashew nuts and ginger.
Step 4 -
Add the vegetables back to the pan, along with the mange tout and bean sprouts, and heat back through. Serve.
Ingredients
1 handful Bean sprouts
75 g Cashew nuts
1 Chopped carrot
1/2 tbsp Grape seed oil
1 Onion sliced
400 g Prawns
1 Red or Green pepper