Serves: 2
Prep 10mins, Cook 80mins
184 kcals / serving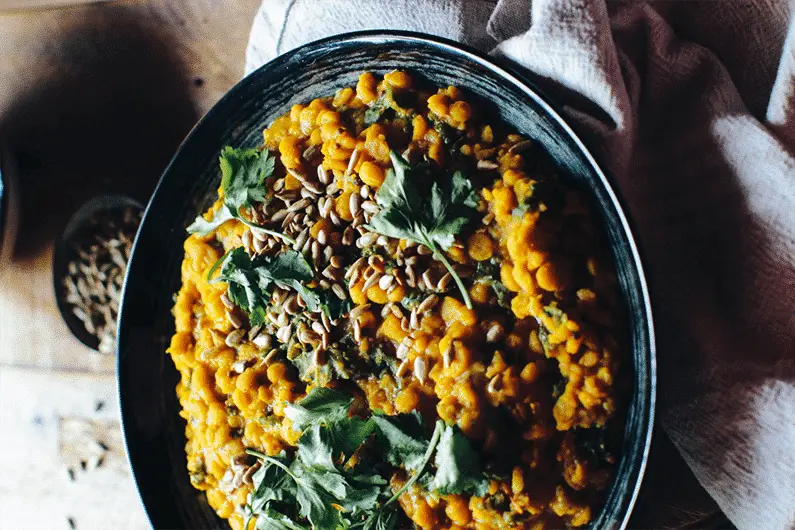 Recipe Info

There's something incredibly comforting and nourishing about dal, the gorgeous Nikki of Rebel recipes has so many versions up her sleeve and we could devour every one of them.

Instructions
Step 1 -
Wash channa dal thoroughly.
Step 2 -
Add the chana dal to a saucepan with 6 cups of water. Bring to the boil and skim off the froth. Add in the turmeric.
Step 3 -
Turn down to a low heat and let it simmer for 1 1/4 hrs then add in the salt.
Step 4 -
Add the coconut oil to a large frying pan and heat to a medium heat. Add in the asafoetida and mustard seeds. When they start to pop add in the cumin seeds and chilli flakes. Stir for a few seconds then add in the onion. Fry for approx 8-10 minutes until soft and browning.
Step 5 -
Add in the garlic and ginger and stir for another few minutes, then add in the chopped tomatoes.
Step 6 -
Cook for a further 5-6 minutes then add the kale and 120ml of water. Simmer for 5 minutes.
Step 7 -
When the dal is cooked, add the kale & tomato mix to the dal and stir well. Season with salt, pepper & garam masala to finish.
Step 8 -
Delicious with flat breads & toasted seeds.
Ingredients
1/4 tsp Asafoetida powder
1 sprinkle Black pepper
2 g Channa dal
1 tsp Chilli flakes
2 tsp Cumin seed
4 cloves Garlic
1 inch Ginger
1 tsp Ground coriander
2 cup Kale or other green leaf
1 Onion
1 tsp Sea salt
3 oz Tomatoes
1 tsp Turmeric ground
6 cup Water