Serves: 4
Prep 10mins, Cook 60mins
535 kcals / serving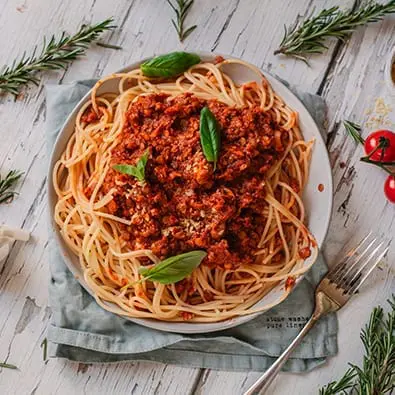 Recipe Info

This recipe is so tasty and nourishing. It's the perfect vegan winter warmer for lunch or a satisfying dinner. Packed with protein fuelled lentils and spicy chilli to warm you through. Its a staple favourite from the lovely Samantha Hadadi.

Instructions
Step 1 -
Warm a tablespoon of olive oil in a pan. Toss in the onion and cook for a couple of minutes on a medium to low heat. Stir in the garlic and cook until lightly golden.
Step 2 -
Next, add the celery, carrots, red pepper, rosemary, tomato puree and chilli flakes and cook until fragrant - one to two minutes.
Step 3 -
Pour in the chopped tomatoes and vegetable stock. Bring to the boil, then simmer until rich and lightly thickened (20-30 minutes), stirring often to prevent it from catching. Place in the blender and blitz smooth.
Step 4 -
Add your tomato sauce back to the pan, then stir in the lentils, walnuts and mushrooms, adding in a touch of water if needed. Cook on a simmer until rich, thick and tomatoey and the lentils have softened (25-30 minutes). Stir often to prevent the bolognese from catching, adding more water if needed.
Step 5 -
When almost ready, cook your pasta according to packet instructions. Drain, reserving some of the pasta water.
Step 6 -
Stir 3 tbsp of pasta cooking water through your cooked bolognese. Mic in the fresh basil leaves and lemon juice, then season to taste.
Step 7 -
Serve hot in bowls alongside cooked pasta, and top with Nutritional Yeast and a squeeze of lemon or basil leaves, if desired.
Ingredients
3 Carrots peeled and chopped
1 stick Celery chopped
1 tsp Chilli flakes
2 tins Chopped tomato
3 cloves Garlic minced
1 Courgette chopped
Handful of fresh basil
Fresh lemon juice to taste
Gluten free spaghetti
150 mg Chopped mushrooms
1 1/2 cup Red lentils
1 Red onion
1 Chopped red pepper
2 Sprigs of Rosemary picked and chopped
Salt and Pepper to taste
2 tbsp Tomato puree
120 ml Vegetable stock
1 cup Ground walnut