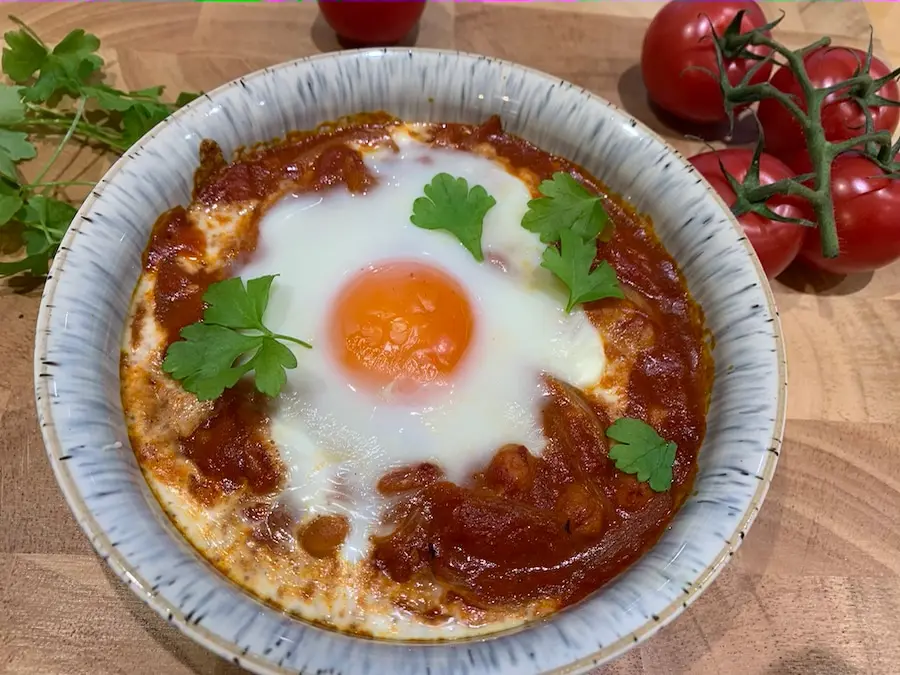 Instructions
Step 1 -
Pre heat the oven to 200C/400F. Heat the olive oil in a high-sided, ovenproof frying pan over a medium heat and fry the onion for 6–8 minutes, or until softened
Step 2 -
Add the garlic, chilli and paprika and fry for a couple more minutes.
Step 3 -
Stir in the tomatoes and harissa paste and gently simmer until it reduces and thickens to intensify the flavours. Stir in the chick peas and season to taste.
Step 4 -
Use the back of a ladle to make a dent in the sauce and crack an egg into each dent. Bake in the oven until the egg whites are firm but the yolk is runny.
Step 5 -
Top with coriander and serve with rice or toasted bread (gluten free if required).
Ingredients
1 tbsp Olive oil
1 Onion, large
2 Cloves garlic minced
1/2 tsp Dried chili flakes
1 tbsp Harissa paste - more can be added to taste
1 tsp Smoked paprika
800 g Tinned tomatoes (2 tins)
4 Eggs, large
Coriander to serve