Serves: 4
Prep 10mins, Cook 45mins
142 kcals / serving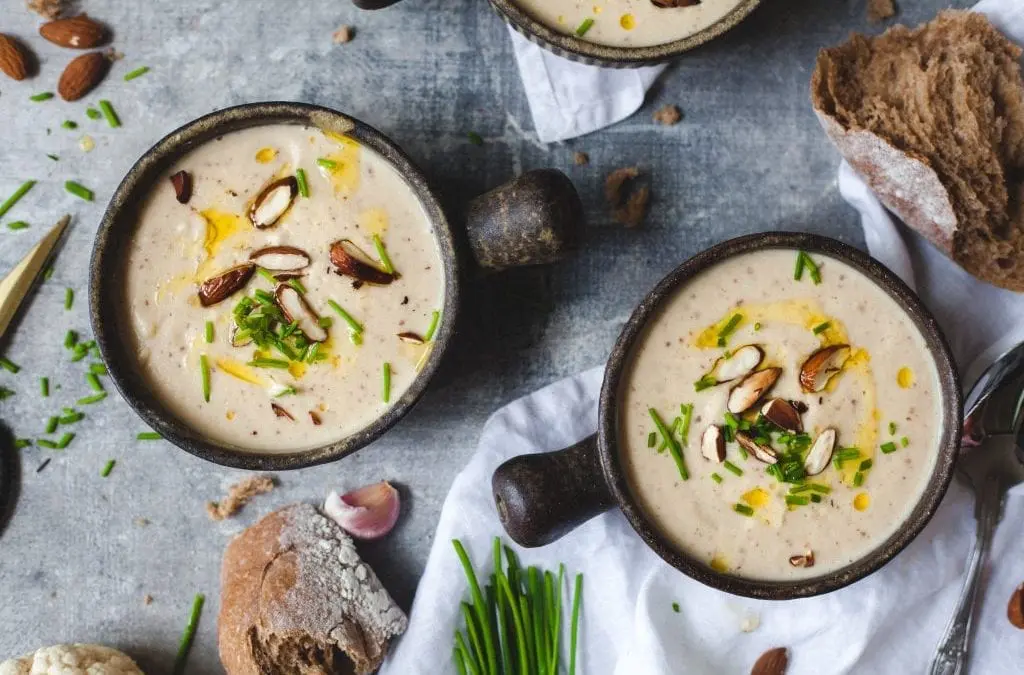 Recipe Info

This creamy cauliflower soup is utterly divine. Roasting cauliflower brings out its natural sweetness and flavour, while the coconut milk gives it delicious creaminess. This recipe is so simple and can be made in bulk to enjoy over the week ahead.

Instructions
Step 1 -
Preheat your oven to 220C. In a bowl, toss your cauliflower with 1 tbsp of olive oil and season with salt and pepper. Lay on a lined baking tray and roast until tender and golden (you can also roast your garlic if you'd prefer, rather than sautéing later – just leave the skin on during prep, if doing this, then squeeze from the skin later!) – around 30 minutes. Remove from the oven and set aside.
Step 2 -
Heat some oil in a large, deep saucepan. Add the onion and cook for a few minutes. Add in the garlic (if not roasted), then fry until the onion is softened and translucent, stirring often.
Step 3 -
Add your vegetable stock and bay leaf, then bring to a boil and allow to simmer for a few minutes. Add in your cauliflower and cook for a further 5-10 minutes.
Step 4 -
Stir through the coconut milk and lemon juice, fish out the bay leaf and remove from the heat.
Step 5 -
Place in a high speed blender, along with the butter, almonds or beans (if using) and blitz until completely smooth. Add more liquid if desired, and season to taste.
Step 6 -
Serve warm topped with the toasted almonds, a drizzle of truffle oil and a sprinkling of fresh chives.
Ingredients
1 large Cauliflower head
4 Garlic cloves
1 Onion peeled & chopped
2 cup Vegetable stock
1/2 1/2 tin Coconut milk
1/3 cup Almonds or white beans
1/2 Lemon juiced
1 tbsp Butter or dairy free option
sprinkle Salt & Pepper to taste
sprinkle Chives & truffle oil