Serves: 2
Prep 10mins
424 kcals / serving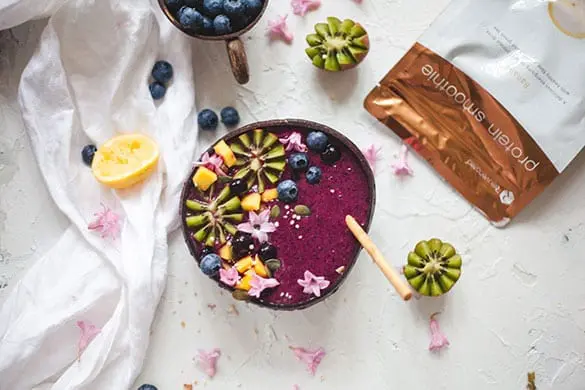 Recipe Info

We can't get enough blueberries in our house, they are an absolute staple in our morning Smoothies and juices. Here's a protein packed bowl with blueberries, banana and Rejuvenated banana pea protein Smoothie. Using frozen banana's gives it a beautifully creamy texture and the blueberries give a potent vitamin C boost.

Instructions
Step 1 -
Add all ingredients together and blend well.
Step 2 -
Share between 2 bowls and add topping of your choice. Enjoy!
Ingredients
2 scoop Banana Protein Smoothie
2 cup Blueberries
2 tbsp Chia seed
2 Frozen bananas
1/2 Lemon juiced to taste
1 1/2 cup Unsweetened cashew milk