Serves: 2
Prep 5mins, Cook 15mins
284 kcals / serving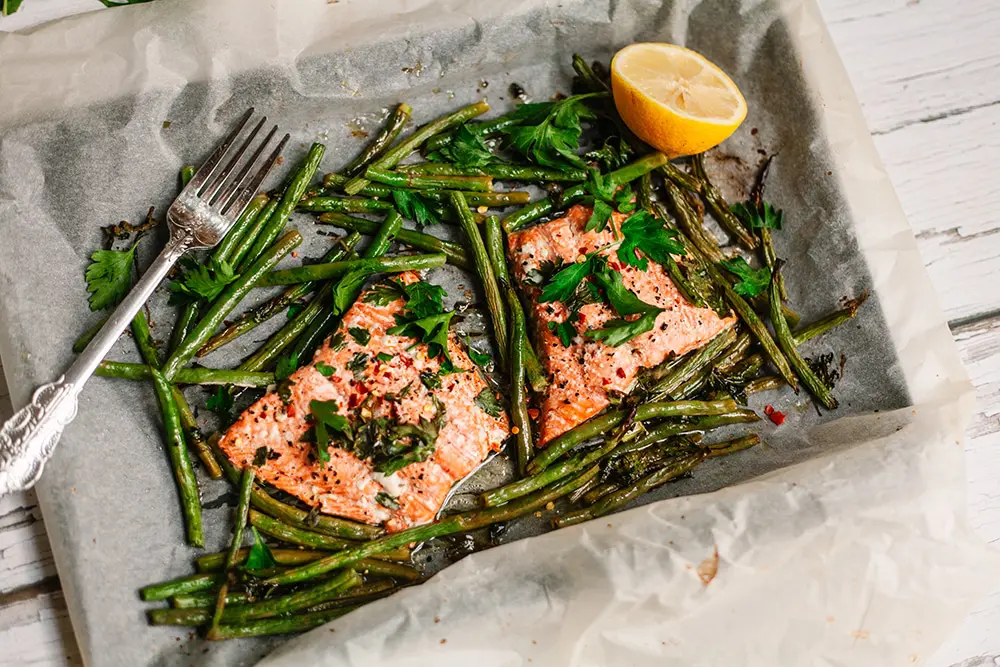 Recipe Info

Summer and salmon are made for each other, it's so versatile you can use it as an ingredient for everything from tarts to a roast. This meal provides a quick and easy lunch or a perfect supper with friends. It's ready in no time and is full of omega 3 oils to nourish and give your skin a healthy glow.

Instructions
Step 1 -
Preheat oven to 210C.
Step 2 -
Brush some olive oil over each salmon fillet, then sprinkle over salt, pepper, lemon zest and half of the chilli flakes.
Step 3 -
Lay salmon on baking paper, then surround with the beans. Drizzle beans with remaining oil, and season. Drizzle fresh lemon juice over both salmon and beans, then scatter over fresh parsley.
Step 4 -
Place in the oven to bake for 14-16 minutes, or until the salmon begins to flake and the beans are tender.
Ingredients
2 Salmon fillets
1 tbsp Olive oil
200 g Green beans trimmed
sprig Parsley, chopped
1 Lemon zest
1 Lemon juiced
1/2 tsp Chilli flakes
sprinkle Salt and pepper to taste