Serves: 4
510 kcals / serving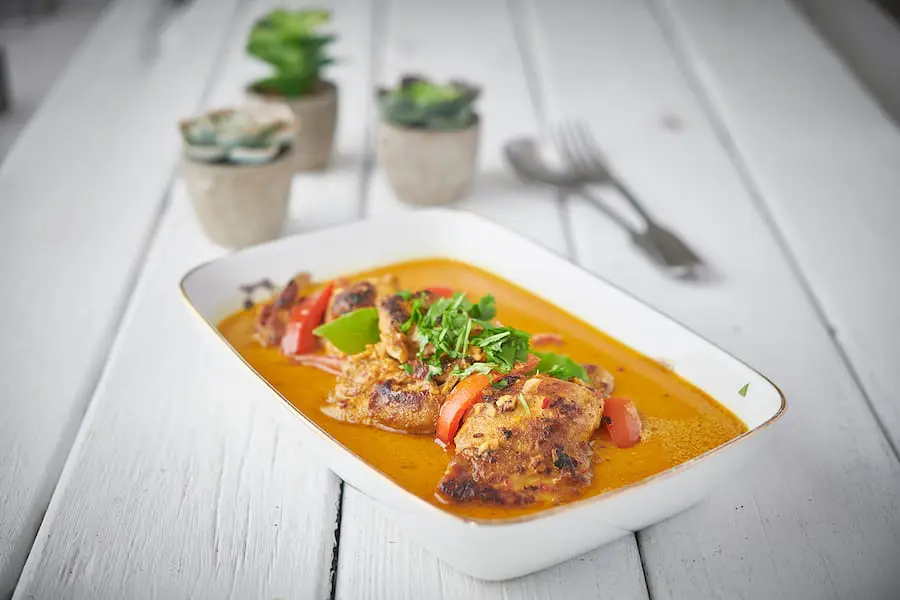 Recipe Info

This is one of our favourite meals all year round and it is perfect for left-over turkey as it uses chicken thighs

Instructions
Step 1 -
Blend together the lime juice, zest, garlic turmeric curry powder and cayenne/chilli
Step 2 -
Coat chicken pieces in the mixture and season them with Himalayan salt and black pepper. Leave to marinate.
Step 3 -
Pre heat the oven to 180 160 (WHICH ONE) degrees fan gas mark 4 Place in a large casserole over a medium heat, add the oil and diced onions and the marinated chicken skin down. For 4-5 minutes or until the chicken skin is just turning brown, turn them over and seal the other side for 2-3 minutes.
Step 4 -
Reduce the heat, add the red peppers and any remaining marinade along with the fish sauce, coconut milk and bay leaves. Bring everything to a simmer.
Step 5 -
Place the casserole in the middle of the oven for 25 minutes, basting the chicken occasionally until it is cooked through. Remove from the oven and stir in the coriander. Serve with a dollop of Greek style yogurt, 2 tbs brown rice and steamed green vegetables
Ingredients
1 Juice and zest of lime
2 Clove garlic, diced
1 tsp Turmeric
2 tsp Medium curry powder
1/2 tsp Cayenne pepper or chilli flakes
4 Larch chicken thighs bone and skin on
3 tbsp Coconut oil, olive oil or ghee.
1 Onion diced
2 Medium red peppers, deseeded and sliced lengthways
1 tbsp Thai fish sauce or soy sauce
200 ml Coconut milk
2 Bay leaves
1 Handful coriander chopped