The original and best collagen drink
Our award-winning sustainably sourced Collagen Shots® drink promotes more youthful skin by reducing fine lines and wrinkles, and increasing skin hydration and elasticity.
Containing a blend of 10,000 mg of hydrolysed marine collagen, antioxidants, vitamins and hyaluronic acid. Collagen Shots is in a ready to mix powder, just stir in water and drink daily..
Premium 10,000mg marine collagen powder
Why our collagen is so good. Read more
30 servings per pouch. Just £1.30 per drink
Add water, stir and drink
Enjoy daily. How soon will I see results?
Collagen Shots helps to:
Improve skin elasticity
Reduce fine lines and wrinkles
Increase skin hydration
Improve skin radiance
More
'The cocktail of skin-loving ingredients that are combined in these Collagen Shots from Rejuvenated has earned them legendary status in the beauty community. ' Evening Standard.
Contains
Marine Collagen
Collagen is the most abundant protein in the body
Gluten and dairy-free
Suitable for diabetics
Natural, sustainable ingredients
Marine Collagen
Taking collagen as a drink is the perfect way to supplement diminishing levels or protein as we get older. Our exclusive drinkable collagen combination stimulates collagen synthesis, strengthens connective tissue and vascular health, which in turn boosts blood flow and hydrates the skin. Within a matter of weeks, skin tone appears smoother, firmer and plumper.
Natural, sustainable ingredients
How to take drinkable collagen supplements
Take on an empty stomach either first thing in the morning or at night. Add one serving (11g approx, 1 heaped tablespoon) of powder into a glass or water bottle with 200-250ml of water and mix.
Who shouldn't take this?
If you have a fish allergy this product is not suitable for you. If you have any medical concerns, are pregnant or breastfeeding, please consult your doctor.
"BEST SKIN SUPPLEMENT. This supplement is packed with marine extract collagen, antioxidant açai berry, hyaluronic acid and Vitamins B and C. Drink every morning for plump, youthful looking skin." Daily Express

Why our collagen is so good
Our collagen powder has been formulated with a unique amino acid profile to increase the production of collagen naturally.
This formula is exclusive to Rejuvenated. The youth-boosting ingredients work together to firm and smooth the skin, strengthen hair and nails, as well as much, much more.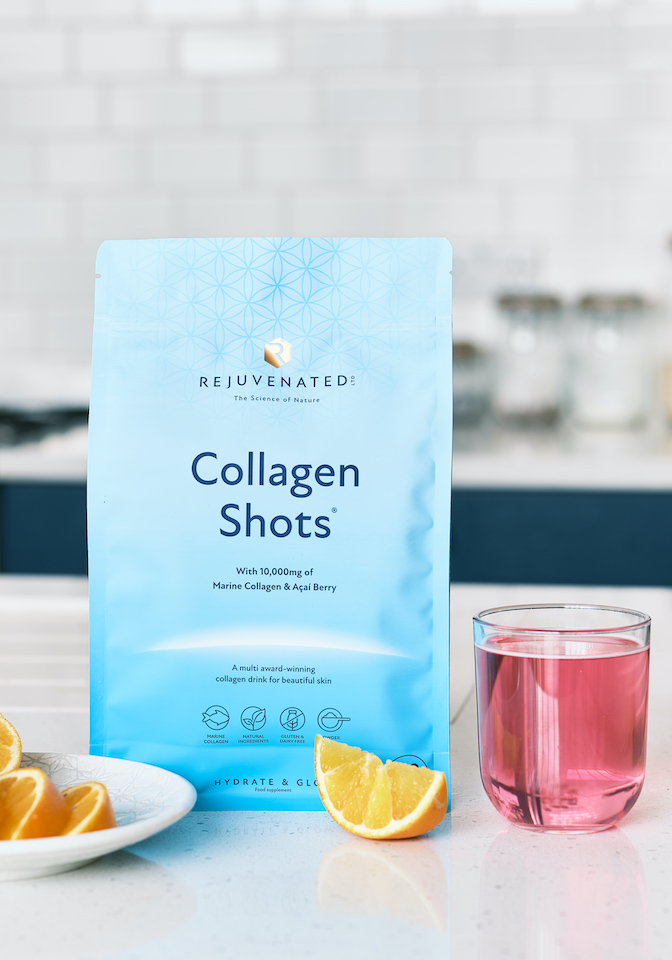 How soon will you see results?
Our Collagen Shots reviews speak for themselves, with many feeling results within a matter of weeks.
Collagen shots helps to:
Reduce fine lines and wrinkles
Support hair growth and strengthen nails
Support bone and joint health
Reduce cellulite and stretch marks
Help to repair muscle tissue and heal wounds
Promote healthy blood sugar levels
Calm inflammation in the gut
Help menopausal symptoms including hot flushes and mood swings
Ingredients
Açai berry
Açai berry is a super food antioxidant which contains youth boosting vitamins and essential fatty acids to moisturise the skin.
Hyaluronic acid
Hyaluronic acid is often referred to as the fountain of youth; it can hold up to 1000 times its own weight in water to hydrate and nourish the skin.
Copper
Copper supports connective tissues and helps to protect cells from oxidative stress
Zinc
Zinc protects against stress, free radical damage and supports healthy DNA synthesis.
Vitamins B3, B5, B6, and C
Vitamins B3, B5, B6, and C enhance the absorption of collagen by the body
Why take a collagen supplement?
After the age of twenty-five, collagen synthesis reduces at a rate of 1.5% a year, and by the age of forty-five, collagen levels can have fallen by as much as 30%. The visible effects of this process are the appearance of wrinkles, fine lines and dry skin. Studies have shown that supplementing your collagen levels by ingesting the collagen in Collagen Shots can improve skin elasticity and help to promote radiance. Looking good is feeling rejuvenated.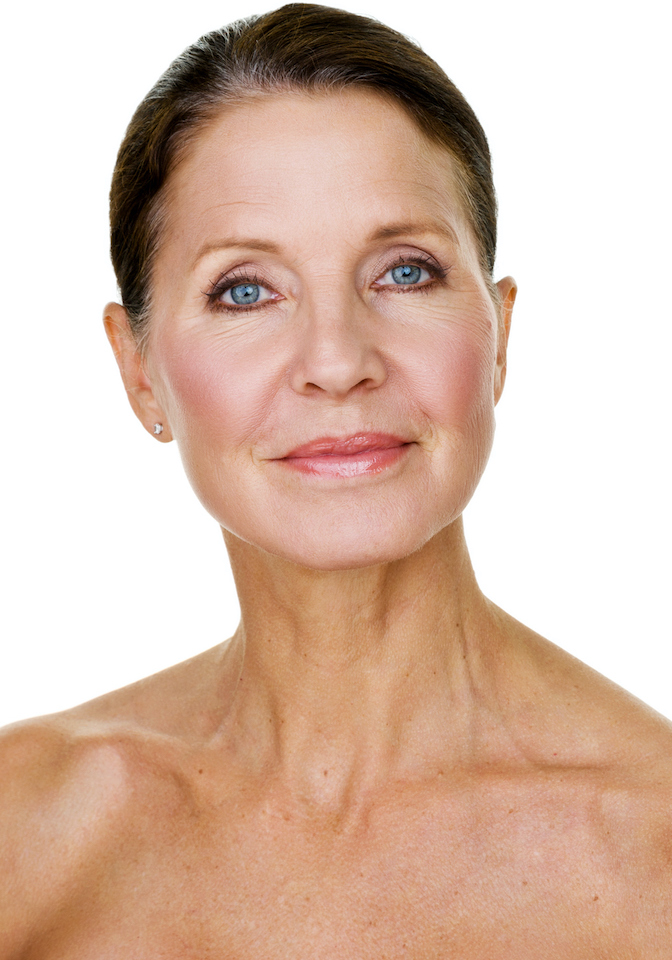 Collagen Shots (30 Servings) FAQs
Q: What are Collagen Shots?
A: Collagen Shots is a clinically formulated, functional beauty drink designed to naturally support firm, youthful skin.… Read more Collagen Shots naturally supplement your skin's collagen levels and hydration to improve its firmness and texture, reducing the appearance of fine lines and wrinkles associated with ageing.
The unique and unrivalled formulation of Collagen Shots combines a blend of peptide-rich amino acids with hyaluronic acid, natural antioxidants and a range of vitamins and minerals clinically proven to improve the tone and texture of the skin.
Compared to rival products, Collagen Shots contain more hydrolysed collagen (10,000mg/serving), is entirely natural, and incorporate the powerful natural antioxidant Açaí Berry.
Q: Why is a collagen drink better than creams or tablets?
A: In comparison to collagen products applied directly to the skin or taken in tablet form, Collagen Shots have several distinct advantages, the key being that we can pack more marine collagen into our products. … Read more These are independently assessed each year by scientists and marine experts to meet sustainable fishing standards and practices. Choosing the blue MSC label ensures the brand is supporting independently certified fisheries. Collapse
Q: Can collagen improve your skin?
A: YES! Research has shown that orally ingested collagen can increase collagen synthesis and improve hydration levels in the skin, which has been reported to:… Read more - Reduce the appearance of lines, wrinkles & 'crow's feet.
- Make skin appear younger
- Increase skin firmness
- Improve elasticity of the skin
- Reduce skin dryness
- Increase skin smoothness
The skin is the largest organ in the body, the most visible and arguably exposed to the greatest combined negative effects of intrinsic ageing, including reduced collagen synthesis (Fligiel et al., 2003), environmental factors such as sunlight (Chung et al., 2001) and lifestyle choices, like smoking (Rexbye et al., 2006).
As we age, the appearance and functionality of the skin changes, most striking of these are wrinkles, lines, dryness and sagging skin (see Gilchrest, 1989 for review). Collagen is crucial for maintaining the structure of the skin (Uitto, 1986) and therefore, youthful radiance and firmness.
Within the deep layers of the skin, cells called fibroblasts are responsible for providing skin tension and continuously producing collagen and elastin (Grinnell, 2003). In young skin, the number and productivity of the fibroblasts is high giving skin firmness and strength
Q: What are the benefits (of taking collagen) to your body?
A: Collagen is the most abundant protein in our body, it is found in our joints, bones, muscles, digestive system, skin, hair, nails, even the brain and heart. Taking a collagen supplement can help to support the whole body.
Q: How does the body use collagen?
A: The proteins (amino acid peptides) pass through the stomach wall into the blood stream. Studies show that over 90% of these proteins are absorbed within 6 hours.
Q: Where do you source your fish?
A: Rejuvenated's marine collagen is sourced from wild stocks in the deep waters of the North Atlantic and MSC certified fisheries. … Read more These are independently assessed each year by scientists and marine experts to meet sustainable fishing standards and practices. Choosing the blue MSC label ensures the brand is supporting independently certified fisheries. Collapse
Q: Do you have scientific references?
A: Yes - please see our references here -… Read more Barnett, M.L., Kremer, J.M., St. Clair, E.W., Clegg, D.O., Furst, D., Weisman, M., Fletcher, M.J., Chasan-Taber, S., Finger, E., Morales, A., Le, C.H. & Trentham, D.E. Treatment of rheumatoid arthritis with oral type II collagen: results of a multicenter, double-blind, placebo-controlled trial. Arthritis and Rheumatism. 1998; 41:290–297.
Baumann, L. Skin ageing and its treatment. J Pathol. 2007 Jan; 211(2):241-51.
Bos, J.D. & Meinardi, M.M. The 500 dalton rule for the skin penetration of chemical compounds and drugs. Exp Dermatol. 2000; 9:165–169
Bruyère, O., Zegels, B., Leonori, L., Rabenda, V., Janssen, A., Bourges, C. & Reginster, J.Y. Effect of collagen hydrolysate in articular pain: a 6-month randomized, double-blind, placebo controlled study. Complement Ther Med. 2012; 20(3):124-30.
Carpenter, R.L., Peel, J.B., Carpenter, M.R., Lowndes, J., Angelopoulos, T.J. & Rippe, J.M. Effectiveness of a collagen hydrolysate-based supplement on joint pain, range of motion and muscle function in individuals with mild osteoarthritis of the knee: a randomized clinical trial. Ann Rheum Dis. 2005;64: 1544.
Cho, K-H., Hong, J-H. & Lee, K-T. Monoacylglycerol (MAG)-Oleic Acid has stronger antioxidant, anti-atherosclerotic, and protein glycation inhibitory activities than MAG-palmitic acid. J Med Food. 2010; 13:99–107
Choi, S.Y., Kim, W.G., Ko, E.J., Lee, Y.H., Kim, B.G., Shin, H.J., Choi, Y.S., Ahn, J.Y., Kim, B.J. & Lee, H.J. Effect of high advanced-collagen tripeptide on wound healing and skin recovery after fractional photothermolysis treatment. Clin Exp Dermatol. 2014; 39(8):874-80.
Chung, J.H., Seo, J.Y., Choi, H.R., Lee, M.K., Youn, C.S. & Rhie, G. Modulation of skin collagen metabolism in aged and photoaged human skin in vivo. J Invest Dermatol. 2001; 117:1218–1224
Cosgrove, M.C., Franco, O.H., Granger, S.P., Murray, P.G. & Mayes, A.E. Dietary nutrient intakes and skin-aging appearance among middle-aged American women. Am J Clin Nutr. 2007; 86:1225-1231.
Di Lullo, G.A., Sweeney, S.M., Körkkö, J., Ala-Kokko, L. & San Antonio, J.D. Mapping the Ligand-binding Sites and Disease-associated Mutations on the Most Abundant Protein in the Human, Type I Collagen. J Biol Chem. 2002; 277(6):4223-4231.
Fligiel, S., Varani, J., Datta, S., Kang, S., Fisher, G. & Voorhees, J. Collagen degradation in aged/photodamaged skin in vivo and after exposure to matrix metalloproteinase-1 in vitro. J Invest Dermatol. 2003;120:842–848.
Gilchrest, B.A. Skin aging and photoaging: an overview. J Am Acad Dermatol. 1989; 21:610–3.
Grattagliano, I., Palmieri, V.O., Portincasa, P., Moschetta, A. & Palasciano, G. Oxidative stress-induced risk factors associated with the metabolic syndrome: a unifying hypothesis. J Nutr Biochem. 2008; 19:491-504.
Grinnell, F. Fibroblast biology in three-dimensional collagen matrices. Trends Cell Biol. 2003; 13(5):264-9.
Iwai, K., Hasegawa, T., Taguchi, Y., Morimatsu, F., Sato, K., Nakamura, Y., Higashi, A., Kido, Y., Nakabo, Y. & Ohtsuki K. Identification of food derived collagen peptides in human blood after oral ingestion of gelatin hydrolysates. J Agric Food Chem. 2005; 53:6531–6536.
Kadison, E.D. Effect of gelatin on the vascularity of the finger. Angiology. 1965; 170-176
Kajimoto, O., Odanaka, W., Sakamoto, W., Yoshida, K., Takahashi. Clinical effects of Hyaluronic Acid Diet for Dry Skin. J New Reme & Clinics. 2001; 50(5): 548-560.
Kantor, I., Donikyan, L., Simon, R., & Wollschlaeger, B. Results of a study evaluating the use of a dietary supplement formula in the management of age-related skin changes in women with moderate to severe wrinkling of the periorbital area. JANA. 2002; 5(2):10-19.
Kennedy, C., Bastiaens, M.T. & Bajdik, C.D. Effect of smoking and sun on the aging skin. J Invest Dermatol. 2003; 120:548–554
Koyama, Y. Effects of collagen peptide ingestion on the skin. Shokuhin-To-Kaihatsu. 2009:44:10-12.
Longas, M.O., Russell, C.S. & He, X.Y. Evidence for structural changes in dermatan sulfate and hyaluronic acid with aging. Carbohydr Res. 1987; 15: 159(1):127-36.
Martin, A. (2001). Advanced nutritional intakes (Ed.) Tec. & Doc, Paris.
Matsuda, N., Koyama, Y., Hosaka, Y., Ueda, H., Watanabe, T., Araya, T., Irie, S. & Takehana, K. Effects of ingestion of collagen peptide on collagen fibrils and glycosaminoglycans in the dermis. J Nut Sci & Vitaminol. 2006; 52:211-215.
Matsumoto, H., Ohara, H., Ito, K., Nakamura, Y. & Takahashi, S. Clinical effect of fish type I collagen hydrolysate on skin properties. ITE Lett Batteries New Technol Med. 2006;7:386-390.
McAlindon, T.E., Nuite, M., Krishnan, N., Ruthazer, R., Price, L.L., Burstein, D., Griffith, J. & Flechsenhar, K, Change in knee osteoarthritis cartilage detected by delayed gadolinium enhanced magnetic resonance imaging following treatment with collagen hydrolysate: a pilot randomized controlled trial. Osteoarthritis & Cartilage. 2011; 399–405
McCrorie, T.A., Keaveney, E.M., Wallace, J.M.W., Binnsa, N., Livingstone, M. B. E. Human health effects of conjugated linoleic acid from milk and supplements. Nutr. Res. Rev. 2011; 24:206-227.
McEniery, C.M., Wilkinson, I.B. & Avolio, A.P. Age, hypertension and arterial function. Clin Exp Pharmacol Physiol. 2007; 34(7):665-71.
Mertens-Talcott, S.U., Rios, J., Jilma-Stohlawetz, P., Pacheco-Palencia, L.A., Meibohm, B. & Talcott, S.T. Pharmacokinetics of anthocyanins and antioxidant effects after the consumption of anthocyanin-rich acai juice and pulp (Euterpe oleracea Mart.) in human healthy volunteers. J Agric Food Chem. 2008; 56:7796-7802.
Miller, E.J. Biochemical characteristics and biological significance of the genetically distinct collagens. Mol Cell Biochen. 1976; 13:165-192.
Moskowitz, R.W. Role of collagen hydrolysate in bone and joint disease. Semin Arthritis Rheum. 2000; 30:87 – 99.
Oesser, S., Adam, M., Babel, W. & Seifert, J. Oral administration of (14)C labeled gelatin hydrolysate leads to an accumulation of radioactivity in cartilage of mice (C57/BL). J Nutrition. 1999; 129:1891-1895.
Ohara, H., Ichikawa, S., Matsumoto, H., Akiyama, M., Fujimoto, N., Kobayashi, T. & Tajima S. Collagen-derived dipeptide, proline-hydroxyproline, stimulates cell proliferation and hyaluronic acid synthesis in cultured human dermal fibroblasts. J Dermatol. 2010; 37(4): 330–338.
Ohara, H., Matsumoto, H., Ito, K., Iwai, K. & Sato, K. Comparison of quantity and structures of hydroxyproline- containing peptides in human blood after oral ingestion of gelatin hydrolysates from different sources. J Agric Food Chem. 2007; 55:1532–1535.
Peterkofsky, B. Ascorbate requirement for hydroxylation and secretion of procollagen: relationship to inhibition of collagen synthesis in scurvy. Am J Clin Nutr. 1991; 54:1135S-1140S.
Phillips, C.L., Combs, S.B. & Pinnell, S.R. Effects of ascorbic acid on proliferation and collagen synthesis in relation to the donor age of human dermal fibroblasts. J Invest Dermatol. 1994; 103:228-232.
Postlethwaite, A.E., Seyer, J.M., and Kang, A.H. Chemotactic attraction of human fibroblasts to type I, II, and II collagens and collagen-derived peptides. Proceedings of the National Academy of Sciences of the United States of America. 1978; 75(2): 871-875.
Purba, M.B., Kouris-Blazos, A. & Wattanapenpaiboon, N. Skin wrinkling: can food make a difference? J Am Coll Nutr. 2001; 20:71-80.
Rexbye, H., Pettersen, I., Johansen, M., Kiltkou, L., Jeune, B. & Christensen, K. Influence of environmental factors on facial ageing. Age & Ageing. 2006; 35:110-115.
Rhie, G., Shin, M.H. & Seo, J.Y. Aging- and photoaging-dependent changes of enzymic and nonenzymic antioxidants in the epidermis and dermis of human skin in vivo. J Invest Dermatol. 2001; 117:1212-1217.
Richelle, M., Sabatier, M., Steiling, H. & Williamson, G. Skin bioavailability of dietary vitamin E, carotenoids, polyphenols, vitamin C, zinc and selenium. Br J Nutr. 2006; 96(2):227–238.
Rosenberg, S., Oster, K.A., Kallos, . & Burroughs, W. Further studies in the use of gelatin in the treatment of brittle nails. Arch Dennat and Syph. 1957; 76:330-5.
Sales-Campos, H., Souza, P.R., Peghini, B.C., da Silva, J.S. & Cardoso, C.R. An overview of the modulatory effects of oleic acid in health and disease. Mini Rev Med Chem. 2013; 13(2):201-10.
Sato, T., Sakamoto, W., Odanaka, W., Yoshida, K. & Urushibara, O. Clinical effects of dietary hyaluronic acid on dry, rough skin. Aesthetic Dermatol. 2002; 12:109–120
Scala, J., Hollies, N.R.S. & Sucher, K.P. Effect of daily gelatine ingestion on human scalp hair. Nut Rep Int. 1976; 13(6):579–592
Schauss, A.G., Wu, X., Prior, R.L., Ou, B., Patel, D. & Huang, D. Phytochemical and nutrient composition of the freeze-dried amazonian palm berry, Euterpe oleraceae mart. (acai). J Agric Food Chem. 2006; 54:8598-8603.
Schwimmer, M. & Mullnos, M. Salutary effects of gelatin on nail defects in normal subjects. Antibiotic Med & Clin Ther.. 1957; 4:403-7.
Sumida, E., Hirota, A. & Kuwaba, K. The effect of oral ingestion of collagen peptide on skin hydration and biochemical data of blood. J Nutr Food?. 2004;7:45-52.
Uitto, J. Connective tissue biochemistry of the aging dermis. Age-related alterations in collagen and elastin. Dermatol. Clin. 1986; 4:433–446.
Varani, J., Warner, R.L. & Gharaee-Kermani., M. Vitamin A antagonizes decreased cell growth and elevated collagen-degrading matrix metalloproteinases and stimulates collagen accumulation in naturally aged human skin. J Invest Dermatol. 2000; 114:480–486.
West, M.D. The cellular and molecular biology of skin aging. Arch Dermatol. 1994; 130(1):87-95.
Reviews for Collagen Shots (30 Servings)