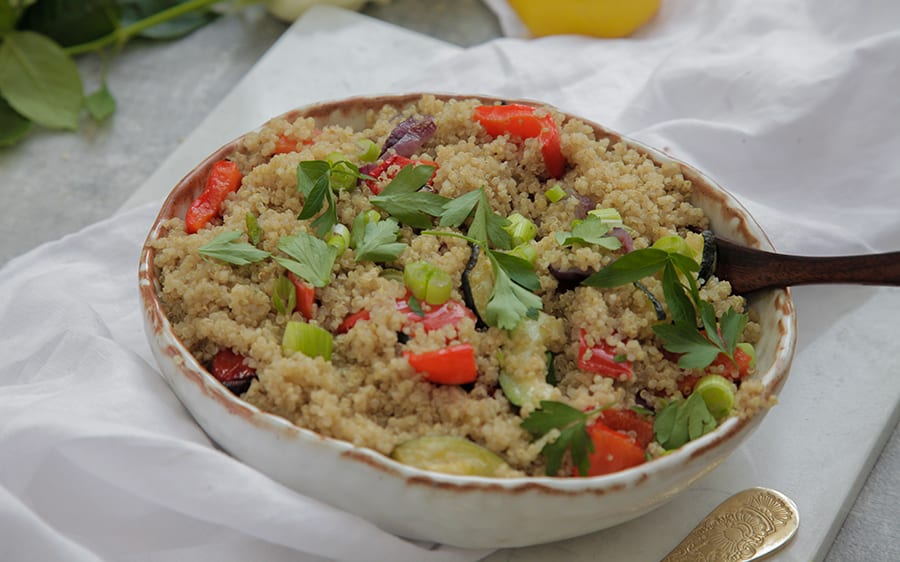 Over the last few years, more and more of us have been ditching meat and embracing a plant-based or vegetarian lifestyle.And for good reason, too – not only does it help to save the environment, but veggie diets can be good for our health, too!From reducing inflammation to supporting weight loss, boosting fibre intake, cutting our risk of developing certain diseases and even sending our mood soaring, there are lots of benefits to going vegetarian.Thinking of giving it a go? In celebration of Vegetarian Week, here are our favourite ways to ease you into a veggie diet…
Buy Local Fruit & Veg
Wherever possible, we like to eat the rainbow! Eating plenty of colourful, fresh fruit and vegetables is one of the best ways to stay healthy, helping your body to enjoy all the antioxidants, vitamins and minerals it needs.If you're trying to go veggie, aim to pile your plate high with fruit and veg – ideally, you should be aiming for ten portions a day. To help the planet at the same time – and to give your local economy a boost! – try to get your fruit and veg from a local farmers' market, or you could even go and pick your own! Remember Your Protein!While you may be losing chicken or fish, it's easy to get in plenty of protein on a vegetarian diet. There are plenty of sources of meat-free proteins – think eggs, tofu, quinoa, tempeh, chickpeas, lentils, black beans, and much more! As a side note, try to ensure that you are getting all of the essential amino acids in, too. This is trickier on a vegetarian diet as eggs, tofu, tempeh and quinoa are some of the only sources of complete proteins.One of our favourite ways of ensuring we get plenty of protein without the meat is by supplementing with a protein powder. Our Protein Smoothies come in three delicious flavours and contain a whopping 21 grams of organic pea protein, as well as antioxidants from green tea and plant fibres for added fullness. They are vegan friendly and perfect for pre and post-workout snacks, too. For us, the easiest way for vegetarians and vegans to ensure they're hitting their protein requirements!
Try Something New
Trust us, vegetarian diets don't have to mean you simply live off salads (although we love those too)! Going vegetarian is the perfect time to experiment and to try something new. One of the benefits to embracing a new, vegetarian diet is that you'll probably try something new. This could be adding jackfruit to your next chilli, or enjoying marinated tofu with your stir fry!
Make a Simple Swap
Going vegetarian doesn't gave to mean huge, sweeping changes to your diets. Instead, you can do it through simple swaps.This could be by ditching beef or turkey mince for lentils in a classic bolognese, by adding chickpeas to your next curry, or through making a bean chilli with black beans and kidney beans.
Meat-Free Monday
If going vegetarian or vegan seems overwhelming at first, then why not ease yourself in by trying Meat-Free Mondays? That way you can enjoy delicious, vegetarian foods and then slowly build up to enjoying additional meat-free meals.
Plan Ahead
Eating a vegetarian diet is much easier if you plan ahead! After all, many of our favourite takeaways are laden with meaty options rather than hearty veggie fare. Therefore, it helps if you think ahead and plan your weekly meals. We also like to dedicate Sunday afternoons to meal prep – cooking batches of healthy, nourishing meals (think veggie chilli or curry) ready to enjoy for the rest of the week.
Enjoy a Veggie-Packed Lunch
When you're giving up meat, it can be easy to feel disheartened at lunch times. After all, many go-to sandwich or lunchbox fillings involve meat! However, there are lots of ways you can enjoy veggie foods at lunch times. To keep full and satisfied, try to ensure you eat healthy fats, protein and complex carbs at each lunchtime. This could mean packing up leftover dinners and taking into work for the next day, or you could try roasting butternut squash and cooking quinoa for a hearty, healthy salad. If sandwiches are your thing, then you may like to try chickpea "tuna", which is just as delicious as the real thing – there are plenty of recipes online!
Try Vegetarian Sweets
If you're got a sweet tooth, then don't fret – you can still enjoy indulging, without the gelatine! There are now lots of vegetarian-friendly sweets available in supermarkets. One of our favourites, Candy Kittens, is vegan-friendly and comes in all kinds of flavours – think wild strawberry, peach fizz and sour watermelon.
Swap Cow's Milk for Nut Milk
While cow's milk is suitable on a vegetarian diet, many veggies are starting to go dairy-free or become plant-based. Vegetarian Week is the perfect time to experiment with nut milks or dairy-free alternatives! We love frothing up oat milk for a latte or turmeric latte, pouring cashew milk on homemade granola or using in porridge, and blending almond milk into smoothies.
Treat Yourself to a New Cookbook
If you're still feeling a little bit stuck, then why not treat yourself to a new cookbook that is aimed at plant-based eating? There are now plenty of books on the market, and something for everyone. Some of our favourites include Deliciously Ella, BOSH! and Avant Garde Vegan. If you want to save money, then there are plenty of influencers and websites offering tasty vegetarian cuisine. We also have lots of veggie meals and treats on our website for you to try. Enjoy!