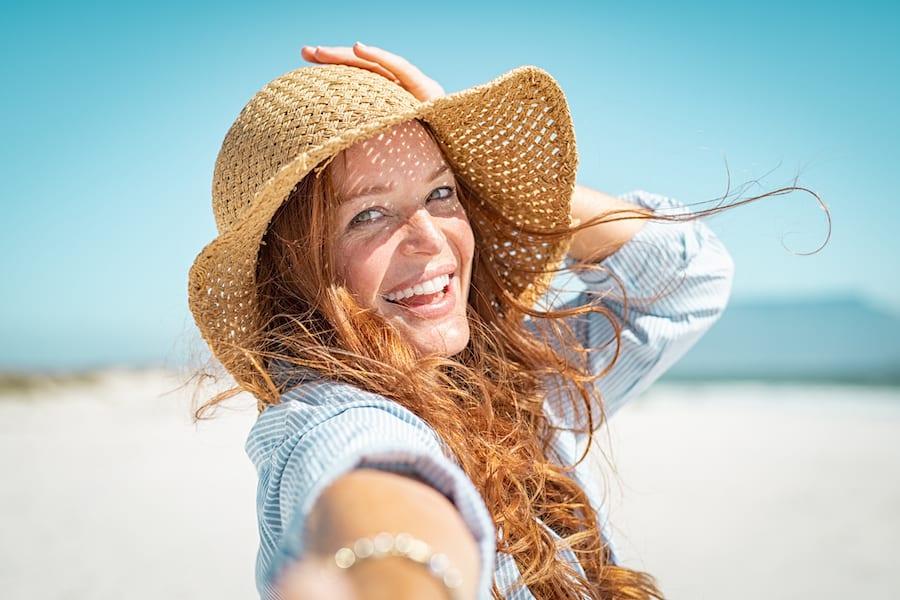 Here are my summer skin survival tips …
When it comes to caring for your skin, prevention is better than cure.Wear your sun protection…and wear it daily!
The best beauty tip anyone can ever give you is to wear an SPF sunscreen every day, even when it's grey and cloudy outside as the damaging UVA and UVB rays can penetrate cloud and glass.
Choose a high SPF for your face, at least SPF 30 and above and ensure that it protects you from both UVA as well as UVB rays.
The sun and its harmful effects can be one of the most damaging elements our skin has to endure. Not only does this lead to the formation of lines, wrinkles, and discolouration – it can lead to more serious skin conditions, including skin cancer.
Sunscreens should be re-applied regularly at least every 2/3 hours and after swimming, exercise and perspiration.
Make sure you are applying enough – the recommended amount is 5ml (approximately 1 teaspoon full) for each arm, leg, body front, body back and face (including neck and ears), 35ml for total body cover.
For total protection an antioxidant is a must.
Antioxidant serums fight free radicals, repair collagen damage, and help sun damaged skin.
Adding an antioxidant serum to your skincare routine can also enhance protection from your sunscreen. Effectively formulated antioxidants can help neutralise UV-induced free radicals not blocked by sunscreens. Protecting the skin from UV light is essential for the prevention of premature ageing and skin cancers.
Always make sure you are applying your skincare products down onto your neck and chest as they too are exposed areas that are prone to sun damage.
Don't forget to protect your eye area by apply an eye cream with SPF, and wear sunglasses to protect the skin around the eyes. Lips are an often neglected part of the body that need sun protection too – choose a lip product with SPF protection.
Exfoliate for summer ready skin
Exfoliation is vital for achieving healthy, summer-ready skin and to give your skin a nice glow, whilst also helping to increase collagen production and enabling your skincare products to penetrate better.
To ensure you get your body ready for summer, you will also need to exfoliate the body. It will slough away dull, dry skin to reveal softer, smoother skin. (Don't forget your heals!).
If you're after a tan this summer, the only safe way to tan is to fake it by using a sunless self-tanning product.
Hyaluronic acid – your summer skin savior.
Apart from drinking the recommended 8 glasses of water, Hyaluronic acid serum boosters are a great fix, working best when layered underneath a moisturiser or a sunscreen when hydration is needed most. Additionally, you can help your skin's hydration levels from the inside out with a hydrating supplement.
Enjoy your summer
Andrea
Andrea is Co Founder of Dermacare Direct and this month they are launching their first beauty box which features H3O Hydration.