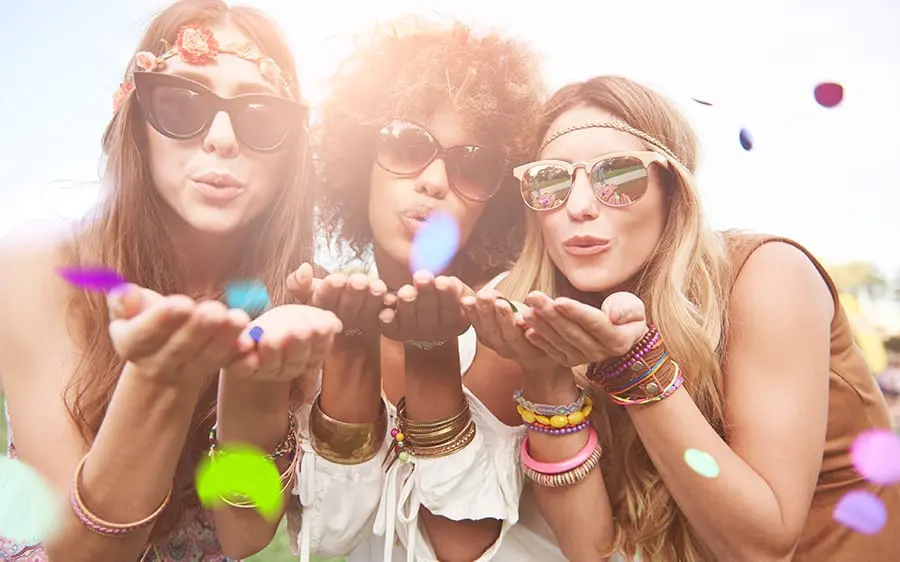 Now that we are edging towards July and the warmer weather, the festival circuit is beginning to heat up.
Whether you're heading to Glastonbury, Download or Reading Festival, the summer months promise endless excitement and entertainment for music lovers.
Yet, as you wallow through the mud with no access to showers (and, let's face it porta-loos, leave a lot to be desired, too!), how do you maintain good skin care and ensure that you look your glamorous best during a festival weekend?
Here are our top Festival skin care tips to survive a festival and look your best:
SPF
Hopefully, you're going to be standing in a field beneath the sizzling sun all day, so a good quality SPF, with both UVA and UVB protection, is a must! Aim to find separate facial and body SPFs (facial ones will be less oily and will help your face to avoid getting more clogged and oily), and wear a factor 50 on the face at all times. This will help your skin to stay fresh and will help you to avoid those ageing rays.
A large, floppy hat is another festival essential! It will help to protect your face from the sun, hide any bed hair, keep you cool and will also add a touch of boho glamour to your wardrobe.
Rehydrate
It can be tricky to stay on top of your water intake when you're surrounded by throngs of people and the queue for the food truck curls round an entire field. However, try to ensure you carry plenty of water – ideally in BPA-free bottles – with you to stay hydrated. This will keep your skin fresh and plumped-up, and will also help you to avoid sunstroke and the dreaded hangover!
To keep skin hydrated and cool, we also like to stash facial spritzers in our bag. There are plenty of travel-sized spritzers on the market – we love Caudalie's Beauty Elixir – which are perfect to pop into your handbag, ready for a quick freshen-up between music sets.
Festival Make-Up
When it comes to lasting, festival make-up, a good quality primer is essential! This will help to keep your make-up in place from morning until night, with minimal touch-ups – although it always helps to have a trusty waterproof mascara to hand, too!
To achieve dewy, radiant skin, avoid going heavy on your base, and ditch your regular foundation for either a tinted moisturiser or BB cream. Festivals are also the perfect time to invest in a highlighter, which can help to mask the lack of sleep and alcohol!
We love BECCA's shimmering skin perfectors which, when applied to the high points on the face – cheekbones, the brow, temples, the jaw, cupid's bow and the bridge of the nose – can add radiance and a subtle glow.
Finally, have fun with your make-up! Festival beauty is all about having fun and experimenting – if you want to wear glitter or ring your eyes with lashings of eyeliner and mascara, then go for it!
Easy Cleansing
Unfortunately, festivals aren't the place to take your time with your must have hot cloth cleanser – even if you're lucky enough to avoid the queues and get to the bathroom first thing.
Although we wouldn't normally suggest using make-up cleansing wipes to remove make-up, they are probably the easiest cleansing option during a festival. Just be sure to purchase make-up wipes which are made of cotton, and suitable for sensitive skins – ideally they should be fragrance free.
If you can't bear to leave your beloved facial oil, serum and moisturisers at home, then purchase some travel-sized decanting bottles and bring them with you! If you have time to, set aside five minutes to give yourself a facial massage to stimulate blood flow, which will also help you to get the glow.
Hangover Cures
When you party late into the night with your favourite bands, chances are you're not going to wake up the next morning with a spring in your step and full of beans. It helps to have some hangover cures to hand when you're at a festival – better still if you can pop them into your handbag!
Our H30 Hydration formula now comes in easy-to-carry single sachets, and is the perfect hangover drink. Containing key vitamins and ionic minerals, it helps to rehydrate every cell in the body, from the inside, out. It also boosts energy levels, and can help to leave grey, tired skin looking fresher and more radiant.
In fact, our handy Travel Packs are the perfect skin care treat for holiday and festival glamour. The 7-Day Travel Packs come in classic or vegetarian-friendly options and contain three of our biggest sellers: H30 Hydration, Collagen Shots (or Veggiecol) for plumped-up, dewy skin and H30 Night Repair, which contains astaxanthin and grapeseed extract to help to protect from the sun.
Hair Hack
With no electricity or power shower for miles around, keeping hair looking glamorous and groomed at a festival is often an uphill battle.
Packing a travel-sized dry shampoo to keep your locks fresh and clean is a must, while a floppy hat can always cover a multitude of sins! Meanwhile, salt sprays or simple braids can help to transform bed hair into easy, boho goddess hair.
Failing that, treat yourself to a professional blow-dry the day before you leave for your festival, or try a keratin treatment. Professional blow-dries don't cost the earth and will help your hair to stay sleeker for longer.
Follow all these Festival skin care tips and you will hopefully come out the other side almost as glamorous as you arrived.