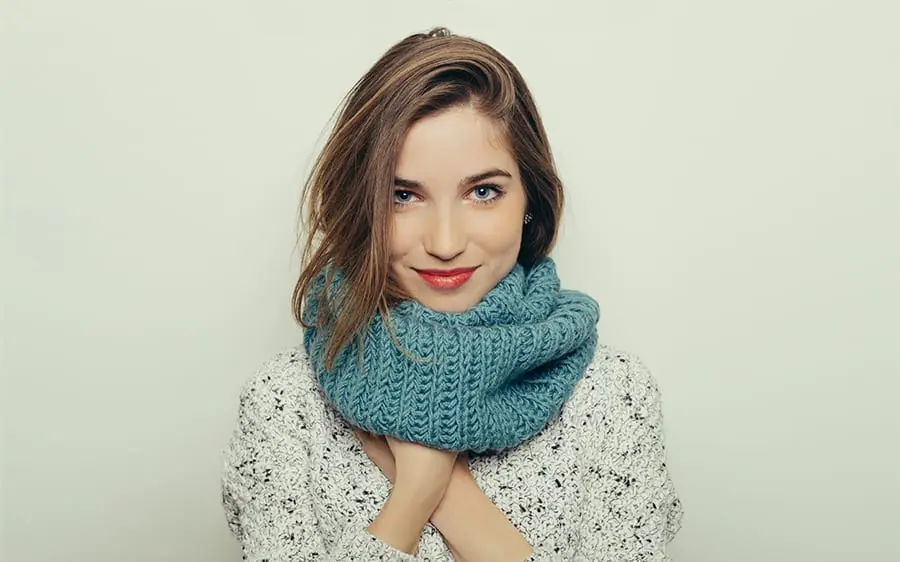 With plummeting temperatures, icy cold winds and the central heating on full blast, our skin can often take a battering during the winter months.
And whether you are suffering from tight, dry or flaky skin or a grey, pallid complexion, the chances are you will have long lost your summer glow. Unfortunately, frosty temperatures, indoor heating and lower air humidity can all wreak havoc on our faces, affecting its barrier function and causing dryness and increased sensitivity.
However, if you are tired of waking up to a dull, dry complexion, then don't worry – with a little know-how, you can get your skin glowing in no time at all!
Our top 7 winter skin care tips
Here are our favourite winter skin care tips to keep skin soft, hydrated and radiant during the winter.
Try a Richer Cleanser
During the cooler months, it's a good idea to invest in a richer, creamier cleanser to nourish your skin and give it some extra TLC. We love to use cleansing balms, which help to remove make-up without irritation. They also work to hydrate, soften and leave skin glowing.
It may also be worth switching up your usual formulas and opting for richer day and night creams. For added hydration, look for formulas or moisturisers containing Hyaluronic acid, AKA the fountain of youth – hyaluronic acid attracts more moisture to the skin.
Facial Oils and Serums
If your face is a little on the dry side, treat your skin to an indulgent facial oil or serum. Because serums often lack the thickening agents and lubricants found in face creams, they can penetrate the skin faster, giving an instant boost. To reap the rewards, add a few drops to your moisturiser or even your foundation.
Exfoliate!
Now that we are at less risk of damaging the skin through the sun's harmful rays, it's the perfect time to embrace exfoliating and even try dabbling with retinols. By using a gentle exfoliator (harsher formulas can ultimately leave skin feeling even drier) one or two times a week, the skin will look fresher, brighter and more youthful. Plus, any dry or dead skin will be sloughed right off!
Hydrate
While lotions and potions can work wonders at keeping winter at bay, staying hydrated will help to keep skin fresh from the inside, out. Wherever you can, aim to drink at least eight glasses of water per day (herbal teas count, if you struggle to drink water when it's cold!) – water plumps the skin and even promotes collagen production. If possible, try to avoid drinking alcohol as this dehydrates the body, causing even more damage to our skin. However, this can be tricky during Christmas party season, so simply aim to drink water between each glass of fizz!
For added hydration, our H30 Hydration supplement can also add a sprinkling of magic to the skin during the winter. It contains specific nutrients, including Hyaluronic Acid and the antioxidant Resveratrol, which are designed to enhance water absorption, leaving you with a long-lasting radiance.
Wear SPF
Even during the winter – and even on a grey, rainy day – we need to protect our skin with a facial SPF. UV light can still cause damage in the winter months, causing premature ageing on the skin. You should invest in a good quality SPF of 30 or above to wear on your skin daily.
Beauty Sleep Treatments
When your head hits the pillow, let your beauty regime take over, leaving you with brighter, softer skin when you wake. When skin is really suffering, it may be worth treating your face to a night repair mask once or twice a week.
Meanwhile, our H30 Night Repair capsules can help you to wake refreshed and renewed. They contain a unique blend of potent herbs and antioxidants which offer super hydration as you sleep. Each capsule will leave you radiant come morning, and boosts skin, hair and nails. The Night Repair formula also protects from oxidative damage, increases hydration and even reduces puffiness and dark circles. What's not to love…? Discover H3O Hydration
Diet
With endless Christmas parties and treats on offer, it can be difficult to maintain a healthy, nourishing diet during the winter. However, diet is crucial when it comes to boosting our skin and leaving it fresh and glowing!
Wherever possible, aim to avoid sugar or even wheat, which are both inflammatory and can show in the skin. Instead, pile your plates high with fruit and veg, fibrous whole grains, lean proteins and healthy fats. In particular, eating healthy fats such as avocado, coconut oil and nuts can help to keep the skin supple and hydrated.