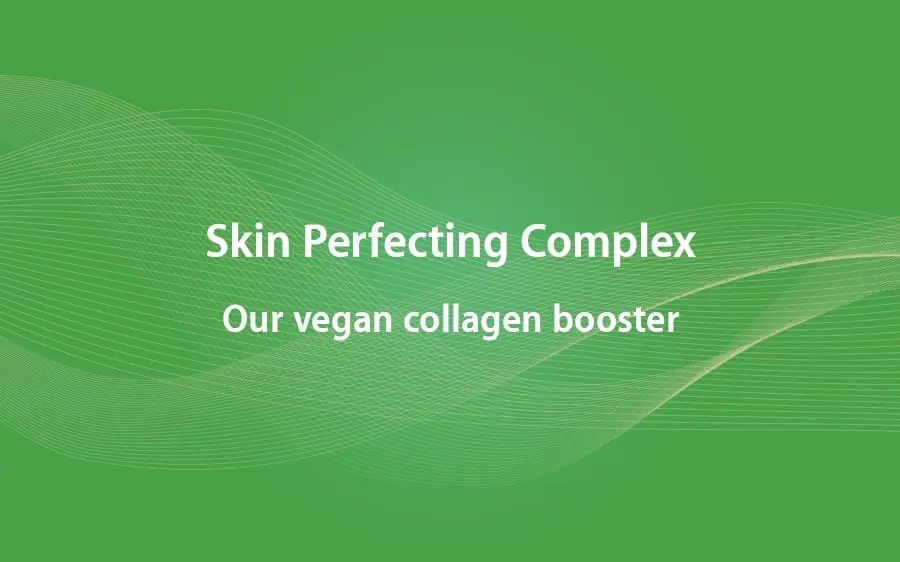 In the new year (2019) Rejuvenated will launch Skin Perfecting Complex; a vegan revolutionary supplement to boost collagen production and perfect the skin from within.
Why use a vegan collagen booster?
This nutrient-rich formula contains Botani-col®, the first-ever collagen boosting blend for vegans (patent pending.) Rejuvenated's team of scientists have created a vegan fusion to mirror the amino acids required to promote collagen synthesis. When combined with a number of calming botanicals and good bacteria; this supplement corrects the complexion from the inside out.
Skin Perfecting Complex contains a host of ingredients to calm and alleviate a number of skin conditions including acne, rosacea and eczema. It also helps to prevent oxidative stress, subsequently clarifying polluted skin.
What is Botani-col®?
Rejuvenated have developed the first ever vegan amino acid peptide collagen boosting supplement; BOTANI-COL® (patent pending.) Their team of scientists have worked around the clock to create a vegan fusion of the amino acids required to promote collagen synthesis.
This innovative formula is the first of its kind on the market. Until now, consumers have only been able to take collagen from either an animal or vegetarian (egg) origin. BOTANI-COL® is designed to offer the benefits of conventional collagen to those on a plant-based diet. This ground-breaking discovery is not only limited to supplements; the vegan collagen booster powder can also be added to a number of products including creams and drinks.
Skin Perfecting Ingredients:
• Botani-col® our patent-pending formula of combined vegan amino acids*
• Gotu Kola – Centella Asiatica – contains asiatcoside which supports collagen function, acne and wound healing.
• Stinging Nettle Leaf reduces sebum and helps relieve redness, rosacea and dermatitis. It brightens and refines the skin, whilst reducing the appearance of wrinkles and shielding against UVA/UVB rays. Dried nettle plant extract also protects the skin from UV exposure.
• Sea Buckthorn Berry combines essential fatty acids and Vitamins A, E and C to remedy the worst symptoms of redness, rosacea, eczema and acne.
• MSM Sulphur assists with collagen production and helps to reduce redness and acne.
• Chlorella, rich in B vitamins, magnesium and zinc helps to calm skin and reduce inflammation.
• Ashwagandha has adaptogen and antibacterial properties to help calm redness, rosacea and acne.
• lactobacillus supports health digestion and absorption.
• Zinc supports healthy skin and nails and copper to protect from oxidative stress.
• Vitamin C contributes to collagen formation for the optimum function of skin. As an antioxidant it also helps in the fight against ageing by freeing radical-induced oxidative stress.
Here's what celebrity make up artist, Sandra Cooke had to say about Skin Perfecting Complex:
'I started using the Skin Perfecting Complex when my skin was inflamed due to stress. I was having eczema and blotchy patches on my neck and face. My skin quickly cleared up and felt much more calm. Also had no pesky hormonal breakouts either. This product is definitely a skincare essential.'
Skin Perfecting Complex is currently available at our online shop.