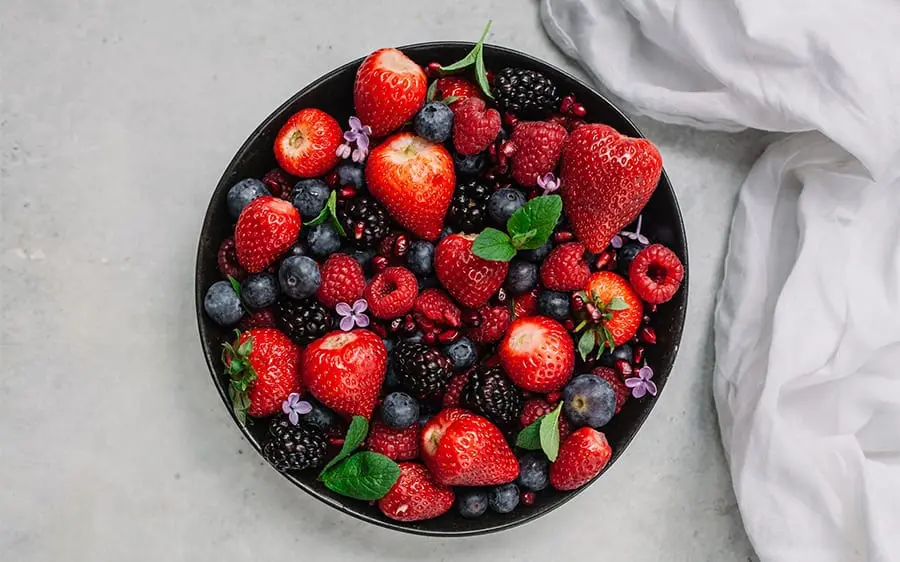 As we edge closer to summer, we are nearing one of our favourite times of the year – berry season. In fact, from plump and juicy strawberries to tart raspberries, rainbows of bright and beautiful fruits are now starting to line supermarket shelves.
Yet as well as tasting delicious, berries are one of the ultimate health foods, with each variety bursting with health benefits. The benefits of berries for skin are plentiful. Dark berries, in particular, are loaded with antioxidants, fibre and nutrients and can work wonders for both our body and our face.
We have picked some of our favourite dark berries to choose from – and list why you should add them to your diet. So without further ado, here's our list of berries.
What berries have the best health benefits?
Blueberries
Widely-regarded as one of the healthiest fruits around, sweet and crisp blueberries make a delicious addition to diets at this time of the year.
These mini purple superfoods are thought to originate in North America, although they're now grown across the world – you can take your pick from Chilean, Spanish and even German blueberries.
Of course, where they are grown will affect when they are in season. However, each variety of blueberry comes with its own unique taste and texture, so it's always worth saving your favourites to memory.
There are endless health benefits of blueberries, which is why we try to eat handfuls of them every single day. They are one of the Kings of the superfood world, especially when it comes to antioxidants, as they contain lots of flavonoids, such as anthocyanins, which increase antioxidant levels in the body.
Since blueberries are so rich in antioxidants, they're also protective against free radicals in the body. In fact, they can help to neutralise some of the free radicals which damage our DNA, making them great for anti-aging, as well as helping to lower the 'bad' cholesterol in our blood, protecting the brain, and potentially even preventing heart disease.
As well as this, blueberries are rich in vitamin C for skin and immune health, and even contain iron, phosphorous, calcium, magnesium, manganese, zinc, and vitamin K for healthy, strong bones.
A word of warning – try to avoid cooking your blueberries if you can. Most varieties lose their flavour (meaning you'll end up with purple, tasteless mush!), and many will also lose much of their goodness. It's always best to eat a handful raw, or add them to smoothies!
Raspberries
One of the sweetest and strongest flavoured berries (they are known as nature's candy for good reason!), raspberries are actually a member of the rose family. Raspberries benefit from cool and damp climates – which is why they thrive in the not-so-sunny UK! – and come into season from late June to early September.
Like blueberries, raspberries are also packed with juicy antioxidants. As a result, raspberries too can protect the body from oxidative stress and inflammation, meaning they can potentially ward off chronic illnesses, cancer and other diseases, as well as strengthen the brain and give us flawless, youthful skin.
There are also lots of researchers who now believe that eating raspberries can help to aid weight loss and control blood sugars. In fact, a raspberry ketone by the name of rheosmin found in raspberries can boost metabolism in our fat cells, as well as decreasing the effects of a fat-digesting enzyme called pancreatic lipase. This means we may digest and absorb less fat.
Raspberries also contain plenty of vitamin C and vitamin E, making them a true skin superfood.
Goji Berries
Also known as wolfberries, Goji berries have long been used in ancient remedies and medicine, particularly in China. In fact, urban legend has it that goji berries were eaten by monks in the Himalayan Mountains thousands of years ago to support meditation and boost health, vitality, longevity, energy and stamina.
However, recent years has seen them become more and more popular in the Western world. Like the rest of the berry family, gojis are rich in fibre, low in calories and full of antioxidant polyphenols. Meanwhile, studies have found that drinking goji berry juice for two weeks increased metabolism and reduced waist size in those suffering with obesity.
Goji berries are also rich in protein (around 4 grams per quarter cup), as well as iron, selenium, potassium, vitamin C and vitamin B2. In particular, goji berries are thought to ease symptoms of depression and anxiety, boost energy levels, reduce blood sugars and protect skin and eye health, thanks to their content of beta carotenes – vitamin A.
Strawberries
Once upon a time, we would only find strawberries in the supermarkets during peak British season – the summer months. However, we can now find them year-round, thanks to imports from across the world.
However, for taste alone, it always pays to wait for true strawberry season. After all, there's little that compares to the taste of a plump, bright red and juicy strawberry, picked fresh from strawberry plants and fields in the UK.
For taste alone, strawberries are one of the most popular fruits in the world. Yet, they're worth their weight in gold due to their goodness, too – they are great sources of vitamins C and K, and contain a hefty amount of folic acid, manganese and potassium.
These beautiful ruby berries also contain phytonutrients and flavonoids and are thought to ease digestive woes (they have been used throughout history to treat tummy problems), whiten the teeth and soothe skin irritation. Happily, the high amounts of fibre and their low GI means that they do not cause blood sugar spikes, although the fibre can keep us feeling full.
Acai Berry
In the health food world, acai berry – found in our Collagen Shots – has become known as one of the most potent superfoods you can find. This reddish-purple fruit is grown on the acai palm tree, which is found dotted across Central and South America.
However, there are now more and more imports of acai powder, thanks to its incredible antioxidant profile. Some researchers believe that acai is even richer in antioxidants than blueberries, raspberries, blackberries, cranberries and strawberries.
It is especially high in anthocyanins, the same antioxidant which is found in red wine and is thought to balance cholesterol levels. There are also numerous studies which suggest that acai berry could help to prevent 'bad' cells from growing and multiplying, while others believe that acai berry is a skin superhero. It's such a superstar, in fact, that we have covered everything you need to know about it on our ingredients blog page.
Blackberries
Plucked fresh from the brambles, tart blackberries can be one of the tastiest fruits you can find. And, let's face it, who can possibly resist a blackberry and apple pie or crumble..?
These plump, purply-black berries are available from the end of July until mid-October, and can be found here in the UK. However, they're also native to Asia, North and South America and other areas of Europe.
Many researchers believe that blackberries can help to prevent certain types of cancer and protect against oxidative stress. This is – again – due to their rich antioxidant content. In particular, blackberries contain anthocyanin (a polyphenol), which is thought to help protect from developing cancers.
Blackberries are also a great brain food and can boost our mind, thanks to them being rich in manganese. Because of the importance of manganese transmission in the brain, a manganese deficiency is linked to brain conditions like epilepsy.
Cranberries
These tart little jewels tend to come into season around Christmas (although they can be found from Autumn) and are found on wild shrubs throughout Europe and North America. However, they are useful for more than just adding to sauces to decorate Christmas and Thanksgiving tables – we love ours baked into muffins and cakes, or served in refreshing cocktails and drinks.
Like all of our gorgeous berries, cranberries are full of body-loving antioxidants, including our skin favourite, vitamin C. In particular, they contain contain proanthocyanidins (PACs), which has been linked to preventing all sorts of diseases, including cardiovascular disease and certain cancers, as well as urinary tract infections. This is because those clever PACs help to prevent certain bad bacteria from growing and sticking to urinary tract walls.
Cranberries are also good for dental health because they stop bad bacteria from forming and binding to the teeth.
Cherries
For us, cherries will always be one of the highlights of the summer, coming into their own in mid-July. Juicy, sweet and utterly delicious, they work with all sorts of recipes because they are so full of flavour. Of course, who could resist the classic combination of cherry and chocolate…?
If it's health benefits you're looking for, though, try to pluck the tarter cherries – these have been found to have higher the amount of antioxidants than their sweet cousins. In particular, tart cherries have higher amounts of vitamin E, one of the skin-loving antioxidants.
Tart cherries are also thought to boost melatonin levels, helping to lull us off to a deeper, more peaceful sleep. They may even help to trigger PPAR (peroxisome proliferator activating receptors) in your body's tissues, which helps with fat and glucose metabolism.