Serves: 1
Prep 5mins, Cook 70mins
455 kcals / serving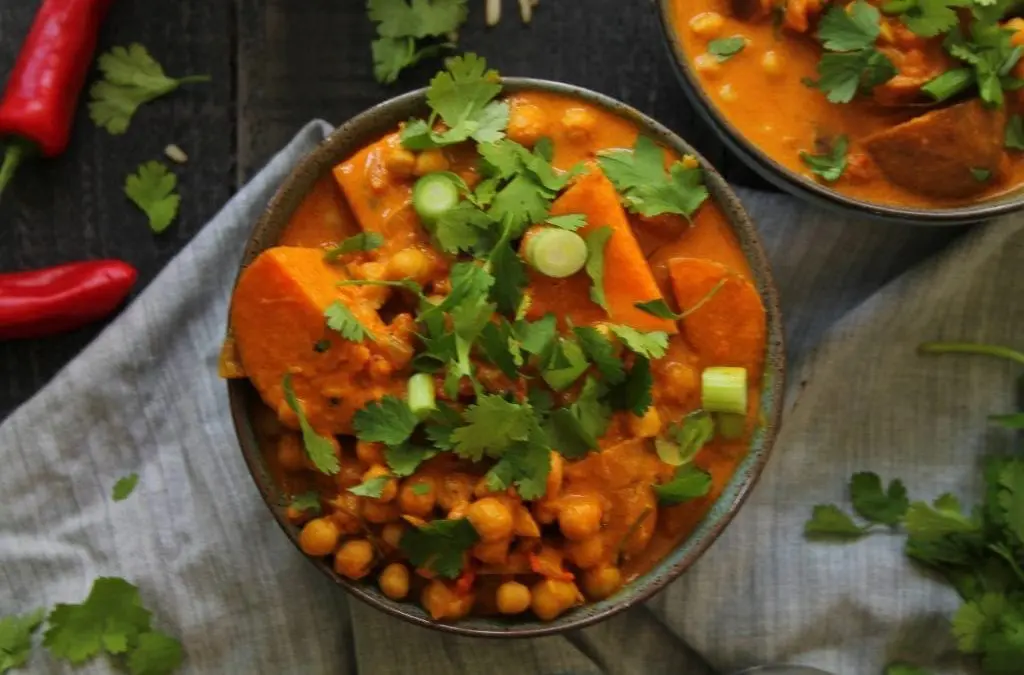 Recipe Info

This Chickpea and sweet potato coconut curry was originally a bit of an experiment by our gorgeous Samantha Hadadi. Why not give it a try to find out what a tasty success it is.

Instructions
Step 1 -
Heat the coconut oil in a large pan, then add the onion and cook for a few minutes until softened. Add the garlic, chilli, ginger and spices, along with a good dose of salt and pepper, then stir well and fry gently for a further couple of minutes.
Step 2 -
Add in the tomatoes, chickpeas, coconut milk and sweet potato, stir and turn the curry down to a simmer. In the meantime, finely chop a small handful of the coriander stems, then stir those in too, before adding the juice of half a lime. Cover the curry with a lid for around an hour, stirring often and adding more seasoning and spices to taste (I usually add a touch more cinnamon and chilli flakes).
Step 3 -
Just before you're ready to serve, stir through the Co-Yo, along with more lime and spices if desired. Serve scattered with coriander leaves and with boiled rice or Quinoa and enjoy!
Ingredients
1 can Chick peas
1 tsp Chilli flakes
1 tsp Chilli powder
1 can Chopped tomatoes
2 cloves Minced garlic
1 cup Co-yo coconut yogurt
1 can Coconut milk
1/2 tsp Cumin
1 bunch Fresh coriander
1 Lime
1 tbsp Lucy Bee coconut oil
1/2 tsp Minced ginger
1 Red chilli deseeded & chopped
1 Red onion peeled & finely diced
2 Sweet potatoes
1 tsp Turmeric