Serves: 4
Prep 20mins, Cook 60mins
255 kcals / serving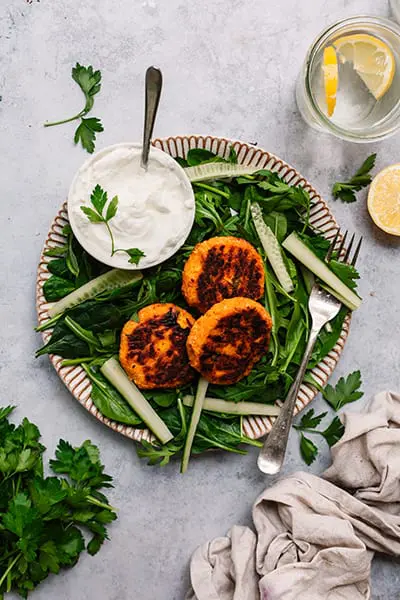 Instructions
Step 1 -
Preheat your oven to 180C. Using a sharp knife, mark your sweet potatoes with an "X", then bake in the oven for 40 minutes to an hour, or until soft and tender. In the meantime, drizzle salmon fillets lightly in olive oil and season. Wrap in foil, then place in the oven for the final 12-15 minutes of baking (this depends on the thickness of your salmon).
Step 2 -
Remove both salmon and sweet potatoes from the oven and allow to completely cool
Step 3 -
Spoon the sweet potato filling into a mixing bowl, then flake over the cooked salmon. Combine the two.
Step 4 -
Stir in the chopped parsley and the egg, then stir in the ground almonds - one tablespoon at a time - until the mixture is firm enough to handle. Season to taste.
Step 5 -
Shape into patties, then place on a plate and cover. Place in the fridge to firm for an hour, then preheat your oven to 180C. Bake the salmon fishcakes for 25-30 minutes, or until golden and crisp.
Ingredients
2 Fillets salmon
2 Medium sweet potatoes
1 handful Parsley
2 1/2 tbsp Nutritional yeast
5 tbsp Ground almonds
1 Egg
Salt & pepper to taste