Serves: 4
Prep 20mins, Cook 15mins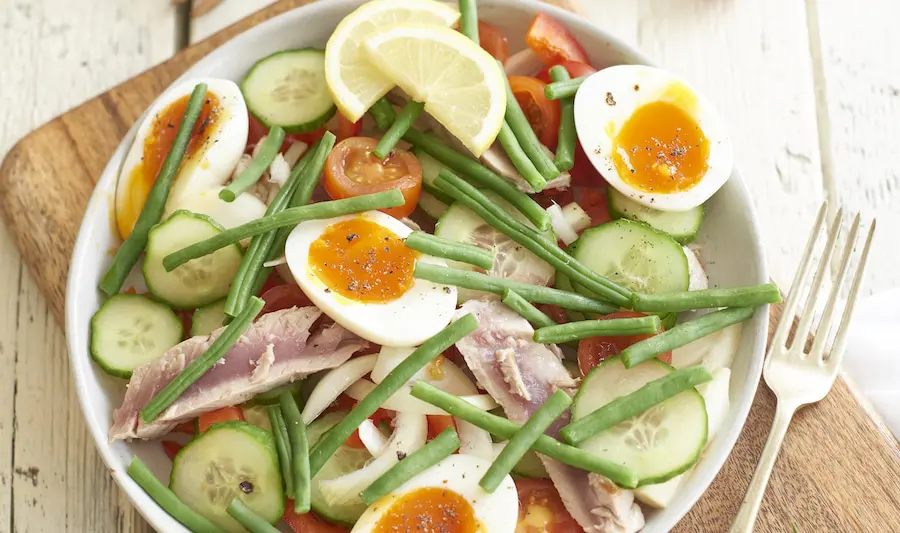 Recipe Info

One of our favourite salads as featured in the Youth Plan, recommended by Health and Wellbeing Mag. "Feed your face... Nourish your body with these nutritious recipes that have been created to help you life life to the full.

Instructions
Step 1 -
Boil your eggs in water for seven minutes, before plunging in to ice cold water to prevent over cooking.
Step 2 -
In the meantime, slice tomatoes, cucumber, pepper and onions, then mix in a bowl with the olives.
Step 3 -
Add the tuna and stir in, along with the olive oil.
Step 4 -
Arrange on plates, and then serve with the boiled eggs on top.
Ingredients
2 Tins tuna or 4 fresh tuna steaks
4 Eggs
1 Onion
2 red peppers sliced
6 Large tomatoes
1/2 Cucumber
4 oz Green beans
16 Olives
Mixed herbs
Drizzle olive oil
Dietary info
Diabetic | Gluten Free | Low Calorie | Low Fat | Low Lactose | Low Salt