Serves: 2
Prep 10mins, Cook 30mins
198 kcals / serving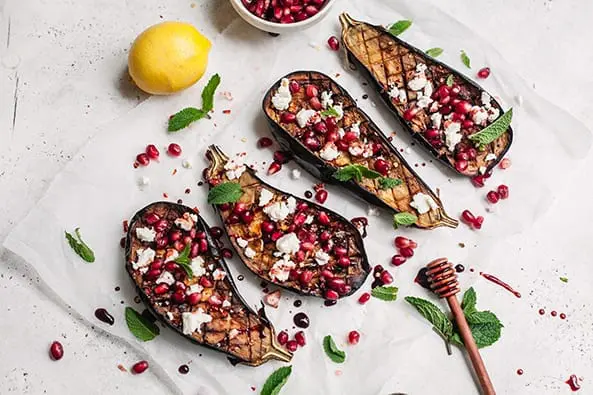 Recipe Info

This is such a wonderful combination of flavours. Aubergine has a lovely smokey taste, the saltiness of feta and sharpness of pomegranate blend together for a quick to prepare dish.

Instructions
Step 1 -
Preheat oven to 240C.
Step 2 -
Score your aubergine halves with a sharp knife. Insert the garlic into some of the gaps, then lightly cover each half with olive oil using a pastry brush. Place the aubergines on a lined baking tray, skins down, then season with salt and pepper and a sprinkling of chilli flakes.
Step 3 -
Bake in the oven for 15 minutes, then baste once more with a drizzle of olive oil and loosely cover with more baking paper. Continue to bake for a further 10-15 minutes, or until tender.
Step 4 -
Remove from the oven, then sprinkle with pomegranate seeds and crumbled feta. Serve warm, drizzled with pomegranate molasses, if using.
Ingredients
2 Aubergines
1/2 tsp Chilli flakes
30 g Feta or vegan feta crumbled
2 Garlic cloves
1 tsp Olive oil
Pomegranate molasses optional to serve
sprinkle Salt and pepper