Serves: 1
Prep 10mins
250 kcals / serving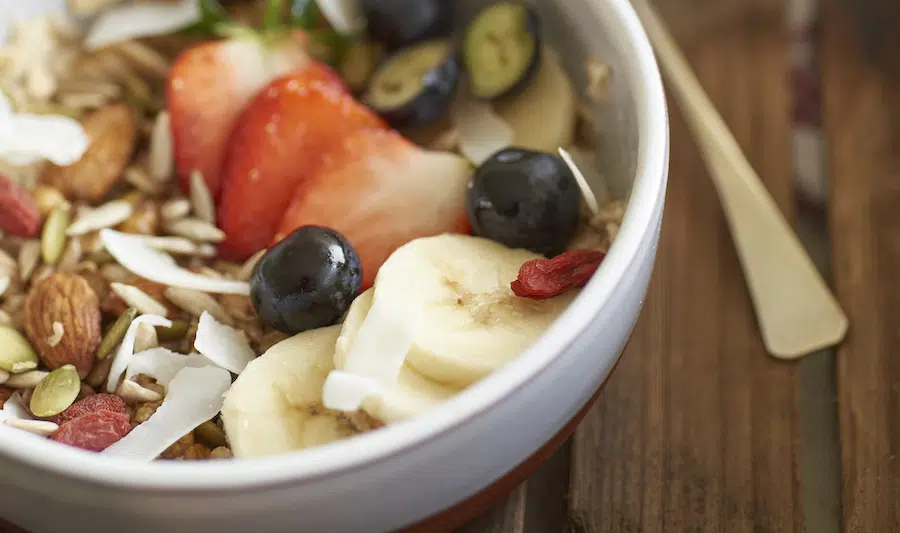 Recipe Info

This youth boosting recipe combines antioxidant rich berries with polyphenol rich oats and omega 3 packed nuts. You can vary the ingredients according to seasonal changes.

Instructions
Step 1 -
Put the oats, nuts, seeds, cinnamon and coconut oil into the bowl.
Step 2 -
Add hot water and stir to mix well.
Step 3 -
Top with fruit, goji berries and a sprinkle of dried coconut if desired.
Ingredients
1 tbsp Gluten free oats
5-6 Almonds
2-3 Walnuts
1 tsp Chia seeds
1 tsp Sunflower seeds
1 tsp Pumpkin seeds
0.5 tsp Cinnamon
0.5 tsp Coconut oil
0.5 Banana Sliced
6 Blue berries
2 Strawberries
2 tsp Dried Goji berries
2-3 tbsp Hot water
Dietary info
Gluten Free | Low Fat | Vegan |
Vegetarian