Serves: 10
Prep 30mins, Cook 60mins
515 kcals / serving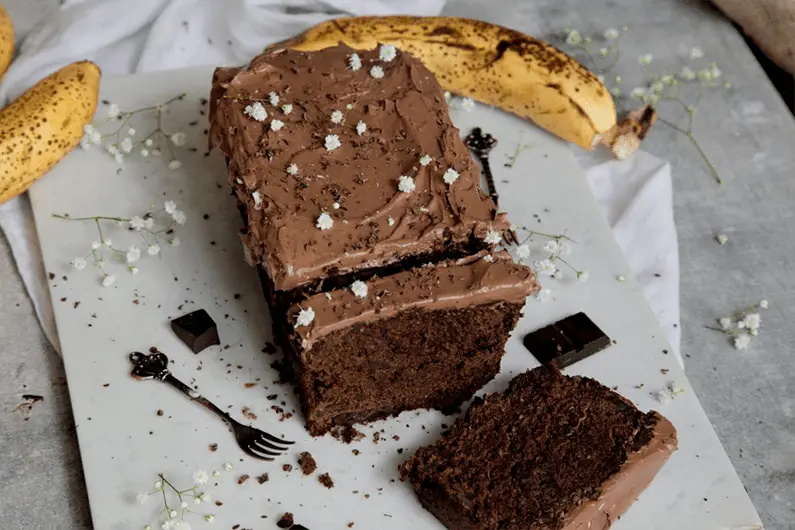 Recipe Info

This chocolate bread by our lovely Samantha Hadadi would make the perfect treat at any time of day.

Instructions
Step 1 -
Start by lining a loaf tin and preheat the oven to 160C.
Step 2 -
Blend together the bananas, avocado, nut butter, maple syrup, milk, vanilla, espresso and apple cider vinegar until completely smooth.
Step 3 -
Next, stir together the dry ingredients – the flour, protein, almonds, coconut sugar, bicarb and baking powder, salt and cacao – until combined.
Step 4 -
Stir the wet ingredients into the dry ingredients until combined, then stir through the chocolate chips, adding a tablespoon or so of milk to loosen, if needed. Spoon into the prepared loaf tin and place in the oven to bake for around 1 hour and 10 minutes, or until the cake is cooked through and a skewer comes out clean. Remove from the oven and leave to completely cool.
Step 5 -
In the meantime, gently melt the chocolate for your frosting in a bain marie with the coconut oil. Place in a blender with the remaining ingredients and blend until smooth. Spread the frosting over the cooled cake, then cut into slices and serve.
Ingredients
10 tbsp Almond or peanut butter
1 tsp Apple cider vinegar
2 tbsp Aquafaba
1 1/4 tsp Baking powder
1 1/4 tsp Bicarbonate soda
1 1/3 cup Brown rice flour
1 1/4 cup Coconut sugar
4 tbsp Dairy free milk
130 g Dark chocolate
1 tsp Freshly brewed espresso coffee
1/2 cup Lucy Bee cacao
2 tbsp Maple syrup
1 1/2 Medium avocado
1/3 cup Protein Smoothie Chocolate or Banana
1/4 tsp Salt
3 tbsp Tinned coconut milk
1 tsp Vanilla paste
3 Very ripe bananas
Frosting
100 g Chocolate
1 tbsp Coconut oil
1 tbsp Lucy Bee cacao
1 tbsp Maple syrup
1 Medium avocado
1 pinch Salt
1 tsp Vanilla paste