Serves: 2
Prep 15mins, Cook 20mins
300 kcals / serving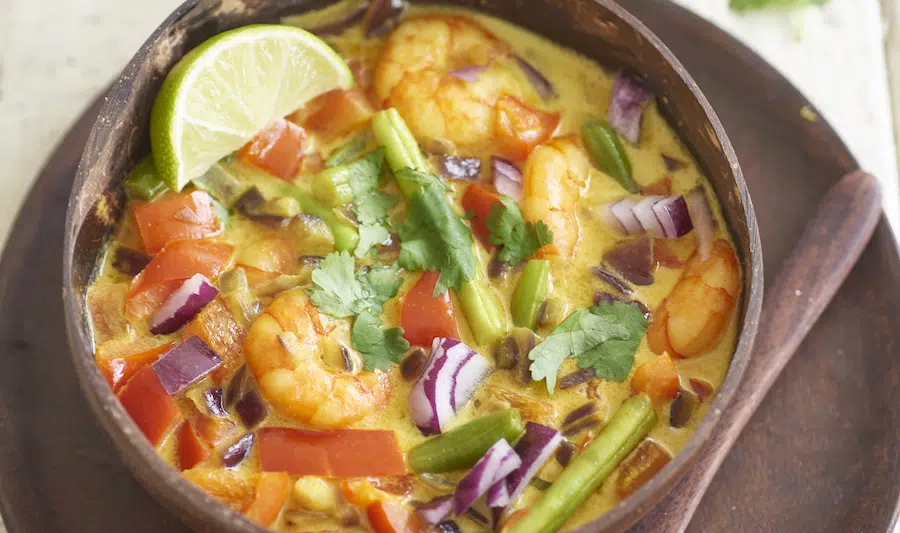 Recipe Info

Adding coconut milk to this dish gives a boost of medium chain triglycerides to aid burning off stored fat deposits. It's a delightfully creamy, lightly spiced curry and you can use the base for any protein source that you might have on hand. Turmeric has amazing antioxidant and anti-inflammatory properties to heal and soothe.

Instructions
Step 1 -
Lightly fry onions and peppers in the grapeseed oil, until softened. Add in the green beans, warming through, then remove from the pan.
Step 2 -
Fry the prawns and garlic with the spices until they are almost cooked. Then add your vegetables back to the pan along with the coconut milk. Heat until warmed through, adjusting the seasoning as desired, then eat immediately.
Ingredients
400 g Prawns
1 Red pepper
200 g Coconut milk
1 tbsp grapeseed oil
0.5 tsp Turmeric powder
0.5 tsp Coriander powder
0.5 tsp Chili powder
100 g Green beans Boiled