Serves: 2
Prep 20mins
704 kcals / serving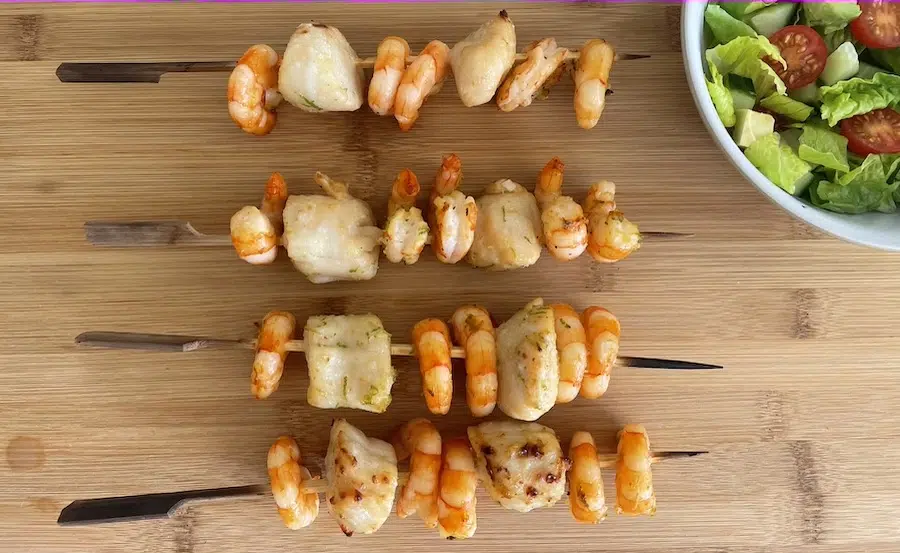 Recipe Info

This is a delicious starter or main with salad or rice. The limes give this dish a delightfully light taste while the chilli and garlic give the fish spice and warmth. Perfect for a BBQ afternoon or pop them on a grill for a speedy treat.It makes 4 skewers so would be perfect for 2 people for a mains and 4 as a starter.

Instructions
Step 1 -
Put prawns and scallops in a bowl.
Step 2 -
Add the ingredients for the marinade, including zest of one lime, crushed garlic, chopped chilli, fish sauce and olive oil
Step 3 -
Mix the ingredients well and stand on one side for 30 minutes for the marinade flavour to be absorbed.
Step 4 -
Soak the skewers in water to stop them burning. Add the prawns and scallops to the skewers/
Step 5 -
Put under a grill or add to a BBQ and cook well until the prawns become pink a and the prawns and oysters become browned.
Step 6 -
Serve with salad or rice.
Ingredients
2 Lime
2 Birds eye chilli
2 Garlic cloves Crushed
1 tbsp Fish sauce
1 tbsp Olive oil
12 King prawns Large, raw shelled and cleaned
12 Scallops
Dietary info
This is a delicious starter or main with salad or rice.Prawns are an excellent source of the B vitamins including B6, B12 and folate, all of which support healthy hormones. They contain super antioxidant, astaxanthin and key trace minerals, zinc, selenium and iodine, the key mineral for thyroid health.Scallops are equally rich in the B vitamins and also a great source of omega 3 to offer heart protection for the perimenopause and menopausal years.