Serves: 4
Prep 20mins, Cook 60mins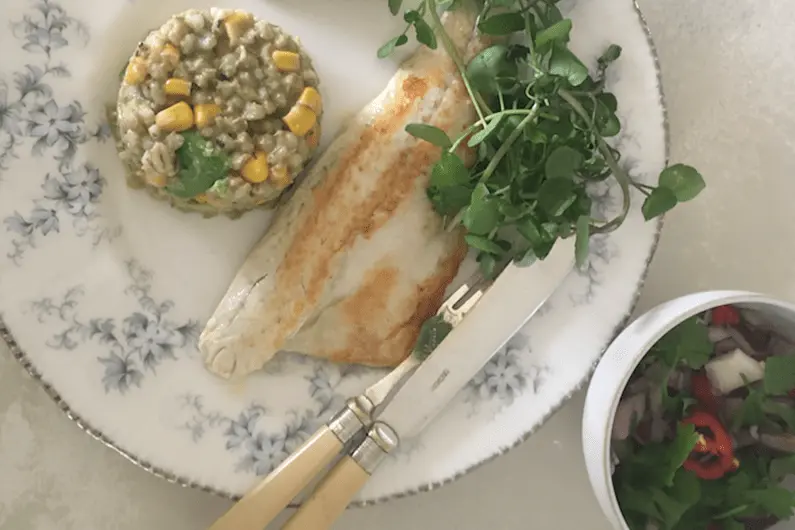 Recipe Info

You could use any fish for this recipe, we feel that sea bass with it's delicate taste is a fantastic combination with the fiery chilli and onions.

Instructions
Step 1 -
If you have dried pearl barley, add hot water and boil for 10 minutes, simmer until soft (around 45 minutes).
Step 2 -
Chop onions and chill, mix together with chopped coriander. Place in bowl and put on one side for serving.
Step 3 -
Mix white wine vinegar, 1 tbsp of olive oil, juice of half a lime and dash of coconut nectar together, place on one side.
Step 4 -
Mash avocado and add to pearl barley with sweetcorn and minced garlic, season to taste.
Step 5 -
Pan fry sea bass in remainder of olive oil, 2-3 minutes flesh down and then turn and cook until the skin is crispy.
Step 6 -
Place fish on plate with pearl barley and top with chopped chilli, onions and white wine vinegar blend.
Step 7 -
Add green leaves.
Ingredients
1/2 Avocado
50 g Baby sweetcorn
2 Cloves garlic minced
1 dash Coconut nectar
200 g Cooked pearl barley
sprig coriander leaves
1/2 Lime squeezed
1 1/2 tbsp Olive oil
thumb sized Red chilli
1/2 red onion
4 Sea bass fillet
sprinkle Seasoning to taste
50 ml White wine vinegar