Serves: 6
Prep 15mins, Cook 15mins
275 kcals / serving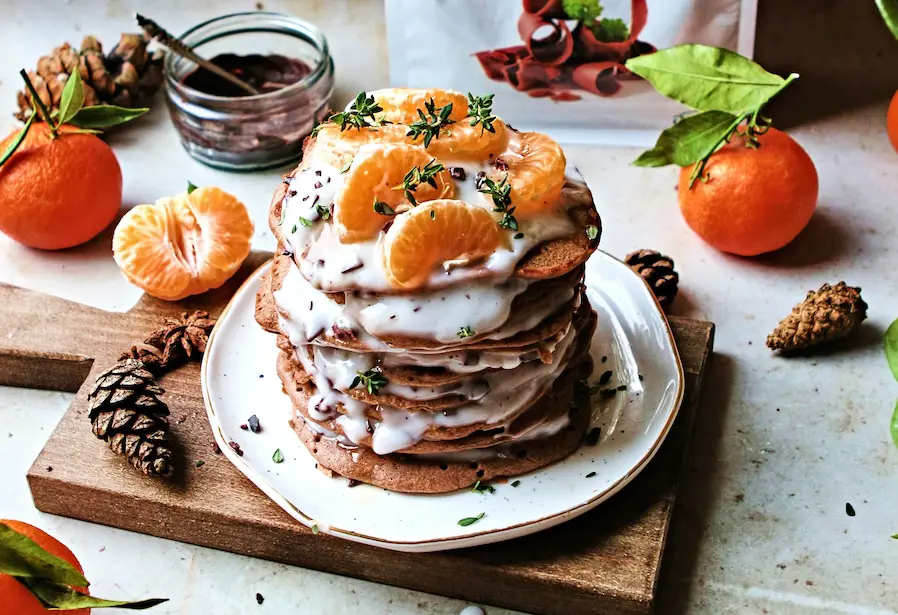 Recipe Info

This wonderful recipe was created for us by the amazing Niki Webster of @rebelrecipes. Niki is an award winning recipe creator and we think you will love these seasonal Spiced Chocolate Orange Protein Pancakes. Here's what Niki had to say: These lovely festive pancakes are packed full of goodies -spices, orange juice, choc chips, dried fruit and a scoop of @rejuvenateduk chocolate protein smoothie powder for extra goodness!I've known lovely Kathryn for years now and can't recommend @rejuvenateduk 'beauty from within' products enough -all natural, ethically sourced and effective.I've popped the recipe below. I hope you enjoy xxMuch love, Niki xx

Instructions
Step 1 -
Add the buckwheat flour, baking powder, cacao nips/chips, vanilla essence, orange juice, maple syrup, protein powder, spices & plant based milk to a bowl and mix thoroughly to combine and form a thick batter.
Step 2 -
Stir in the mixed fruit.
Step 3 -
Preheat a pan with a little oil. The pan needs to be medium - hot.
Step 4 -
Spoon the mixture a ladle full at a time into the pan and fry for 1-2 minutes until the underside is firm. Carefully flip the pancakes and then cook for another minute or so until the pancakes are cooked through and slightly golden.
Step 5 -
Top with coconut yogurt, oranges and maple syrup.
Ingredients
200 g Buckwheat flour
1 tsp Baking powder
1 tsp All spice
1 tsp Cinnamon
1 Protein Smoothie - Chocolate - 1 scoop
200 ml Orange Juice
1 tsp Vanilla Essence
200 ml Plant based milk
4 tbsp Maple syrup
3 tbsp Cacao nibs or vegan choc chips
3 tbsp Mixed dried fruit
Orange segments
Coconut yoghurt
Maple syrup