Serves: 2
Prep 5mins, Cook 5mins
261 kcals / serving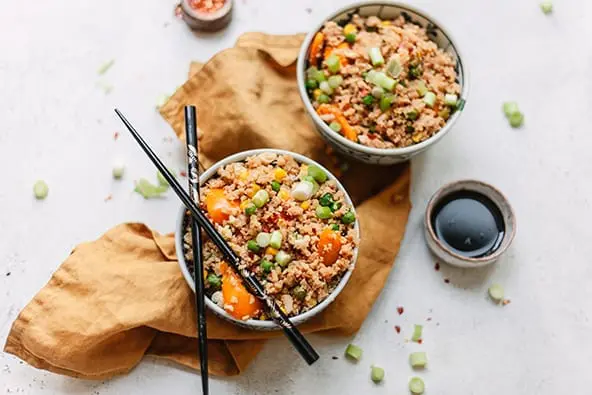 Recipe Info

Have you ever found that rice can leave you feeling bloated but this delicious recipe gives you the perfect alternative in a tasty cauliflower rice. It compliments most diets and is satisfying as a main course for 2 or side dish for 4.

Instructions
Step 1 -
In a blender or food processor, blitz the cauliflower until it forms "rice".
Step 2 -
Heat a tablespoon of sesame oil in a pan until warm. Gently fry the garlic for 1-2 minutes.
Step 3 -
Add in the cauliflower, pepper and spring onions, as well as the chilli flakes and 1.5 tbsp tamari, and cook, stirring often, until the cauliflower is golden and cooked.
Step 4 -
Add in the peas and sweetcorn and heat through.
Step 5 -
Season to taste, adding more tamari too if desired (we use up to 3 tbsp), then shift the 'rice' slightly so that there is a gap in the pan.
Step 6 -
Add in the eggs and allow to warm for 10-20 seconds, or until it begins to set.
Step 7 -
Using a spatula, stir the egg around the pan to combine with the rice and allow to heat through for 1-2 minutes, or until cooked through.
Step 8 -
Serve immediately and scatter with more spring onions, if desired.
Ingredients
1 medium Cauliflower head broken into florets
1 tbsp Sesame oil
2 cloves Garlic
1 Pepper
1 cup Frozen peas
1 cup Sweetcorn
4 Spring onions sliced
1 tbsp Tamari, soy sauce
1/2 tsp Chilli flakes
sprinkle Salt and pepper to taste
2 Eggs beaten